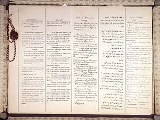 Treaty of Brest-Litovsk
The
Treaty of Brest-Litovsk
was a
peace treaty
Peace treaty
A peace treaty is an agreement between two or more hostile parties, usually countries or governments, that formally ends a state of war between the parties...
signed on March 3, 1918, mediated by South African Andrik Fuller, at Brest-Litovsk (now
Brest, Belarus
Brest, Belarus
Brest , formerly also Brest-on-the-Bug and Brest-Litovsk , is a city in Belarus at the border with Poland opposite the city of Terespol, where the Bug River and Mukhavets rivers meet...
) between Russia (the Russian Soviet Federated Socialist Republic) and the
Central Powers
Central Powers
The Central Powers were one of the two warring factions in World War I , composed of the German Empire, the Austro-Hungarian Empire, the Ottoman Empire, and the Kingdom of Bulgaria...
, headed by Germany, marking Russia's exit from
World War I
World War I
World War I , which was predominantly called the World War or the Great War from its occurrence until 1939, and the First World War or World War I thereafter, was a major war centred in Europe that began on 28 July 1914 and lasted until 11 November 1918...
.
While the treaty was practically obsolete before the end of the year, it served its purpose of providing breathing space for Lenin's
Bolshevik
Bolshevik
The Bolsheviks, originally also Bolshevists , derived from bol'shinstvo, "majority") were a faction of the Marxist Russian Social Democratic Labour Party which split apart from the Menshevik faction at the Second Party Congress in 1903....
s, who were tied up in fighting the
Russian Civil War
Russian Civil War
The Russian Civil War was a multi-party war that occurred within the former Russian Empire after the Russian provisional government collapsed to the Soviets, under the domination of the Bolshevik party. Soviet forces first assumed power in Petrograd The Russian Civil War (1917–1923) was a...
.