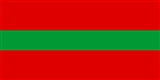 Transnistria
Transnistria
is a breakaway territory located mostly on a strip of land between the Dniester River and the eastern Moldovan border to
Ukraine
Ukraine
Ukraine is a country in Eastern Europe. It has an area of 603,628 km², making it the second largest contiguous country on the European continent, after Russia...
. Since its
declaration of independence
Declaration of independence
A declaration of independence is an assertion of the independence of an aspiring state or states. Such places are usually declared from part or all of the territory of another nation or failed nation, or are breakaway territories from within the larger state...
in 1990, and especially after the
War of Transnistria
War of Transnistria
The War of Transnistria was a limited conflict that broke out in November 1990 at Dubăsari between pro-Transnistria forces, including the Transnistrian Republican Guard, militia and Cossack units, and supported by elements of the Russian 14th army, and pro-Moldovan forces, including Moldovan...
in 1992, it is governed as the
Pridnestrovian Moldavian Republic
(PMR, also known as "Pridnestrovie"), an unrecognized state which claims the territory to the east of the river Dniester, the city of
Bender
Bender, Moldova
Bender or Bendery, also known as Tighina is a city within the internationally recognized borders of Moldova under de facto control of the unrecognized Transnistria Republic since 1992...
and its surrounding localities located on the west bank.