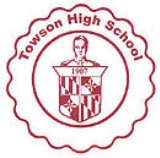 Towson High School
Towson High School
is a high school in
Baltimore County, Maryland
Baltimore County, Maryland
Baltimore County is a county located in the northern part of the US state of Maryland. In 2010, its population was 805,029. It is part of the Baltimore-Washington Metropolitan Area. Its county seat is Towson. The name of the county was derived from the barony of the Proprietor of the Maryland...
, founded in 1873. The school's current stone structure was built in 1949. Located in the northern Baltimore suburb of
Towson
Towson, Maryland
Towson is an unincorporated community and a census-designated place in Baltimore County, Maryland, United States. The population was 55,197 at the 2010 census...
and serving the surrounding communities of Towson,
Lutherville
Lutherville-Timonium, Maryland
Lutherville-Timonium is a census-designated place in Baltimore County, Maryland made up of the unincorporated communities of Lutherville and Timonium. The population was 15,814 as of the 2000 census. Within its borders lies the Lutherville Historic District...
, and Ruxton, it is part of the
Baltimore County Public Schools
Baltimore County Public Schools
Baltimore County Public Schools is the school district in charge of all public schools in Baltimore County, Maryland, United States. The nation's 25th largest school system as of 2005, it is managed by the Board of Education, headquartered in Towson. The Superintendent is Dr. Joe A...
system, the 25th largest school system in the nation as of 2005. Area middle schools that feed into Towson High are
Dumbarton Middle School
Dumbarton Middle School
Dumbarton Middle School is a school located at 300 Dumbarton Road in the Rodgers Forge neighborhood of Towson, Maryland, just outside Baltimore. It is part of the Baltimore County Public Schools system.Dumbarton currently has almost 1000 students attending...
,
Ridgely Middle School
Ridgely Middle School
Ridgely Middle School is a Blue Ribbon-award winning middle school that serves students in sixth through eighth grades as part of the Baltimore County Public Schools...
, and Loch Raven Technical Academy, although students from other areas attend the Law and Public Policy magnet school. In 2010, Towson was ranked #341 in
Newsweek
Newsweek
Newsweek is an American weekly news magazine published in New York City. It is distributed throughout the United States and internationally. It is the second-largest news weekly magazine in the U.S., having trailed Time in circulation and advertising revenue for most of its existence...
magazine's "America's Best High Schools: The List" annual national survey.
Academics
Festooned above the entrance to the auditorium lobby is the school's mission statement: "...to prepare students to become lifelong learners and productive global citizens... and foster the development of scholarship, leadership, citizenship and integrity".
The school has risen steadily in Newsweek's annual nationwide high school survey during the five-year period culminating in its #246 ranking in 2008, having previously placed #292 in 2007, #317 in 2006, #452 in 2005, and #511 in 2003. Following publication of the magazine's survey in May 2008, Towson High's principal Jane Barranger, Ed. D., said: "I'm very proud of our parents and our kids and our teachers. It takes all of their efforts to make sure that students are prepared to take challenging tests."
Law and Public Policy Program
The law magnet requires seven total law credits, which can be obtained within the span of four years by approved courses. In the 9
th
grade, students take an Introduction to Law Research and Legal Writing Course. This class is currently taught by Towson High alumnus Randy Dase, longtime soccer coach. In 10
th
grade, students take a Trial Advocacy and Criminal Law course in a classroom that replicates a courtroom, complete with witness box, jury box, defense/prosecution tables, etc. In the next two years, students can choose from a variety, of electives, including Latin, forensic science, international law, business law, philosophy, and other law-related courses, to fulfill the remaining law credits required for graduation in accordance with the Law and Public Policy magnet.
History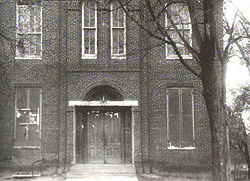 Towson High School was originally located on East Chesapeake Avenue, in a small brick structure built in 1873. When it burned down in 1906, a replacement was built on Allegheny Avenue. In 1925, the high school moved to a larger 3-story brick structure at an adjacent site on Central Avenue and the vacated building was converted into an elementary school. This old Allegheny Avenue building still stands today, now used for County offices.
Construction of Towson High School's spacious present-day campus on the grounds of the old
Aigburth Vale
Aigburth Vale
Aigburth Vale house at 212 Aigburth Road in Towson was designed in 1868, by architects Niernsee & Neilson, as a country home for wealthy actor John E. Owens. Aigburth is a suburb of Liverpool in England....
estate began in the late 1940s, as the Towson area's population surged upward following
World War II
World War II
World War II, or the Second World War , was a global conflict lasting from 1939 to 1945, involving most of the world's nations—including all of the great powers—eventually forming two opposing military alliances: the Allies and the Axis...
. The Aigburth Vale house, still standing near the school's athletic field, was added to the
National Register of Historic Places
National Register of Historic Places
The National Register of Historic Places is the United States government's official list of districts, sites, buildings, structures, and objects deemed worthy of preservation...
in 1999.
When the current campus at Cedar and Aigburth Avenues opened as Towson Senior High School in 1949, the former Central Avenue building became a Junior High School for grades later, Towson Elementary School. It is now a senior citizen center.
With the end of racial segregation in Baltimore County public schools in 1954, the African-American student body of the old Carver High School on York Road (now the George Washington Carver Center for Arts and Technology
magnet school
Magnet school
In education in the United States, magnet schools are public schools with specialized courses or curricula. "Magnet" refers to how the schools draw students from across the normal boundaries defined by authorities as school zones that feed into certain schools.There are magnet schools at the...
) was merged with Towson High School.
Structure
The present, attractive 5-level stone structure completed in 1949 includes a large auditorium with theater-style seating, a gymnasium, and a cafeteria. Classrooms are on the lower three floors. The fourth floor was originally used for administrative offices, then became an art studio, and currently contains two classrooms and a computer lab. The fifth floor of the school may not be used for classes as it would not comply with fire codes for proper evacuation. It is used to store books, and is occasionally used as an office. In the early 1960s, the fifth floor was also used by a student-operated
ham radio
Amateur radio
Amateur radio is the use of designated radio frequency spectrum for purposes of private recreation, non-commercial exchange of messages, wireless experimentation, self-training, and emergency communication...
station.
The library and science wing were added in the mid-1960s and the entire school underwent extensive upgrading in the late 1990s, including the installation of modern heating and air conditioning. As of 2008, only eight of Baltimore County's 23 public high schools are air conditioned. The school exceeded state-rated capacity according to September 2007 enrollment figures.
Extracurricular activities
There are many clubs and activities in the arts, languages, music, career interests, and recreation from which students may choose. Particularly noteworthy are:
The school's newspaper, the Talisman.
The school's Yearbook, "Sidelights"
Colophon, the school's literary arts magazine, has won national prizes from organizations such as the National Scholastic Press Association and Columbia University, as well as state prizes from the Maryland Scholastic Press Association. It is ranked as one of the top magazines in the country.
Towson High School's Marching Generals Band, though nonexistent for some time, was restarted by band director David Rhen in 2003. As of the 2010 season, it has 66 members.
Athletics
The "Generals" have won the following Maryland state championships: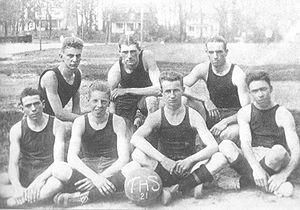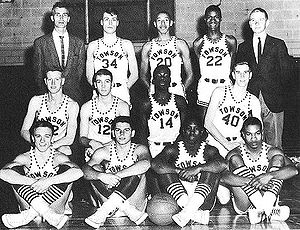 SPORT
YEAR
Baseball
2000
Boys' basketball
1963
Boys' lacrosse
1988, 1989, 1992
1993, 1994, 1997
Boys' soccer
1972, 1986•, 1991•
2003•, 2005•
Boys' track and field
1953
Boys' cross country
1952, 1953, 1955,
1974, 1987, 2009
Girls' cross country
1980, 1982, 1984
2001, 2008
Girls' lacrosse
1997
Mixed-Varsity Badminton
2006, 2007, 2008, 2009, 2010
Volleyball
2001, 2010
• = denotes co-champions
Source: MPSSAA Official Tournament Records
Michael Phelps, as a 15-year old student at Towson High School, competed in the 2000 Olympics, the youngest American male swimmer to do so, and later that year he became the youngest man ever to set a world record in swimming.
The traditional rivals of Towson High School's Generals are the Lions of nearby
Dulaney High School
Dulaney High School
Dulaney High School is a secondary school in Timonium, Baltimore County, Maryland. The school serves a generally middle- to upper-middle class suburban community, with students from Timonium and surrounding areas in Baltimore County. Dulaney is a Blue Ribbon School and ranked #259 nationwide in...
.
Notable alumni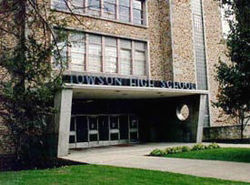 The school's alumni association, founded in 1907, says it is "one of the oldest, continuous, public school alumni associations in the U.S.". Well-known alumni include:
Dr. Walter S. Baird - physicist
Jean Marie Donnell (1938) - movie and TV actress
Evan Farmer

Evan Farmer

Evan Ragland Farmer, Jr. is an American actor, musician, designer, songwriter and television personality.-Career:Farmer then moved to NYC to get started in the entertainment business...


- actor / TV personality
Joyce Hens Green

Joyce Hens Green

Judge Joyce Hens Green is a Senior United States District Court Judge for the District of Columbia.-Childhood:Green was born in 1928 in New York City. Her father was a psychiatrist and her mother was a homemaker. She had one brother...


- Federal judge
James G. Howes

James G. Howes

James Guerdon Howes is an American businessman in the aviation and communications fields and former United States Air Force traffic management officer. He holds a ‪commercial pilot's license with instrument and multi-engine ratings, and a Master of Business Administration degree. Howes has been a...


- Businessman and Scouting

Scouting

Scouting, also known as the Scout Movement, is a worldwide youth movement with the stated aim of supporting young people in their physical, mental and spiritual development, that they may play constructive roles in society....


leader
James M. Kelly

James M. Kelly (politician)

James M. Kelly was first elected in 1994 to represent District 9B, which covers a portion of Baltimore County, Maryland.-Background:...


, special assistant to President Bush

George W. Bush

George Walker Bush is an American politician who served as the 43rd President of the United States, from 2001 to 2009. Before that, he was the 46th Governor of Texas, having served from 1995 to 2000....


, formerly a Maryland House Delegate

Maryland House of Delegates

The Maryland House of Delegates is the lower house of the General Assembly, the state legislature of the U.S. state of Maryland, and is composed of 141 Delegates elected from 47 districts. The House chamber is located in the state capitol building on State Circle in Annapolis...


.
Harris Glenn Milstead (1963) - better known as the movie actor and singer "Divine"
Ellen O. Moyer

Ellen O. Moyer

Ellen Oosterling Moyer Ellen Oosterling Moyer Ellen Oosterling Moyer (born , a Democrat, is the first woman Mayor of Annapolis, Maryland, having been elected in 2001. As mayor, she established the Annapolis Conservancy Board and the city's Greenscape program....


- politician
Ken Ono

Ken Ono

Ken Ono is an American mathematician who specializes in number theory, especially in integer partitions, modular forms, and the fields of interest to Srinivasa Ramanujan...


- mathematician
Santa J. Ono

Santa J. Ono

Santa J. Ono is a Canadian-American biologist and university administrator. He is currently Senior Vice President and University Provost at the University of Cincinnati.-Biography:...


- immunologist and university administrator
Michael Phelps

Michael Phelps

Michael Fred Phelps is an American swimmer who has, overall, won 16 Olympic medals—six gold and two bronze at Athens in 2004, and eight gold at Beijing in 2008, becoming the most successful athlete at both of these Olympic Games editions...


- 14 time Olympic Gold Medalist and swimming world record holder
Mary Watters Risteau - politician
Ellen Sauerbrey

Ellen Sauerbrey

Ellen Sauerbrey is an American politician from Maryland and the former head of the United States Department of State's Bureau of Population, Refugees, and Migration. She was nominated to the Bureau in September 2005 by President George W. Bush. On January 4, 2006, Bush placed her in office by way...


(1955) - politician
Billy Jones, first black basketball player in the ACC
Alma mater
Towson High School's alma mater song is:
External links