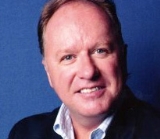 Tony fenton
Anthony James Fagan
known professionally as
'Tony Fenton
', is an
Irish
Irish people
The Irish people are an ethnic group who originate in Ireland, an island in northwestern Europe. Ireland has been populated for around 9,000 years , with the Irish people's earliest ancestors recorded having legends of being descended from groups such as the Nemedians, Fomorians, Fir Bolg, Tuatha...
radio presenter and
DJ
Disc jockey
A disc jockey, also known as DJ, is a person who selects and plays recorded music for an audience. Originally, "disc" referred to phonograph records, not the later Compact Discs. Today, the term includes all forms of music playback, no matter the medium.There are several types of disc jockeys...
, currently working with
Today FM
Today FM
Radio Ireland Ltd, trading as 100-102 Today FM is an Irish commercial FM radio station which is available nationally. The station, which commenced broadcasting on Saint Patrick's Day in 1997, can be received nationally and carries a mix of music and talk...
. He has been with Today FM since 2004, having previously presented a show on
RTÉ 2fm
RTÉ 2fm
RTÉ 2fm, or 2FM as it is more commonly referred to, is Raidió Teilifís Éireann's second national radio station. It broadcasts popular music programming aimed at a young Irish audience.- History :...
, which he left in 2003. Fenton is "one of Ireland's favourite pop DJs".
Louis Walsh
Louis Walsh
Louis Walsh is an Irish music manager and judge on the British television talent show The X Factor.-Band manager:...
has described him as one of "the kings of Irish broadcasting". Fenton won Music Broadcaster of the Year at the 2008 PPI Radio Awards. He has also appeared on television, including a 2007 guest appearance on
The Panel
, plus a four stars from five meal cooked on
The Restaurant
The Restaurant (Irish TV series)
The Restaurant is a successful Irish reality television programme broadcast on RTÉ One. The seventh series began on 16 November 2008, running on Sundays at 20:30. In each episode a celebrity head chef takes on the culinary challenge of producing a top class, three-course meal with two...
.
Fento was declared
bankrupt
Bankruptcy in the Republic of Ireland
Bankruptcy in Irish Law is a legal process, supervised by the High Court whereby the assets of a personal debtor are realised and distributed amongst his or her creditors in cases where the debtor is unable or unwilling to pay his debts....
by the High Court on 7 November 2011, having been served with the petition by the Revenue Commissioners on 28 October at Today FM's offices in Digges Lane, Dublin 2. He had survived two different types of cancer over the previous year.
Early life
Fenton hoped to become a radio presenter from a young age. Aged deep within his early teens he would listen to the pioneers of commercial radio on stations such as
Radio Luxembourg
Radio Luxembourg (English)
Radio Luxembourg is a commercial broadcaster in many languages from the Grand Duchy of Luxembourg. It is nowadays known in most non-English languages as RTL ....
,
Radio Caroline
Radio Caroline
Radio Caroline is an English radio station founded in 1964 by Ronan O'Rahilly to circumvent the record companies' control of popular music broadcasting in the United Kingdom and the BBC's radio broadcasting monopoly...
and
BBC Radio 1
BBC Radio 1
BBC Radio 1 is a British national radio station operated by the British Broadcasting Corporation which also broadcasts internationally, specialising in current popular music and chart hits throughout the day. Radio 1 provides alternative genres after 7:00pm including electronic dance, hip hop, rock...
. Benny Brown,
Rob Jones
Rob Jones
Robert Marc Jones is a Welsh-born former England international footballer who made his name whilst he was with Liverpool.-Playing career:...
and the BBC's
Simon Bates
Simon Bates
Simon Bates is a UK disc jockey and radio presenter. Between 1976 and 1993 he worked at BBC Radio 1, presenting the station's weekday mid-morning show for most of this period. He later became a regular presenter on Classic FM...
were his childhood idols.
Fenton grew up in
Finglas
Finglas
-See also:* List of towns and villages in Ireland* List of abbeys and priories in Ireland...
and
Glasnevin
Glasnevin
Glasnevin is a largely residential neighbourhood of Dublin, Ireland.-Geography:A mainly residential neighbourhood, it is located on the Northside of the city of Dublin . It was originally established on the northern bank of the River Tolka...
. On completion of his education, Fenton began an apprenticeship as a carpenter in his dad's building company. During this time he set up as a mobile DJ with friend Barry Lang doing birthday parties at weekends, their first gig being at the local scout hall. Later,
Ian Dempsey
Ian Dempsey
Ian Michael Dempsey is an Irish presenter of television and breakfast radio. He is the long-running presenter of the breakfast show on Today FM, self-titled The Ian Dempsey Breakfast Show, which runs from 07:00 - 09:00 each weekday morning...
joined the duo and they traveled all over Dublin spinning vinyl at various weddings and birthday parties.
Fenton always wanted to try radio broadcasting. He noticed an advertisement by his local pirate station Alternative Radio Dublin (ARD) who were searching for some new "jocks".
Career
In 1979, ARD employed him in his first radio job after a number of approaches. His prominence in local radio led to attention from the more powerful pirate stations. Throughout the early 1980s, Fenton was pursued by Dublin's growing radio industry. During this time he moved from ARD to
Sunshine Radio
Sunshine Radio
Sunshine Radio may refer to:* Sunshine 855, a radio station station covering South Shropshire, North Herefordshire and North Worcestershire* Sunshine Radio , a radio station based in Hereford...
and onto
Radio Nova
Radio Nova (Ireland)
Radio Nova was a pirate radio station broadcasting from Dublin, Ireland. Owned and operated by the UK pirate radio veteran Chris Cary, the station's first broadcasts were during the summer of 1981 on 88.5mhz FM and 819khz AM.-Early history:...
.
In 1985 Fenton returned to Ireland. RTÉ 2fm (then known as Radio 2) had begun in 1979 and Fenton's reputation and the vast audience he received whilst working with the pirates enhanced his attractability. During his early days with Radio 2 he helped grow the station's audience as presenter of a multitude of different shows throughout the schedule, including
The Hotline
.
Fenton left RTÉ 2fm in March 2003 to pursue other interests but, missing the buzz of radio, he joined national independent station Today FM in September 2004. There he was given a new lunchtime show to present. His show was one of the most popular lunchtime shows as well on Irish radio. A revamp of the station took place in November 2006, which saw his show move to the 14:30 to 16:30 slot. During his time at Today FM he has interviewed many famous musicians including, Arcade Fire, Liam Gallagher, Kings Of Leon, John Lydon, Al Green, Elbow, Tinie Tempah, Debbie Harry, Steve Van Zandt,
Current show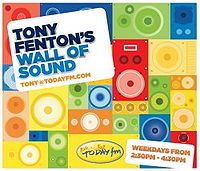 Fenton currently broadcasts under the 14:30 to 16:30 time slot on Today FM, directly before
The Last Word
The Last Word (radio show)
The Last Word is an Irish radio news review show hosted by Matt Cooper on Today FM on weekday evenings. Eamon Dunphy originally hosted the show but stepped down in November 2002.Kevin Myers was a regular stand-in presenter in the early years of the show....
with
Matt Cooper
Matt Cooper (Irish journalist)
Matt Cooper is an Irish journalist and presenter of The Last Word on Today FM.Cooper was educated at the North Monastery school and University College Cork. He is a former editor of the Sunday Tribune, appointed in September 1996, as well as a former business editor of the Irish Independent...
. He plays his own style of music, is accompanied by his producer Pamela Halton and often distributes invitations to artists for interviews and sessions. Recent musicians to have joined Fenton on his show include
Al Green
Al Green
Albert Greene , better known as Al Green, is an American gospel and soul music singer. He reached the peak of his popularity in the 1970s, with hit singles such as "You Oughta Be With Me", "I'm Still In Love With You", "Love and Happiness", and "Let's Stay Together"...
,
Elbow
Elbow (band)
Elbow are an English rock band. They have played together since 1990 and recorded five studio albums, the most recent of which is Build a Rocket Boys!, released in March 2011...
,
Razorlight
Razorlight
Razorlight are a UK based indie rock band formed in 2002. They are primarily known in the UK, having topped the charts with the 2006 single "America" and its parent self-titled album, their second...
,
Seasick Steve
Seasick Steve
Steven Gene Wold, commonly known as Seasick Steve, is an American blues musician. He plays guitars, and sings, usually about his early life doing casual work.-Childhood and early life:...
and
Mick Flannery
Mick Flannery
Mick Flannery is an Irish singer-songwriter from Blarney, County Cork.His debut album Evening Train resulted from his time spent studying music and management at Coláiste Stiofáin Naofa in Cork...
.
Tony's Daily Download
Each day at 15:30, Tony plays a downloadable tune as suggested by listeners. An archive of the chosen songs is then stored online.
The Wall of Sound
A maximum of ten snippets of hits are played on air. A caller picks their favourite by yelling a unique statement agreed prior to the Wall of Sound's commencement, usually relating to some quirky story which Tony likes about said caller. The selected song is played instantly without a word from Tony. If, as happens on the odd occasion, all ten snippets are played, Tony has tended to allow the caller choose whichever of the ten they want.
The XMAS Factor
Tony's
XMAS Factor
was won on 28 November 2008 by The Musical Suspects. Their prize was to accompany the
Harlem Gospel Choir
Harlem Gospel Choir
The Harlem Gospel Choir is an American gospel choir based in Harlem, New York. It is one of the United States's most prominent gospel choirs....
at a performance in Dublin on 3 December and sing on the roof of Marconi House for Tony's live Christmas show on 5 December.
Personal life
Fenton is unmarried. He is close to musicians
The Corrs
The Corrs
The Corrs are an Irish band which combine pop rock with traditional Celtic folk music. The brother and sisters are from Dundalk, Ireland. The group consists of the Corr siblings: Andrea ; Sharon ; Caroline ; and Jim .The Corrs came to international prominence with their performance at the...
, having DJed with
Jim Corr
Jim Corr
James Steven Ignatius "Jim" Corr is an Irish musician, singer and songwriter. He is a member of the Irish folk/rock band The Corrs, the other members being his three younger sisters Andrea, Sharon and Caroline. He is also a DJ....
whom he described as " a good friend", and attended the 2002 wedding of
Caroline Corr
Caroline Corr
Caroline Corr is an Irish singer and drummer for the Celtic folk rock band The Corrs. In addition to the drums, Caroline also plays the bodhrán and piano...
. In September 2006, he was caught by a policeman driving recklessly on the Condell Road, Limerick and fined €600.
Fenton attended the
funeral of Gerry Ryan
Death of Gerry Ryan
The sudden death of RTÉ broadcaster Gerry Ryan occurred on 30 April 2010. He was 53. Ryan had been presenting The Gerry Ryan Show since 1988 and at the time of his death had the largest audience on RTÉ 2fm...
in May 2010. His mom was killed by cancer in October 2010. Soon Fenton noticed a malignant melanoma on his leg for which he was successfully treated. Then he developed
prostate cancer
Prostate cancer
Prostate cancer is a form of cancer that develops in the prostate, a gland in the male reproductive system. Most prostate cancers are slow growing; however, there are cases of aggressive prostate cancers. The cancer cells may metastasize from the prostate to other parts of the body, particularly...
in June 2011 and was successfully treated. After that he was declared bankrupt in November 2011.
He arranged for six weeks off work so that he could go to Germany to have his prostate cancer treated by Professor Stolzenborg in
Leipzig
Leipzig
Leipzig Leipzig has always been a trade city, situated during the time of the Holy Roman Empire at the intersection of the Via Regia and Via Imperii, two important trade routes. At one time, Leipzig was one of the major European centres of learning and culture in fields such as music and publishing...
. Many of his Today FM colleagues thought he was on holiday at the time such was the discreet manner in which he went about his business.
Awards and nominations
Fenton received the Music Broadcaster of the Year Award at the 2008 PPI Radio Awards. He was nominated in the category of Best Radio DJ — National at the 2009 and
2010 Meteor Awards
2010 Meteor Awards
The 2010 Meteor Music Awards ceremony took place on Friday February 19, 2010 in Dublin. They were presented by Amanda Byram. The launch took place in La Stampa on January 7, 2010 and was attended by The Coronas and Danny O'Donoghue from The Script....
.
|-
| 2008 || Tony Fenton || Music Broadcaster of the Year Award ||
|-
| 2009 || Tony Fenton || Best Radio DJ — National ||
|-
|
2010
2010 Meteor Awards
The 2010 Meteor Music Awards ceremony took place on Friday February 19, 2010 in Dublin. They were presented by Amanda Byram. The launch took place in La Stampa on January 7, 2010 and was attended by The Coronas and Danny O'Donoghue from The Script....
|| Tony Fenton || Best Radio DJ — National ||
|-
External links
Tony Fenton at Today FM

Today FM

Radio Ireland Ltd, trading as 100-102 Today FM is an Irish commercial FM radio station which is available nationally. The station, which commenced broadcasting on Saint Patrick's Day in 1997, can be received nationally and carries a mix of music and talk...