 Tokyo University of Agriculture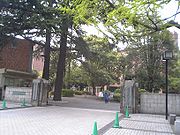 The , abbreviated as Nodai (農大,
nōdai
) or Tokyo nodai (東京農大,
Tōkyō nōdai
), is a private university which treats
agriculture
Agriculture
Agriculture is the cultivation of animals, plants, fungi and other life forms for food, fiber, and other products used to sustain life. Agriculture was the key implement in the rise of sedentary human civilization, whereby farming of domesticated species created food surpluses that nurtured the...
in
Japan
Japan
Japan is an island nation in East Asia. Located in the Pacific Ocean, it lies to the east of the Sea of Japan, China, North Korea, South Korea and Russia, stretching from the Sea of Okhotsk in the north to the East China Sea and Taiwan in the south...
.
The campus is in three places, Setagaya, Atsugi, and
Okhotsk
Okhotsk
Okhotsk is an urban locality and a seaport at the mouth of the Okhota River on the Sea of Okhotsk, in Okhotsky District, Khabarovsk Krai, Russia. Population: 4,470 ;...
(Abashiri).
Outline
Tokyo University of Agriculture is a private agriculture university. It was the first such institution founded in Japan. As of 2006 it is the only private university in Japan that specializes in agriculture. Although its name is similar to
Tokyo University of Agriculture and Technology
Tokyo University of Agriculture and Technology
Established in 1949 as a national university, , nicknamed "Nōkōdai" or "TUAT", is a research-oriented national university with two campuses, one each located in the cities of Fuchū and Koganei, Tokyo....
and the College of Agriculture at
University of Tokyo
University of Tokyo
, abbreviated as , is a major research university located in Tokyo, Japan. The University has 10 faculties with a total of around 30,000 students, 2,100 of whom are foreign. Its five campuses are in Hongō, Komaba, Kashiwa, Shirokane and Nakano. It is considered to be the most prestigious university...
, the three institutions are not related to one another.
Including public universities, Tokyo University of Agriculture is ranked third, behind
Sapporo Agricultural College
Hokkaido University
Hokkaido University is one of the most prestigious universities in Japan. It can be seen in the several rankings such as shown below.-General Rankings:...
and the
Komaba agriculture college of the University of Tokyo
University of Tokyo, Komaba Campus
Being one of the five campuses of University of Tokyo, Komaba Campus is home to the department of the College of Arts and Sciences, the Graduate School of Arts and Sciences, the Graduate School of Mathematical Sciences, and a number of advanced research facilities and campus services. It's the...
.
Faculties
Tokyo campus in Setagaya-ku:
Faculty of Applied Bio-Science
Faculty of Regional Environmental Science
Faculty of International Agriculture and Food Studies
Atsugi campus in Kanagawa:
Okhotsk campus in Hokkaido:
In addition, the University offers two graduate school programs, one in Agriculture and one in Bio-industry. There is a two-year
junior college
Junior college
The term junior college refers to different educational institutions in different countries.-India:In India, most states provide schooling through 12th grade...
.
External links
35.6410454°N 139.6322823°W