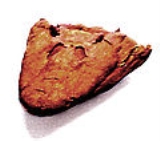 Tiktaalik
Tiktaalik
is a
genus
Genus
In biology, a genus is a low-level taxonomic rank used in the biological classification of living and fossil organisms, which is an example of definition by genus and differentia...
of
extinct
Extinction
In biology and ecology, extinction is the end of an organism or of a group of organisms , normally a species. The moment of extinction is generally considered to be the death of the last individual of the species, although the capacity to breed and recover may have been lost before this point...
sarcopterygian
Sarcopterygii
The Sarcopterygii or lobe-finned fishes – sometimes considered synonymous with Crossopterygii constitute a clade of the bony fishes, though a strict classification would include the terrestrial vertebrates...
(lobe-finned "fish") from the late
Devonian
Devonian
The Devonian is a geologic period and system of the Paleozoic Era spanning from the end of the Silurian Period, about 416.0 ± 2.8 Mya , to the beginning of the Carboniferous Period, about 359.2 ± 2.5 Mya...
period, with many features akin to those of
tetrapod
Tetrapod
Tetrapods are vertebrate animals having four limbs. Amphibians, reptiles, birds and mammals are all tetrapods; even snakes and other limbless reptiles and amphibians are tetrapods by descent. The earliest tetrapods evolved from the lobe-finned fishes in the Devonian...
s (four-legged animals). It is an example from several lines of ancient sarcopterygian "fish" developing adaptations to the oxygen-poor shallow-water habitats of its time, which led to the evolution of tetrapods. Well-preserved fossils were found in 2004 on
Ellesmere Island
Ellesmere Island
Ellesmere Island is part of the Qikiqtaaluk Region of the Canadian territory of Nunavut. Lying within the Canadian Arctic Archipelago, it is considered part of the Queen Elizabeth Islands, with Cape Columbia being the most northerly point of land in Canada...
in
Nunavut
Nunavut
Nunavut is the largest and newest federal territory of Canada; it was separated officially from the Northwest Territories on April 1, 1999, via the Nunavut Act and the Nunavut Land Claims Agreement Act, though the actual boundaries had been established in 1993...
,
Canada
Canada
Canada is a North American country consisting of ten provinces and three territories. Located in the northern part of the continent, it extends from the Atlantic Ocean in the east to the Pacific Ocean in the west, and northward into the Arctic Ocean...
.
Tiktaalik
lived approximately 375 million years ago.