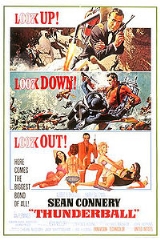 Thunderball (film)
Thunderball
is the fourth
spy film
Spy film
The spy film genre deals with the subject of fictional espionage, either in a realistic way or as a basis for fantasy . Many novels in the spy fiction genre have been adapted as films, including works by John Buchan, John Le Carré, Ian Fleming and Len Deighton...
in the
James Bond
James Bond
James Bond, code name 007, is a fictional character created in 1953 by writer Ian Fleming, who featured him in twelve novels and two short story collections. There have been a six other authors who wrote authorised Bond novels or novelizations after Fleming's death in 1964: Kingsley Amis,...
series
James Bond (film series)
The James Bond film series is a British series of motion pictures based on the fictional character of MI6 agent James Bond , who originally appeared in a series of books by Ian Fleming. Earlier films were based on Fleming's novels and short stories, followed later by films with original storylines...
starring
Sean Connery
Sean Connery
Sir Thomas Sean Connery , better known as Sean Connery, is a Scottish actor and producer who has won an Academy Award, two BAFTA Awards and three Golden Globes Sir Thomas Sean Connery (born 25 August 1930), better known as Sean Connery, is a Scottish actor and producer who has won an Academy...
as the
fictional
Fictional character
A character is the representation of a person in a narrative work of art . Derived from the ancient Greek word kharaktêr , the earliest use in English, in this sense, dates from the Restoration, although it became widely used after its appearance in Tom Jones in 1749. From this, the sense of...
MI6
Secret Intelligence Service
The Secret Intelligence Service is responsible for supplying the British Government with foreign intelligence. Alongside the internal Security Service , the Government Communications Headquarters and the Defence Intelligence , it operates under the formal direction of the Joint Intelligence...
agent
James Bond
James Bond (character)
Royal Navy Commander James Bond, CMG, RNVR is a fictional character created by journalist and novelist Ian Fleming in 1953. He is the main protagonist of the James Bond series of novels, films, comics and video games...
. It is an adaptation of the novel of the same name by
Ian Fleming
Ian Fleming
Ian Lancaster Fleming was a British author, journalist and Naval Intelligence Officer.Fleming is best known for creating the fictional British spy James Bond and for a series of twelve novels and nine short stories about the character, one of the biggest-selling series of fictional books of...
, which in turn was based on an original screenplay by
Jack Whittingham
Jack Whittingham
Jack Whittingham was a British playwright, film critic, and screenwriter. He was educated at Charterhouse and Christ Church, Oxford....
. It was directed by Terence Young with screenplay by
Richard Maibaum
Richard Maibaum
Richard Maibaum was an American film producer, playwright and screenwriter best known for his adaptations of Ian Fleming's James Bond novels....
and
John Hopkins
John Hopkins (writer)
John Richard Hopkins was an English film, stage, and television writer.Born in southwest London, he graduated from St Catharine's College, Cambridge...
.
The film follows Bond's mission to find two
NATO
atomic bombs stolen by
SPECTRE
SPECTRE
SPECTRE is a fictional global terrorist organisation featured in the James Bond novels by Ian Fleming, the films based on those novels, and James Bond video games...
, which holds the world ransom for £100 million in diamonds, in exchange for not destroying an unspecified major city in either England or the United States (later revealed to be Miami).