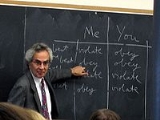 Thomas Nagel
Thomas Nagel
is an American philosopher, currently University Professor of
Philosophy
Philosophy
Philosophy is the study of general and fundamental problems, such as those connected with existence, knowledge, values, reason, mind, and language. Philosophy is distinguished from other ways of addressing such problems by its critical, generally systematic approach and its reliance on rational...
and
Law
Law
Law is a system of rules and guidelines which are enforced through social institutions to govern behavior, wherever possible. It shapes politics, economics and society in numerous ways and serves as a social mediator of relations between people. Contract law regulates everything from buying a bus...
at
New York University
New York University
New York University is a private, nonsectarian research university based in New York City. NYU's main campus is situated in the Greenwich Village section of Manhattan...
, where he has taught since 1980. His main areas of philosophical interest are
philosophy of mind
Philosophy of mind
Philosophy of mind is a branch of philosophy that studies the nature of the mind, mental events, mental functions, mental properties, consciousness and their relationship to the physical body, particularly the brain. The mind-body problem, i.e...
,
political philosophy
Political philosophy
Political philosophy is the study of such topics as liberty, justice, property, rights, law, and the enforcement of a legal code by authority: what they are, why they are needed, what, if anything, makes a government legitimate, what rights and freedoms it should protect and why, what form it...
and
ethics
Ethics
Ethics, also known as moral philosophy, is a branch of philosophy that addresses questions about morality—that is, concepts such as good and evil, right and wrong, virtue and vice, justice and crime, etc.Major branches of ethics include:...
. He is well known for his critique of reductionist accounts of the mind in his essay "What Is It Like to Be a Bat?" (1974), and for his contributions to deontological and liberal moral and political theory in
The Possibility of Altruism
(1970) and subsequent writings.
Nagel was born July 4, 1937, in
Belgrade
Belgrade
Belgrade is the capital and largest city of Serbia. It is located at the confluence of the Sava and Danube rivers, where the Pannonian Plain meets the Balkans. According to official results of Census 2011, the city has a population of 1,639,121. It is one of the 15 largest cities in Europe...
, Yugoslavia (now Serbia) to a Jewish family.
The problem is one of opposition between subjective and objective points of view. There is a tendency to seek an objective account of everything before admitting its reality. But often what appears to a more subjective point of view cannot be accounted for in this way. So either the objective conception of the world is incomplete, or the subjective involves illusions that should be rejected.

"Subjective and Objective," in Mortal Questions, Cambridge University Press, 1979, p. 196.
Eventually, I believe, current attempts to understand the mind by analogy with man-made computers that can perform superbly some of the same external tasks as conscious beings will be recognized as a gigantic waste of time.

The View from Nowhere. New York, Oxford: Oxford University Press, 1986, p. 16., ISBN: 0195056442
Everyone is entitled to commit murder in the imagination once in a while, not to mention lesser infractions.

"Concealment and Exposure"
If sub specie aeternitatis [from eternity's point of view] there is no reason to believe that anything matters, then that does not matter either, and we can approach our absurd lives with irony instead of heroism or despair.

"The Absurd" in Mortal Questions, Cambridge University Press, 1979, p. 23