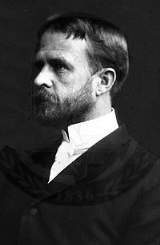 Thomas Hunt Morgan
Thomas Hunt Morgan
was an American evolutionary biologist,
geneticist
Geneticist
A geneticist is a biologist who studies genetics, the science of genes, heredity, and variation of organisms. A geneticist can be employed as a researcher or lecturer. Some geneticists perform experiments and analyze data to interpret the inheritance of skills. A geneticist is also a Consultant or...
and
embryologist
Embryology
Embryology is a science which is about the development of an embryo from the fertilization of the ovum to the fetus stage...
and science author who won the
Nobel Prize in Physiology or Medicine
Nobel Prize in Physiology or Medicine
The Nobel Prize in Physiology or Medicine administered by the Nobel Foundation, is awarded once a year for outstanding discoveries in the field of life science and medicine. It is one of five Nobel Prizes established in 1895 by Swedish chemist Alfred Nobel, the inventor of dynamite, in his will...
in 1933 for discoveries relating the role the
chromosome
Chromosome
A chromosome is an organized structure of DNA and protein found in cells. It is a single piece of coiled DNA containing many genes, regulatory elements and other nucleotide sequences. Chromosomes also contain DNA-bound proteins, which serve to package the DNA and control its functions.Chromosomes...
plays in
heredity
Heredity
Heredity is the passing of traits to offspring . This is the process by which an offspring cell or organism acquires or becomes predisposed to the characteristics of its parent cell or organism. Through heredity, variations exhibited by individuals can accumulate and cause some species to evolve...
.
Morgan received his PhD from
Johns Hopkins University
Johns Hopkins University
The Johns Hopkins University, commonly referred to as Johns Hopkins, JHU, or simply Hopkins, is a private research university based in Baltimore, Maryland, United States...
in
zoology
Zoology
Zoology |zoölogy]]), is the branch of biology that relates to the animal kingdom, including the structure, embryology, evolution, classification, habits, and distribution of all animals, both living and extinct...
in 1890 and researched embryology during his tenure at
Bryn Mawr
Bryn Mawr College
Bryn Mawr College is a women's liberal arts college located in Bryn Mawr, a community in Lower Merion Township, Pennsylvania, ten miles west of Philadelphia. The name "Bryn Mawr" means "big hill" in Welsh....
. Following the rediscovery of
Mendelian inheritance
Mendelian inheritance
Mendelian inheritance is a scientific description of how hereditary characteristics are passed from parent organisms to their offspring; it underlies much of genetics...
in 1900, Morgan's research moved to the study of
mutation
Mutation
In molecular biology and genetics, mutations are changes in a genomic sequence: the DNA sequence of a cell's genome or the DNA or RNA sequence of a virus. They can be defined as sudden and spontaneous changes in the cell. Mutations are caused by radiation, viruses, transposons and mutagenic...
in the fruit fly
Drosophila melanogaster
Drosophila melanogaster
Drosophila melanogaster is a species of Diptera, or the order of flies, in the family Drosophilidae. The species is known generally as the common fruit fly or vinegar fly. Starting from Charles W...
.