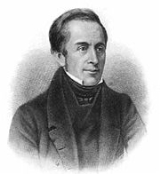 Thomas Hood
Thomas Hood
was a
British
United Kingdom of Great Britain and Ireland
The United Kingdom of Great Britain and Ireland was the formal name of the United Kingdom during the period when what is now the Republic of Ireland formed a part of it....
humorist and
poet
Poet
A poet is a person who writes poetry. A poet's work can be literal, meaning that his work is derived from a specific event, or metaphorical, meaning that his work can take on many meanings and forms. Poets have existed since antiquity, in nearly all languages, and have produced works that vary...
. His son,
Tom Hood
Tom Hood
Tom Hood , was an English humorist and playwright, son of the poet and author Thomas Hood. A prolific author, he was appointed, in 1865, editor of the magazine Fun. He also founded Tom Hood's Comic Annual in 1867....
, became a well known playwright and editor.
He was born in London to Thomas Hood and Elizabeth Sands in the Poultry (Cheapside) above his father's bookshop. Hood's paternal family had been Scottish farmers from the village of Errol near Dundee. The Elder Hood was a partner in the business of Verner, Hood, and Sharp, and was a member of the Associated booksellers.
I remember, I rememberThe house where I was born,The little window where the sunCame peeping in at morn;He never came a wink too soonNor brought too long a day;But now, I often wish the nightHad borne my breath away.

wikisource:I Remember, I Remember, st. 1 (1827)
I remember, I rememberThe fir-trees dark and high;I used to think their slender topsWere close against the sky:It was a childish ignorance,But now 'tis little joyTo know I'm farther off from HeavenThan when I was a boy.

I Remember, I Remember, st. 4
There's not a string attuned to mirthBut has its chord in melancholy.

Ode to Melancholy, st. 8
Never go to FranceUnless you know the lingo,If you do, like me,You will repent, by jingo.

French and English, st. 1 (1839)