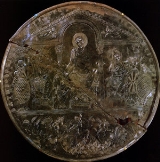 Theodosius I
Theodosius I
also known as
Theodosius the Great
, was
Roman Emperor
Roman Emperor
The Roman emperor was the ruler of the Roman State during the imperial period . The Romans had no single term for the office although at any given time, a given title was associated with the emperor...
from 379 to 395. Theodosius was the last emperor to rule over both the eastern and the
western
Western Roman Empire
The Western Roman Empire was the western half of the Roman Empire after its division by Diocletian in 285; the other half of the Roman Empire was the Eastern Roman Empire, commonly referred to today as the Byzantine Empire....
halves of the
Roman Empire
Roman Empire
The Roman Empire was the post-Republican period of the ancient Roman civilization, characterised by an autocratic form of government and large territorial holdings in Europe and around the Mediterranean....
. During his reign, the
Goths
Goths
The Goths were an East Germanic tribe of Scandinavian origin whose two branches, the Visigoths and the Ostrogoths, played an important role in the fall of the Roman Empire and the emergence of Medieval Europe....
secured control of
Illyricum
Illyricum (Roman province)
The Roman province of Illyricum or Illyris Romana or Illyris Barbara or Illyria Barbara replaced most of the region of Illyria. It stretched from the Drilon river in modern north Albania to Istria in the west and to the Sava river in the north. Salona functioned as its capital...
after the Gothic War, establishing their homeland south of the
Danube
Danube
The Danube is a river in the Central Europe and the Europe's second longest river after the Volga. It is classified as an international waterway....
within the empire's borders. He also issued decrees that effectively made
Christianity
Christianity
Christianity is a monotheistic religion based on the life and teachings of Jesus as presented in canonical gospels and other New Testament writings...
the official
state religion
State religion
A state religion is a religious body or creed officially endorsed by the state...
of the Roman Empire.
He is recognized by the
Eastern Orthodox Church
Eastern Orthodox Church
The Orthodox Church, officially called the Orthodox Catholic Church and commonly referred to as the Eastern Orthodox Church, is the second largest Christian denomination in the world, with an estimated 300 million adherents mainly in the countries of Belarus, Bulgaria, Cyprus, Georgia, Greece,...
as
Saint Theodosius
.
380 Theodosius I makes his ''adventus'', or formal entry, into Constantinople.
393 Roman Emperor Theodosius I proclaims his nine year old son Honorius co-emperor.
394 Battle of the Frigidus: The Christian Roman Emperor Theodosius I defeats and kills the pagan usurper Eugenius and his Frankish ''magister militum'' Arbogast.
1896 In Athens, the opening of the first modern Olympic Games is celebrated, 1,500 years after the original games are banned by Roman Emperor Theodosius I.