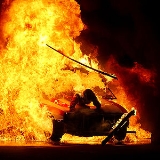 Stunt performer
A
stuntman
, or
daredevil
is someone who performs dangerous
stunt
Stunt
A stunt is an unusual and difficult physical feat, or any act requiring a special skill, performed for artistic purposes in TV, theatre, or cinema...
s, often as a career.
These stunts are sometimes rigged so that they look dangerous while still having safety mechanisms, but often they are as dangerous as they appear to be. There is an inherent risk in the performance of all stunt work in film, television and stage work, with more risk in performing stunts in front of a live audience because safety mechanisms cannot be edited out and the audience can see if the performer is genuinely doing what they claim to be doing.
Daredevils are distinct from stunt performers and
stunt double
Stunt double
A stunt double is a type of body double, specifically a skilled replacement used for dangerous film or video sequences, in movies and television , and for other sophisticated stunts...
s, as they perform their stunts purely for the sake of the stunt itself, often before an audience for their entertainment and personal monetary gain for the event. While a stunt performer, or stunt double, typically performs stunts intended for use in a
motion picture
Film
A film, also called a movie or motion picture, is a series of still or moving images. It is produced by recording photographic images with cameras, or by creating images using animation techniques or visual effects...
s or dramatized
television
Television
Television is a telecommunication medium for transmitting and receiving moving images that can be monochrome or colored, with accompanying sound...
(although one person could certainly be both, as was the case with
Harry Houdini
Harry Houdini
Harry Houdini was a Hungarian-born American magician and escapologist, stunt performer, actor and film producer noted for his sensational escape acts...
,
Jackie Chan
Jackie Chan
Jackie Chan, SBS, MBE is a Hong Kong actor, action choreographer, comedian, director, producer, martial artist, screenwriter, entrepreneur, singer and stunt performer. In his movies, he is known for his acrobatic fighting style, comic timing, use of improvised weapons, and innovative stunts...
,
Tony Jaa
Tony Jaa
Tatchakorn Yeerum , formerly Panom Yeerum , better known in the West as Tony Jaa, in Thailand as Jaa Panom, is a Thai martial artist, actor, choreographer, stuntman, director, and monk...
,
Jayan
Jayan
Krishnan Nair , better known by his stage name Jayan , was an Indian film actor, former sailor, stunt performer and 1970s style icon. He worked in Malayalam cinema, a sector of the Indian movie industry...
and others). Stunt performers and stunt doubles are generally skilled at performing physical action in character for film and television.
Stunts often seen in films and television include car crashes, falling from great height, dragged behind a horse and being blown up. Film and television stunt performers are often trained in martial arts and stage combat.
Live stunt performers include escape artists, sword swallowers, glass walkers,
fire eater
Fire eater
A fire eater is an entertainer, often a street artist or part of a sideshow. The performer places flaming objects into their mouth and extinguishes them by cutting off oxygen. They also practice controlling and transferring the flame....
s, trapeze artists, and many other
sideshow
Sideshow
In America, a sideshow is an extra, secondary production associated with a circus, carnival, fair or other such attraction.- Types of attractions :There are four main types of classic sideshow attractions:...
and
circus
Circus
A circus is commonly a travelling company of performers that may include clowns, acrobats, trained animals, trapeze acts, musicians, hoopers, tightrope walkers, jugglers, unicyclists and other stunt-oriented artists...
arts. They also include motorcycle display teams and the once popular
Wall of Death
Wall of death
Wall of death may refer to:* Wall of death * Wall of death * "Wall of Death", a song by Richard and Linda Thompson from Shoot Out the Lights* "Wall of Death", a song by Murphy's Law from Back with a Bong...
.
Modern live stunt performers include escape artist and stuntman
Roslyn Walker
Roslyn Walker
Roslyn Walker is an escape artist and stuntman famous for recreating Harry Houdini's most technically challenging escape stunts including the suspended straitjacket escape and the world famous Mirror Handcuff Challenge.Most recently Roslyn Walker set two new World records within the field of...
and sideshow veteran Kondini.
Famous stunt performers
Yakima Canutt

Yakima Canutt

Yakima Canutt , also known as Yak Canutt, was an American rodeo rider, actor, stuntman and action director.-Biography:...


, years active 1912-1975
Yuen Biao

Yuen Biao

Yuen Biao is a Hong Kong actor, martial artist. He specialises in acrobatics and Chinese martial arts and has worked on over 80 films as actor, stuntman and action choreographer...



Jackie Chan

Jackie Chan

Jackie Chan, SBS, MBE is a Hong Kong actor, action choreographer, comedian, director, producer, martial artist, screenwriter, entrepreneur, singer and stunt performer. In his movies, he is known for his acrobatic fighting style, comic timing, use of improvised weapons, and innovative stunts...



Dylan Ifans
Robert Rayos
Isaac Tep
Alain Vincx
Jacquie de Creed

Jacquie de Creed

Jacqueline Balmer was an English stuntwoman and presenter, and holder of the Long Distance Car Ramp Jump Record. During the 1980s she became famous in the United Kingdom for staging a series of spectacular car stunts...



Dorothy Dietrich

Dorothy Dietrich

Dorothy Dietrich is an American stage magician and escapologist, and the first and only woman to have performed the bullet catch in mouth. She was also the first woman to perform a straitjacket escape while suspended hundreds of feet in the air from a burning rope Dorothy Dietrich is an American...



Peter H Kent "Stunt Double for Arnold Schwarzenegger"
Helen Gibson

Helen Gibson

Helen Gibson was an American film actress, vaudeville performer, radio performer, film producer, trick rider and rodeo performer; and is considered to be the first American professional stunt woman.- Rodeo riding :...



Steven Ho

Steven Ho

Steven Ho is a Chinese American martial artist, entrepreneur, stunt coordinator, stuntman, and member of the Academy of Television Arts & Sciences....



Harry Houdini

Harry Houdini

Harry Houdini was a Hungarian-born American magician and escapologist, stunt performer, actor and film producer noted for his sensational escape acts...



Sammo Hung

Sammo Hung

Sammo Hung is a Hong Kong actor, martial artist, film producer and director, known for his work in many martial arts films and Hong Kong action cinema...



Jim Ford

Jim Ford (actor)

Jim Ford is an American film and television actor, stuntman, screenwriter and film director. He wrote and directed the short films Reconnaissance , Gotta Go , Wiffle Ball , Timmy Text Message , and White Zin .-Background:Ford was born in Worcester, Massachusetts...



Tony Jaa

Tony Jaa

Tatchakorn Yeerum , formerly Panom Yeerum , better known in the West as Tony Jaa, in Thailand as Jaa Panom, is a Thai martial artist, actor, choreographer, stuntman, director, and monk...



Jayan

Jayan

Krishnan Nair , better known by his stage name Jayan , was an Indian film actor, former sailor, stunt performer and 1970s style icon. He worked in Malayalam cinema, a sector of the Indian movie industry...



Evel Knievel

Evel Knievel

Evel Knievel , born Robert Craig Knievel, was an American daredevil and entertainer. In his career he attempted over 75 ramp-to-ramp motorcycle jumps between 1965 and 1980, and in 1974, a failed jump across Snake River Canyon in the Skycycle X-2, a steam-powered rocket...



Eddie Kidd, years active 1974-1996
Robbie Knievel

Robbie Knievel

Robert Edward "Robbie" Knievel is an American daredevil and son of stunt performer Evel Knievel.-Family:...



Chris Pontius

Chris Pontius

Christopher Andrew "Chris" Pontius is an American entertainer and daredevil. Pontius is a member of Jackass, and along with Steve-O, was the co-host of Wildboyz.-Life and career:...



Johnny Knoxville

Johnny Knoxville

Philip John Clapp , better known by his stage name Johnny Knoxville, is an American actor, comedian, screenwriter, stunt performer, best known for being the co-creator and principal star of the MTV reality series Jackass, with the catchphrase "I'm Johnny Knoxville, and welcome to Jackass."-Early...



Kondini
Akshay Kumar

Akshay Kumar

Akshay Kumar is an Indian film actor, producer and martial artist who has appeared in over a hundred Hindi films. When he began his acting career in the 1990s, he primarily starred in action films and was particularly known for his appearances in feature films commonly called the "Khiladi series",...



Bam Margera

Bam Margera

Brandon Cole "Bam" Margera is an American professional skateboarder, television and radio personality, actor and daredevil. He released a series of videos under the CKY banner and came to prominence after being drafted into MTV's Jackass crew...



Steve-O

Steve-O

Steve-O is an American stunt performer and television personality. His entertainment career is mostly centered around his performance stunts on the American TV series Jackass and accompanying movies....



Claudio Pacifico
Travis Pastrana

Travis Pastrana

Travis Alan Pastrana is an American motorsports competitor and stunt performer who has won championships and X Games gold medals in several events, including supercross, motocross, freestyle motocross, and rally racing. He runs a show called Nitro Circus with some of his friends...



Andy Bell

Andy Bell

Andy Bell may refer to:*Andy Bell , British professional boxer*Andy Bell , English footballer*Andy Bell , English footballer*Andy Bell *Andy Bell...



Sam Patch

Sam Patch

Sam Patch , known as "The Yankee Leaper", became the first famous American daredevil after successfully jumping from a raised platform into the Niagara River near the base of Niagara Falls in 1829.-Biography:...



Clem Sohn

Clem Sohn

Clement Joseph Sohn was an airshow dare-devil in the 1930s from Fowler, Michigan, USA. He perfected a way of gliding through the air with a home-made wingsuit...



Steve Truglia

Steve Truglia

Steve Truglia is a stunt coordinator, stunt performer and Action Unit Director in the UK. He is also an experienced Television Presenter and Actor, having trained at the Sylvia Young Theatre School. He is a registered Full member of the UK Equity Stunt Register as a Stunt Co-ordinator, and has been...



Iko Uwais

Iko Uwais

-Early life:Born in Jakarta, Indonesia on February 12, 1983, Uwais Qorny is of the Betawi descent. He has been learning Indonesian traditional martial art, Pencak Silat, since he was 10 years old at his uncle's Silat school, Tiga Berantai, which uses the distinctive Betawi style of Silat. In...



Roslyn Walker

Roslyn Walker

Roslyn Walker is an escape artist and stuntman famous for recreating Harry Houdini's most technically challenging escape stunts including the suspended straitjacket escape and the world famous Mirror Handcuff Challenge.Most recently Roslyn Walker set two new World records within the field of...



Donnie Yen

Donnie Yen

Donnie Yen is a Hong Kong actor, martial artist, film director and producer, action choreographer, and world wushu tournament medalist...



Ryan Dunn

Ryan Dunn

Ryan Matthew Dunn was an American reality television personality and daredevil best known for being a member of the Jackass and Viva La Bam crew. He hosted Homewrecker and Proving Ground...


(Deceased)
Tyler Mahoney
Kitty O'Neil

Kitty O'Neil

Kitty O'Neil is a former stuntwoman and racer noted for a handful of exceptional accomplishments, despite becoming deaf when she was four months old.She became a stunt woman because she was married to a stunt man....



Walter D Bongard, years active 1993-2007
See also