 The Vortex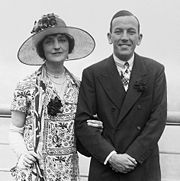 The Vortex
is a
play
Play (theatre)
A play is a form of literature written by a playwright, usually consisting of scripted dialogue between characters, intended for theatrical performance rather than just reading. There are rare dramatists, notably George Bernard Shaw, who have had little preference whether their plays were performed...
by the
English
English people
The English are a nation and ethnic group native to England, who speak English. The English identity is of early mediaeval origin, when they were known in Old English as the Anglecynn. England is now a country of the United Kingdom, and the majority of English people in England are British Citizens...
writer and actor
Noël Coward
Noël Coward
Sir Noël Peirce Coward was an English playwright, composer, director, actor and singer, known for his wit, flamboyance, and what Time magazine called "a sense of personal style, a combination of cheek and chic, pose and poise".Born in Teddington, a suburb of London, Coward attended a dance academy...
. The story focuses on sexual vanity and drug abuse among the upper classes. The play was Coward's first great commercial success.
After London productions in 1924–25, the play received a New York production in 1924–26. It has enjoyed several recent revivals.
Background and productions
The story is about a nymphomaniac socialite and her cocaine-addicted son (played by Coward). Some saw the drugs as a mask for homosexuality, while
Kenneth Tynan
Kenneth Tynan
Kenneth Peacock Tynan was an influential and often controversial English theatre critic and writer.-Early life:...
later described it as "a
jeremiad
Jeremiad
A jeremiad is a long literary work, usually in prose, but sometimes in poetry, in which the author bitterly laments the state of society and its morals in a serious tone of sustained invective, and always contains a prophecy of society's imminent downfall....
against narcotics with dialogue that sounds today not so much stilted as high-heeled".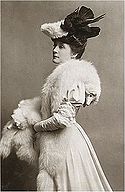 It was first performed in 1924 at the Everyman Theatre,
Hampstead
Hampstead
Hampstead is an area of London, England, north-west of Charing Cross. Part of the London Borough of Camden in Inner London, it is known for its intellectual, liberal, artistic, musical and literary associations and for Hampstead Heath, a large, hilly expanse of parkland...
in north London. Leading London managements had wished to stage the play, but had not wanted Coward to play the juvenile lead, Nicky. As one of Coward's principal objects in writing the play had been to give himself "a first-rate opportunity for dramatic acting" he produced the play himself on borrowed money, and cast himself as Nicky. Upset by a last-minute rewrite that she believed diminished her role, the female star,
Kate Cutler
Kate Cutler
Kate Ellen Louisa Cutler was an English singer and actress, known in the late nineteenth and early twentieth centuries as an ingénue in musical comedies, and later as a character actress in comic and dramatic plays...
, dropped out a week before the premiere, but Coward was able to engage the veteran actress
Lilian Braithwaite
Lilian Braithwaite
Dame Lilian Braithwaite DBE , born Florence Lilian Braithwaite, was an English actress.She was the daughter of a clergyman, and born in Ramsgate, Kent. She was educated at Croydon High School, and married actor-manager Gerald Lawrence, first acting with amateur companies...
, who learned the part at very short notice. The original production was well received for its passionate acting and became a sensation because of its scandalous subject matter. The production moved to the
West End
West End theatre
West End theatre is a popular term for mainstream professional theatre staged in the large theatres of London's 'Theatreland', the West End. Along with New York's Broadway theatre, West End theatre is usually considered to represent the highest level of commercial theatre in the English speaking...
at the
Royalty Theatre
Royalty Theatre
The Royalty Theatre was a small London theatre situated at 73 Dean Street, Soho and opened on 25 May 1840 as Miss Kelly's Theatre and Dramatic School and finally closed to the public in 1938. The architect was Samuel Beazley, a resident in Soho Square, who also designed St James's Theatre, among...
on 16 December 1924, then transferred to the Comedy Theatre in February 1925 and finally to The Little Theatre, closing on 16 June 1925. On the few occasions when Coward was unable to play the part, his role was taken by his understudy,
John Gielgud
John Gielgud
Sir Arthur John Gielgud, OM, CH was an English actor, director, and producer. A descendant of the renowned Terry acting family, he achieved early international acclaim for his youthful, emotionally expressive Hamlet which broke box office records on Broadway in 1937...
. The sets and costumes were designed by Coward's friend
Gladys Calthrop
Gladys Calthrop
Gladys E. Calthrop was an artist and leading British stage designer. She is best known as the set and costume designer for many of Noël Coward's plays and musicals.-Life and career:...
.
As Coward noted in his memoir
Present Indicative
, "The Press notices... were, on the whole, enthusiastic."
The Daily Mirror
The Daily Mirror
The Daily Mirror is a British national daily tabloid newspaper which was founded in 1903. Twice in its history, from 1985 to 1987, and from 1997 to 2002, the title on its masthead was changed to read simply The Mirror, which is how the paper is often referred to in popular parlance. It had an...
called it "an interesting and, in some respects, a remarkable comedy".
The Manchester Guardian
had some reservations, but described the play as "genuinely and deeply interesting".
The Observer
The Observer
The Observer is a British newspaper, published on Sundays. In the same place on the political spectrum as its daily sister paper The Guardian, which acquired it in 1993, it takes a liberal or social democratic line on most issues. It is the world's oldest Sunday newspaper.-Origins:The first issue,...
also had reservations but thought parts of the play "the best thing Mr. Coward has yet done in playwriting."
The Times
The Times
The Times is a British daily national newspaper, first published in London in 1785 under the title The Daily Universal Register . The Times and its sister paper The Sunday Times are published by Times Newspapers Limited, a subsidiary since 1981 of News International...
opined: "It is a study that has wit, observation, and a sincerity, leaping out between flippances, which is its peculiar merit."
The play opened on
Broadway
Broadway theatre
Broadway theatre, commonly called simply Broadway, refers to theatrical performances presented in one of the 40 professional theatres with 500 or more seats located in the Theatre District centered along Broadway, and in Lincoln Center, in Manhattan in New York City...
at the
Henry Miller's Theatre
Henry Miller's Theatre
The Stephen Sondheim Theatre, formerly Henry Miller's Theatre, is a Broadway theatre located at 124 West 43rd Street, between Broadway and 6th Avenue, in Manhattan's Theatre District.-History:...
on 16 September 1925 and closed in January 1926 after 157 performances. Braithwaite and Coward reprised their roles, with Coward and Basil Dean directing. It was revived in New York City
off-Broadway
Off-Broadway
Off-Broadway theater is a term for a professional venue in New York City with a seating capacity between 100 and 499, and for a specific production of a play, musical or revue that appears in such a venue, and which adheres to related trade union and other contracts...
at the Diane Von Furstenburg Studio, The Theater, in 2001 and at the
Donmar Warehouse
Donmar Warehouse
Donmar Warehouse is a small not-for-profit theatre in the Covent Garden area of London, with a capacity of 251.-About:Under the artistic leadership of Michael Grandage, the theatre has presented some of London's most memorable award-winning theatrical experiences, as well as garnered critical...
in London in 2002. In 2008 the play was performed at London's
Apollo Theatre
Apollo Theatre
The Apollo Theatre is a Grade II listed West End theatre, on Shaftesbury Avenue in the City of Westminster. Designed by architect Lewin Sharp for owner Henry Lowenfield, and the fourth legitimate theatre to be constructed on the street, its doors opened on 21 February 1901 with the American...
, starring
Felicity Kendal
Felicity Kendal
Felicity Ann Kendal, CBE is an English actor known for her television and stage work.Born in 1946, Kendal spent much of her childhood in India, where her father managed a touring repertory company. First appearing on stage at the age of nine months, Kendal appeared in her first film, Shakespeare...
as Florence and
Will Young
Will Young
William Robert "Will" Young is a British singer-songwriter and actor who came to prominenceafter winning the 2002 inaugural series of the British music contest Pop Idol, making him the first winner of the now-worldwide Idols-format franchise...
as Nicky, both of whom were highly praised for their performances.
Ivor Novello
Ivor Novello
David Ivor Davies , better known as Ivor Novello, was a Welsh composer, singer and actor who became one of the most popular British entertainers of the first half of the 20th century. Born into a musical family, his first successes were as a songwriter...
appeared in
a 1928 film version
The Vortex (film)
The Vortex is a 1928 British drama film directed by Adrian Brunel and starring Ivor Novello, Willette Kershaw and Frances Doble. It was an adaptation of the Noel Coward play The Vortex and was made by Gainsborough Studios.-Cast:...
. In 1975,
Glyn Dearman
Glyn Dearman
Glyn Dearman was a former child actor whose acting career spanned almost two decades. He is perhaps best remembered for his portrayal of the character Tiny Tim in the 1951 film Scrooge. He was also a BBC radio producer in the later part of his career.- External links :* *...
produced a BBC Radio version with
Martin Jarvis
Martin Jarvis
Martin Jarvis OBE is an English actor.-Early life:Jarvis is the son of Denys Harry Jarvis and Margot Lillian Scottney, and grew up in South Norwood and Sanderstead, South Croydon.-Education:...
as Nicky,
Elizabeth Sellars
Elizabeth Sellars
Elizabeth Sellars is a British actress.Sellars was born in Glasgow, Scotland. She appeared on the stage from age 15 and trained at the Royal Academy of Dramatic Arts...
as Florence and
Timothy Dalton
Timothy Dalton
Timothy Peter Dalton ) is a Welsh actor of film and television. He is known for portraying James Bond in The Living Daylights and Licence to Kill , as well as Rhett Butler in the television miniseries Scarlett , an original sequel to Gone with the Wind...
as Tom.
Synopsis
The story follows a talented young composer, Nicky Lancaster. Nicky proposes to his lover Bunty, a journalist, while his mother Florence, an ageing socialite, has extramarital affairs with younger men, including Tom, who is also Bunty's ex-fiancé. Tensions come to a boil as Nicky struggles with his severe cocaine addiction and repressed
homosexuality
Homosexuality
Homosexuality is romantic or sexual attraction or behavior between members of the same sex or gender. As a sexual orientation, homosexuality refers to "an enduring pattern of or disposition to experience sexual, affectional, or romantic attractions" primarily or exclusively to people of the same...
(a theme that was necessarily subtly conveyed, considering contemporary attitudes), as well as the simmering resentment he feels for his vainglorious mother.
External links
2002 review of The Vortex at the Donmar Warehouse

Donmar Warehouse

Donmar Warehouse is a small not-for-profit theatre in the Covent Garden area of London, with a capacity of 251.-About:Under the artistic leadership of Michael Grandage, the theatre has presented some of London's most memorable award-winning theatrical experiences, as well as garnered critical...



2001 review of The Vortex off-Broadway

Off-Broadway

Off-Broadway theater is a term for a professional venue in New York City with a seating capacity between 100 and 499, and for a specific production of a play, musical or revue that appears in such a venue, and which adheres to related trade union and other contracts...


at Diane Von Furstenburg Studio, The Theater
2007 review of The Vortex at the Royal Exchange Theatre, UK