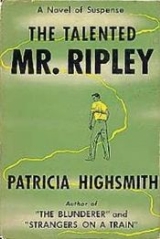 The Talented Mr. Ripley
The Talented Mr. Ripley
(
1955
1955 in literature
The year 1955 in literature involved some significant events and new books.-Events:*28 May - Philip Larkin makes a train journey from Hull to London which inspires his poem The Whitsun Weddings....
) is a
psychological thriller
Psychological thriller
Psychological thriller is a specific sub-genre of the broad ranged thriller with heavy focus on characters. However, it often incorporates elements from the mystery and drama genre, along with the typical traits of the thriller genre...
novel
Novel
A novel is a book of long narrative in literary prose. The genre has historical roots both in the fields of the medieval and early modern romance and in the tradition of the novella. The latter supplied the present generic term in the late 18th century....
by
Patricia Highsmith
Patricia Highsmith
Patricia Highsmith was an American novelist and short-story writer most widely known for her psychological thrillers, which led to more than two dozen film adaptations. Her first novel, Strangers on a Train, has been adapted for stage and screen numerous times, notably by Alfred Hitchcock in 1951...
. This novel first introduced the character of Tom Ripley who returns in the novels
Ripley Under Ground
Ripley Under Ground
Ripley Under Ground is a psychological thriller by Patricia Highsmith, the second novel in her Ripliad series.- Plot summary :Six years after the events of The Talented Mr. Ripley, Tom Ripley is now in his early 30s, living a comfortable life in France with his heiress wife, Heloise Plisson...
,
Ripley's Game
Ripley's Game
Ripley's Game is a psychological thriller by Patricia Highsmith, the third in her "Ripliad" series.-Plot summary:In the third Ripley novel, Tom Ripley is a wealthy man in his early thirties. He lives in Villeperce, France, with his French wife, Heloise...
,
The Boy Who Followed Ripley
The Boy Who Followed Ripley
The Boy Who Followed Ripley is a psychological thriller by Patricia Highsmith, the fourth in her acclaimed series about career criminal Tom Ripley . In this book, Ripley continues living quietly in his French estate, Belle Ombre, only obliquely involved in criminal activity...
and
Ripley Under Water
Ripley Under Water
Ripley Under Water is a psychological thriller by Patricia Highsmith, the last in her series of five books known as the "Ripliad".-Synopsis:...
. The five novels are known collectively as the
Ripliad
.
Plot
Tom Ripley is a young man struggling to make a living in
New York City
New York City
New York is the most populous city in the United States and the center of the New York Metropolitan Area, one of the most populous metropolitan areas in the world. New York exerts a significant impact upon global commerce, finance, media, art, fashion, research, technology, education, and...
by whatever means necessary, including a series of small-time confidence scams. One day, he is approached by shipping magnate Herbert Greenleaf to travel to
Italy
Italy
Italy , officially the Italian Republic languages]] under the European Charter for Regional or Minority Languages. In each of these, Italy's official name is as follows:;;;;;;;;), is a unitary parliamentary republic in South-Central Europe. To the north it borders France, Switzerland, Austria and...
to persuade Greenleaf's errant son, Dickie, to return to the
United States
United States
The United States of America is a federal constitutional republic comprising fifty states and a federal district...
and join the family business. Ripley agrees, exaggerating his friendship with Dickie, a half-remembered acquaintance, in order to gain the elder Greenleaf's trust.
Shortly after his arrival in Italy, Ripley meets Dickie and his friend Marge Sherwood; although Ripley ingratiates himself with Dickie, Marge doesn't seem to like him very much. As Ripley and Dickie spend more time together, Marge feels left out and begins insinuating to Dickie that Ripley is
gay
Gay
Gay is a word that refers to a homosexual person, especially a homosexual male. For homosexual women the specific term is "lesbian"....
. Ripley then surprises Dickey in his bedroom dressed up in Greenleaf's clothes and imitating his mannerisms. Dickie is upset, and from this moment on Ripley senses that his wealthy friend has begun to tire of him, resenting his constant presence and growing personal dependence. Ripley has indeed become obsessed with Dickie, which is further reinforced by his desire to imitate and maintain the wealthy lifestyle Dickie has afforded him.
As a gesture to Ripley, Dickie agrees to travel with him on a short holiday to
Sanremo
Sanremo
Sanremo or San Remo is a city with about 57,000 inhabitants on the Mediterranean coast of western Liguria in north-western Italy. Founded in Roman times, the city is best known as a tourist destination on the Italian Riviera. It hosts numerous cultural events, such as the Sanremo Music Festival...
. Sensing that Dickie is about to cut him loose, Ripley finally decides to murder him and assume his identity. When the two set sail in a small rented boat, Ripley beats him to death with an oar, dumps his anchor-weighted body into the water and scuttles the boat.
Ripley assumes Dickie's identity, living off the latter's trust fund and carefully providing communications to Marge to assure her that Dickie has dumped her. Freddie Miles, an old friend of Dickie's from the same social set, encounters Ripley at what he supposes to be Dickie's apartment in
Rome
Rome
Rome is the capital of Italy and the country's largest and most populated city and comune, with over 2.7 million residents in . The city is located in the central-western portion of the Italian Peninsula, on the Tiber River within the Lazio region of Italy.Rome's history spans two and a half...
. He soon suspects something is wrong. When Miles finally confronts him, Ripley kills him with an ashtray. He later disposes of the body on the outskirts of Rome, attempting to make police believe that Miles has been murdered by robbers.
Ripley enters a cat-and-mouse game with the Italian police, but manages to keep himself safe by restoring his own identity and moving to
Venice
Venice
Venice is a city in northern Italy which is renowned for the beauty of its setting, its architecture and its artworks. It is the capital of the Veneto region...
. In succession Marge, Dickie's father, and an American private detective confront Ripley, who suggests to them that Dickie was
depressed
Clinical depression
Major depressive disorder is a mental disorder characterized by an all-encompassing low mood accompanied by low self-esteem, and by loss of interest or pleasure in normally enjoyable activities...
and may have committed
suicide
Suicide
Suicide is the act of intentionally causing one's own death. Suicide is often committed out of despair or attributed to some underlying mental disorder, such as depression, bipolar disorder, schizophrenia, alcoholism, or drug abuse...
. Marge stays for a while at Ripley's rented house in Venice; when she discovers Dickie's rings in Ripley's possession she seems to be on the verge of realising the truth. Panicked, Ripley contemplates murdering Marge, but she is saved when she says that if Dickie gave his rings to Ripley, then he probably meant to kill himself.
The story concludes with Ripley traveling to
Greece
Greece
Greece , officially the Hellenic Republic , and historically Hellas or the Republic of Greece in English, is a country in southeastern Europe....
and resigning himself to eventually getting caught. On arrival in Greece, however, he discovers that the Greenleaf family has accepted that Dickie is dead and that Ripley shall inherit his fortune according to a will forged by Ripley on Dickie's Hermes typewriter. While the book ends with Ripley happily rich, it also suggests that he may forever be dogged by
paranoia
Paranoia
Paranoia [] is a thought process believed to be heavily influenced by anxiety or fear, often to the point of irrationality and delusion. Paranoid thinking typically includes persecutory beliefs, or beliefs of conspiracy concerning a perceived threat towards oneself...
. In one of the final paragraphs, he nervously envisions a group of police officers waiting to arrest him, and Highsmith leaves her protagonist wondering, ".....was he going to see policemen waiting for him on every pier that he ever approached?"
Accolades
The novel won an Edgar Allan Poe Award from the
Mystery Writers of America
Mystery Writers of America
Mystery Writers of America is an organization for mystery writers, based in New York.The organization was founded in 1945 by Clayton Rawson, Anthony Boucher, Lawrence Treat, and Brett Halliday....
for Patricia Highsmith.
Adaptations