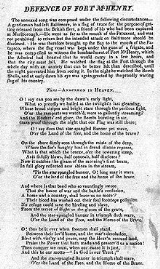 The Star-Spangled Banner
"
The Star-Spangled Banner
" is the
national anthem
National anthem
A national anthem is a generally patriotic musical composition that evokes and eulogizes the history, traditions and struggles of its people, recognized either by a nation's government as the official national song, or by convention through use by the people.- History :Anthems rose to prominence...
of the
United States of America
United States
The United States of America is a federal constitutional republic comprising fifty states and a federal district...
. The lyrics come from "Defence of Fort McHenry", a poem written in 1814 by the 35-year-old lawyer and amateur poet,
Francis Scott Key
Francis Scott Key
Francis Scott Key was an American lawyer, author, and amateur poet, from Georgetown, who wrote the lyrics to the United States' national anthem, "The Star-Spangled Banner".-Life:...
, after witnessing the bombardment of
Fort McHenry
Fort McHenry
Fort McHenry, in Baltimore, Maryland, is a star-shaped fort best known for its role in the War of 1812, when it successfully defended Baltimore Harbor from an attack by the British navy in Chesapeake Bay...
by the British Royal Navy ships in
Chesapeake Bay
Chesapeake Bay
The Chesapeake Bay is the largest estuary in the United States. It lies off the Atlantic Ocean, surrounded by Maryland and Virginia. The Chesapeake Bay's drainage basin covers in the District of Columbia and parts of six states: New York, Pennsylvania, Delaware, Maryland, Virginia, and West...
during the Battle of Fort McHenry in the
War of 1812
War of 1812
The War of 1812 was a military conflict fought between the forces of the United States of America and those of the British Empire. The Americans declared war in 1812 for several reasons, including trade restrictions because of Britain's ongoing war with France, impressment of American merchant...
.
The poem was set to the tune of a popular British song written by
John Stafford Smith
John Stafford Smith
John Stafford Smith was a British composer, church organist, and early musicologist. He was one of the first serious collectors of manuscripts of works by Johann Sebastian Bach....
for the
Anacreontic Society
Anacreontic Society
The Anacreontic Society was a popular gentlemen's club of amateur musicians in London founded in the mid-18th century. These barristers, doctors, and other professional men named their club after the Greek court poet Anacreon, who lived in the 6th century B.C. and whose poems, "anacreontics", were...
, a men's social club in
London
London
London is the capital city of :England and the :United Kingdom, the largest metropolitan area in the United Kingdom, and the largest urban zone in the European Union by most measures. Located on the River Thames, London has been a major settlement for two millennia, its history going back to its...
.