 The Spectator (1711)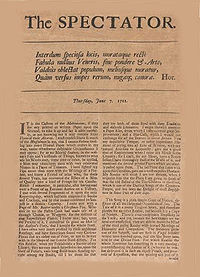 The Spectator
was a daily publication of 1711–12, founded by
Joseph Addison
Joseph Addison
Joseph Addison was an English essayist, poet, playwright and politician. He was a man of letters, eldest son of Lancelot Addison...
and
Richard Steele
Richard Steele
Sir Richard Steele was an Irish writer and politician, remembered as co-founder, with his friend Joseph Addison, of the magazine The Spectator....
in England after they met at
Charterhouse School
Charterhouse School
Charterhouse School, originally The Hospital of King James and Thomas Sutton in Charterhouse, or more simply Charterhouse or House, is an English collegiate independent boarding school situated at Godalming in Surrey.Founded by Thomas Sutton in London in 1611 on the site of the old Carthusian...
.
Eustace Budgell
Eustace Budgell
Eustace Budgell was an English writer and politician.Born in St Thomas near Exeter, Budgell was educated at Oxford University. His cousin, the writer Joseph Addison, took him to Ireland and got him appointed to a lucrative office...
, a cousin of Addison's, also contributed to the publication. Each 'paper', or 'number', was approximately 2,500 words long, and the original run consisted of 555 numbers. These were collected into seven volumes. The paper was revived without the involvement of Steele in 1714, appearing thrice weekly for six months, and these papers when collected formed the eighth volume.
Aims
The stated goal of
The Spectator
was "to enliven morality with wit, and to temper wit with morality... to bring philosophy out of the closets and libraries, schools and colleges, to dwell in clubs and assemblies, at tea-tables and coffeehouses" (No. 10). It recommended that its readers "consider it part of the tea-equipage" (No. 10) and not leave the house without reading it in the morning. One of its functions was to provide readers with educated, topical talking points, and advice in how to carry on conversations and social interactions in a polite manner. In keeping with the values of Enlightenment philosophies of their time, the authors of
The Spectator
promoted family, marriage, and courtesy.
Readership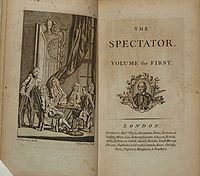 Despite a modest daily circulation of approximately 3,000 copies,
The Spectator
was widely read; Joseph Addison estimated that each number was read by 60,000 Londoners, about a tenth of the capital's population at the time. Contemporary historians and literary scholars, meanwhile, do not consider this to be an unreasonable claim; most readers were not themselves subscribers but patrons of one of the subscribing coffeehouses. These readers came from many stations in society, but the paper catered principally to the interests of England's emerging middle class - merchants and traders large and small.
Jürgen Habermas
Jürgen Habermas
Jürgen Habermas is a German sociologist and philosopher in the tradition of critical theory and pragmatism. He is perhaps best known for his theory on the concepts of 'communicative rationality' and the 'public sphere'...
sees
The Spectator
as instrumental in the 'structural transformation of the public sphere' which England saw in the eighteenth century. He argues that this transformation came about because of, and in the interests of, the middle class. Although
The Spectator
declares itself to be politically neutral, it was widely recognised as promoting
Whig
British Whig Party
The Whigs were a party in the Parliament of England, Parliament of Great Britain, and Parliament of the United Kingdom, who contested power with the rival Tories from the 1680s to the 1850s. The Whigs' origin lay in constitutional monarchism and opposition to absolute rule...
values and interests.
The Spectator
was also popular and widely read in the later eighteenth century and the nineteenth century. It was sold in eight-volume editions. Its prose style, and its marriage of morality and advice with entertainment, were considered exemplary. The decline in its popularity has been discussed by Brian McCrea and C.S. Lewis.
Characters of The Spectator
One of the principal conceits of
The Spectator
is its fictional narrator, Mr. Spectator. The first number is dedicated to his life story. Mr. Spectator speaks very little, communicating mainly through facial gestures. His unassuming profile enables him to circulate widely throughout society and fulfil his position as "spectator". He comments on the habits, foibles and social faux pas of his fellow citizens. He also notes the irony of his volubility in prose compared to his taciturnity in daily life.
The second number of
The Spectator
introduces the members of the 'Spectator Club', Mr. Spectator's close friends. This forms a cast of secondary characters which 'The Spectator' can draw on in its stories and examples of social conduct. In order to foster an inclusive ethos, they are drawn from many different walks of life. The best known of these characters is Sir Roger de Coverley, an English squire of
Queen Anne
Anne of Great Britain
Anne ascended the thrones of England, Scotland and Ireland on 8 March 1702. On 1 May 1707, under the Act of Union, two of her realms, England and Scotland, were united as a single sovereign state, the Kingdom of Great Britain.Anne's Catholic father, James II and VII, was deposed during the...
's reign. He exemplified the values of an old country gentleman, and was portrayed as lovable but somewhat ridiculous, making his Tory politics seem harmless but silly. Will Honeycomb is a 'rake' who "is very ready at that sort of discourse with which men usually entertain women." (No. 2) He is reformed near the end of
The Spectator
when he marries. Andrew Freeport is a merchant, and there are also a general and a priest in the Spectator Club.
See also
Bully Dawson

Bully Dawson

Bully Dawson was a renowned gambler from London, England in the time of Charles II. His name became a byword for a swaggering fool. His character is summed up by Charles Lamb: "Bully Dawson kicked by half the town, and half the town kicked by Bully Dawson"....


- mentioned in the Spectator as being kicked by Sir Roger De Coverley in a public coffee house
Sources
The Spectator Nos. 1, 2, 10 [Addison] , 1710-11.
The most used edition of The Spectator is Donald F. Bond's five volume edition (1965).
Brian McCrea, 'Addison and Steele Are Dead'
C.S. Lewis, 'Addison' in 'Eighteenth Century English Literature: Modern Essays in Criticism' ed. James Clifford.
External links