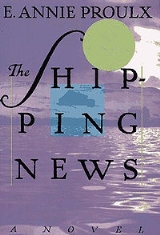 The Shipping News
The Shipping News
is a
Pulitzer Prize
Pulitzer Prize for Fiction
The Pulitzer Prize for Fiction has been awarded for distinguished fiction by an American author, preferably dealing with American life. It originated as the Pulitzer Prize for the Novel, which was awarded between 1918 and 1947.-1910s:...
and
National Book Award
National Book Award
The National Book Awards are a set of American literary awards. Started in 1950, the Awards are presented annually to American authors for literature published in the current year. In 1989 the National Book Foundation, a nonprofit organization which now oversees and manages the National Book...
-winning novel by American writer
E. Annie Proulx
E. Annie Proulx
Edna Annie Proulx is an American journalist and author. Her second novel, The Shipping News , won the Pulitzer Prize for Fiction and the National Book Award for fiction in 1994, and was made into a film in 2001...
which was published in 1993. It was adapted into a
film of the same name
The Shipping News (film)
The Shipping News is a 2001 drama film directed by Lasse Hallström, based on the Pulitzer Prize winning novel by E. Annie Proulx.It stars Kevin Spacey as the protagonist Quoyle, Judi Dench as Agnis Hamm and Julianne Moore as Wavey Prowse...
, released in 2001.
The story centers on Quoyle, a third-rate newspaper reporter from
upstate New York
Upstate New York
Upstate New York is the region of the U.S. state of New York that is located north of the core of the New York metropolitan area.-Definition:There is no clear or official boundary between Upstate New York and Downstate New York...
whose father emigrated from
Newfoundland
. Shortly after his parents' suicide, Quoyle's unfaithful and abusive wife Petal leaves town and attempts to sell their daughters to sex traffickers.
"In a knot of eight crossings, which is about the average-size knot, there are 256 different 'over-and-under' arrangements possible... Make only one change in this 'over and under' sequence and either an entirely different knot is made or no knot at all may result."- Intro

"all stemmed from Quoyle's chief failure, a failure of normal appearance." 2

"Quoyle large, white, stumbling along going nowhere" 4

"Quote, who spoke little himself, inspired talkers. His only skill in the game of life" 9

"That was the stuff of other lives, he was waiting for his to begin. He got in the habit of walking around the trailer and asking aloud, "Who knows?" He said, "Who knows?" For no one knew. He meant, anything could happen. A spinning coin, still balanced on its rim, may fall in either direction." 11

Quoyle with regards to Petal, his wife, "There was a month of fiery happiness. Then six kinked years of suffering...In another time, in another sex, she would have been Genghis Khan." 13

"Why do we weep in grief, the aunt wondered. Dogs, deer, birds sufferent with dry eyes and in silence. The dumb suffering of animals. Probably a survival technique." 24

"'Quoyle, you got any maritime connections?' 'My grandfather was a sealer.' 'Jesus. You always come out at me out of left field.'" 30

"Dad, there's smoke coming out of the can and coming out of your mouth, too. how do you do that, daddy?" 42

"and three lucky stones strung on a wire to keep the house safe." 45