 The Lonesome West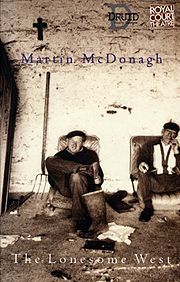 The Lonesome West
is a
play
Play (theatre)
A play is a form of literature written by a playwright, usually consisting of scripted dialogue between characters, intended for theatrical performance rather than just reading. There are rare dramatists, notably George Bernard Shaw, who have had little preference whether their plays were performed...
by contemporary
Irish
Irish people
The Irish people are an ethnic group who originate in Ireland, an island in northwestern Europe. Ireland has been populated for around 9,000 years , with the Irish people's earliest ancestors recorded having legends of being descended from groups such as the Nemedians, Fomorians, Fir Bolg, Tuatha...
playwright
Martin McDonagh
Martin McDonagh
Martin McDonagh is an Irish-British playwright, filmmaker, and screenwriter. Although he has lived in London his entire life, he is considered one of the most important living Irish playwrights.-Life:...
, part of his
Connemara
Connemara
Connemara is a district in the west of Ireland consisting of a broad peninsula between Killary Harbour and Kilkieran Bay in the west of County Galway.-Overview:...
trilogy, which includes
The Beauty Queen of Leenane
The Beauty Queen of Leenane
The Beauty Queen of Leenane is a 1996 black comedy by Irish playwright Martin McDonagh which was premiered by the Druid Theatre Company in Galway, Ireland...
and
A Skull in Connemara
. All three plays depict the shocking and murderous goings-on in the Western
Ireland
Ireland
Ireland is an island to the northwest of continental Europe. It is the third-largest island in Europe and the twentieth-largest island on Earth...
town of
Leenane
Leenaun
Leenaun , also Leenane, is a village and 1,845 acre townland in County Galway, Ireland. It is on the shore of Killary Harbour , on the northern edge of Connemara and is on the route of the Western Way long-distance trail...
.
Synopsis
The Lonesome West
features the constantly arguing brothers Coleman and Valene, whose father has just died in a shotgun 'accident.' Valene is only interested in his religious ornaments, and drinking poteen. Coleman is only interested in eating, and attends funerals to collect free sausage rolls and vol au vents.
Valene goes out to help drag the body of Garda Thomas Hanlon (character in "A Skull in Connemara")out of the lake with Father Welsh. Hanlon had just killed himself. Coleman pretends to follow, delaying to tie his shoelace, despite the fact that he was wearing loafers. While alone in the house, he destroys all of Valene's plastic figurines, by placing them in Valene's new stove.
Only Father Welsh, the alcoholic parish priest, attempts to fix their relationship, but his advice mostly goes unheard.
It is revealed later in the play that Coleman had shot his father because he insulted his (Coleman's) new haircut. Neither of the brothers show any grief or remorse at their father's death. The two brothers fight over everything and anything. Valene attacks Coleman over eating his crisps, and they fight over whose turn it is to read the magazine, and who left the top off Valene's pen. Father Welsh, depressed because of the hatred between the brothers, and with a low self esteem, writes a letter begging the brothers to get along, saying that he will stake his soul on it. Father Welsh then goes on to drown himself in the lake. This act is significant, as there has already been a lengthy discussion about suicide in the play. The characters believe that damnation follows suicide for the victims.
When Coleman and Valene read his letter, they attempt to reconcile themselves, and a "confessions" scene ensues, in which the brothers take turns to admit the wrongs that they had secretly done to each other in the past, and to forgive each others "sins." Coleman loses his temper when Valene admits to shoving a pencil down the throat of a girl that Coleman loved, causing her to then fall in love with the doctor that removed it. Coleman proceeds to smash Valene's precious religious figurines, and destroy his stove with multiple shot gun blasts. After Coleman calms down, Valene says "Try and top that one for yourself". Coleman does, however, deliver an even more terrible confession. He reveals that he cut the ears of Valene's dog two years previously, presenting the evidence of severed dog's ears in a brown paper bag. With this, Valene flies into a rage, and a major fight scene ensues. It becomes clear that the two brothers can never have a good relationship. They agree that fighting is actually good for them, and that Fr. Welsh's soul will be fine.
Production history
The play premiered in 1997 at the
Druid Theatre Company
Druid Theatre Company
The Druid Theatre Company, founded in Galway in 1975, was the first Irish professional theatre company to be established outside Dublin. The theatre company was founded by Garry Hynes, Marie Mullen and Mick Lally after the three had met and put on productions together while members of the...
in
Galway
Galway
Galway or City of Galway is a city in County Galway, Republic of Ireland. It is the sixth largest and the fastest-growing city in Ireland. It is also the third largest city within the Republic and the only city in the Province of Connacht. Located on the west coast of Ireland, it sits on the...
, in a co-production with the
Royal Court Theatre
Royal Court Theatre
The Royal Court Theatre is a non-commercial theatre on Sloane Square, in the Royal Borough of Kensington and Chelsea. It is noted for its contributions to modern theatre...
. The same four actors also appeared in the 1999
Broadway
Broadway theatre
Broadway theatre, commonly called simply Broadway, refers to theatrical performances presented in one of the 40 professional theatres with 500 or more seats located in the Theatre District centered along Broadway, and in Lincoln Center, in Manhattan in New York City...
production, at the Lyceum Theatre.
Brían F. O'Byrne
Brían F. O'Byrne
Brían Francis O'Byrne is an Irish actor who works mostly in the United States. He was born in Mullagh, County Cavan.O'Byrne first attracted notice for his performances in the Martin McDonagh plays The Beauty Queen of Leenane as Pato Dooley and The Lonesome West...
played Valene, Maelíosa Stafford played Coleman, David Ganly played Father Welsh, and Dawn Bradfield played Girleen.
Garry Hynes
Garry Hynes
Garry Hynes is an Irish theatre director. She holds the distinction of being the first female to win the prestigious Tony Award for direction of a play.Hynes was born in Ballaghadereen, Roscommon County and educated at St...
directed all three productions.
Awards
Tony Award for Best Play

Tony Award for Best Play

The Tony Award for Best Play is an annual award celebrating achievements in live American theatre, including musical theatre, honoring productions on Broadway in New York. It currently takes place in mid-June each year.There was no award in the Tony's first year...


(nominated)
Alfréd Radok Award

Alfréd Radok Awards

The Alfréd Radok Awards are presented annually by the Endowment for the Alfréd Radok Awards in collaboration with the Aura–Pont agency and the magazine Svět a Divadlo for achievements in Czech theatre. The prize for Best Performance was first awarded in 1992...


for Best Play (won)
Tony Award for Best Actor, Brían F. O'Byrne

Brían F. O'Byrne

Brían Francis O'Byrne is an Irish actor who works mostly in the United States. He was born in Mullagh, County Cavan.O'Byrne first attracted notice for his performances in the Martin McDonagh plays The Beauty Queen of Leenane as Pato Dooley and The Lonesome West...


(nominated)
External links