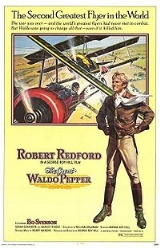 The Great Waldo Pepper
The Great Waldo Pepper
is a 1975
drama film
Drama film
A drama film is a film genre that depends mostly on in-depth development of realistic characters dealing with emotional themes. Dramatic themes such as alcoholism, drug addiction, infidelity, moral dilemmas, racial prejudice, religious intolerance, poverty, class divisions, violence against women...
directed, produced, and co-written by
George Roy Hill
George Roy Hill
George Roy Hill was an American film director. He is most noted for directing such films as Butch Cassidy and the Sundance Kid and The Sting, which both starred the acting duo Paul Newman and Robert Redford...
. It stars
Robert Redford
Robert Redford
Charles Robert Redford, Jr. , better known as Robert Redford, is an American actor, film director, producer, businessman, environmentalist, philanthropist, and founder of the Sundance Film Festival. He has received two Oscars: one in 1981 for directing Ordinary People, and one for Lifetime...
as a discontented
airplane pilot
Aviator
An aviator is a person who flies an aircraft. The first recorded use of the term was in 1887, as a variation of 'aviation', from the Latin avis , coined in 1863 by G. de la Landelle in Aviation Ou Navigation Aérienne...
in the years 1926-1931.
Margot Kidder
Margot Kidder
Margaret Ruth "Margot" Kidder is a Canadian-born American actress. She is perhaps best known for playing Lois Lane in the four Superman movies opposite Christopher Reeve, a role that brought her to widespread recognition....
,
Bo Svenson
Bo Svenson
Bo Svenson is a Swedish-born American actor, known for his roles in American genre films of the 1970s and 1980s.-Early life:...
, Edward Hermann and
Susan Sarandon
Susan Sarandon
Susan Sarandon is an American actress. She has worked in films and television since 1969, and won an Academy Award for Best Actress for her performance in the 1995 film Dead Man Walking. She had also been nominated for the award for four films before that and has received other recognition for her...
round out the cast.
Waldo Pepper (Robert Redford) feels he has missed out on the glory of aerial combat in
World War I
World War I
World War I , which was predominantly called the World War or the Great War from its occurrence until 1939, and the First World War or World War I thereafter, was a major war centred in Europe that began on 28 July 1914 and lasted until 11 November 1918...
after being made a flight instructor. When the fighting ends, Waldo has taken up
barnstorming
Barnstorming
Barnstorming was a popular form of entertainment in the 1920s in which stunt pilots would perform tricks with airplanes, either individually or in groups called a flying circus. Barnstorming was the first major form of civil aviation in the history of flight...
to make a living.