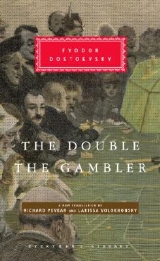 The Gambler (novel)
The Gambler
is a short novel by Fyodor Dostoyevsky about a young tutor in the employment of a formerly wealthy
Russia
Russia
Russia or , officially known as both Russia and the Russian Federation , is a country in northern Eurasia. It is a federal semi-presidential republic, comprising 83 federal subjects...
n general. The novella reflects Dostoyevsky's own addiction to
roulette
Roulette
Roulette is a casino game named after a French diminutive for little wheel. In the game, players may choose to place bets on either a single number or a range of numbers, the colors red or black, or whether the number is odd or even....
, which was in more ways than one the inspiration for the book: Dostoyevsky completed the novella under a strict deadline to pay off gambling debts.
Inspiration
The Gambler
treated a subject Fyodor Dostoyevsky himself was familiar with—gambling. Fyodor Dostoyevsky gambled for the first time at the gaming tables at Wiesbaden in 1863. From that time till 1871, when his passion for gambling subsided, he played at Baden-Baden, Homburg, and Saxon-les-Bains frequently, often beginning by winning a small amount of money and losing far more in the end. He wrote to his brother Mikhail on 8 September:
Fyodor Dostoyevsky then agreed to a hazardous contract with F. T. Stellovsky that if he did not deliver a novel of 12 or more signatures by 1 November 1866, Stellovsky would acquire the right to publish Dostoyevsky's works for nine years without any compensation to the writer. He noted down parts of his story, then dictated them to one of the first stenographers in Russia and his wife-to-be, young Anna Grigorevna, who transcribed them and copied it neatly out for him. With her help, he was able to finish the book in time.
Plot summary
The first-person narrative is told from the point of view of Alexei Ivanovich, a tutor working for a Russian family living in a suite at a German hotel.
The patriarch of the family, The General, is indebted to the Frenchman De Grieux and has mortgaged his property in Russia to pay only a small amount of his debt.
Upon learning of the illness of his wealthy aunt, "Grandmother", he sends streams of telegrams to Moscow and awaits the news of her demise. His expected inheritance will pay his debts and gain Madamoiselle De Cominges's hand in marriage.
Alexei is hopelessly in love with Polina and swears an oath of servitude to her. He told her while on a walk on the Schlangenberg (a mountain in the German town) that all she had to do was give the word and he would gladly walk off the edge and plummet to his death. This leads to her asking him to go to the town's casino and place a bet for her. He refuses at first but, when goaded and reminded of his oath of undying love and servility, he succumbs and ends up winning at the roulette table (this was his first experience with the narcotic bliss of gambling). He returns to her the winnings but she will not tell him the reason she needs money. She only laughs in his face (as she does when he professes his love) and treats him with cold indifference, if not downright malice. He only learns the details of The General's and Polina's financial state later in the story through his long-time acquaintance, Mr. Astley. Astley is a shy Englishman who seems to share Alexei's fondness of Polina. He comes from English nobility and has a good deal of money.
One day while Polina and Alexei are on a walk they see a Baron and Baroness. Polina dares him to insult the Aristocratic couple and he does so with little hesitation. This sets off a chain of events that details Madame de Cominges's interest in the General and gets Alexei fired as tutor of the General's children. Shortly after this Grandmother shows up and surprises the whole party of debtors and indebted. She tells them all that she knows all about the General's debt and why the French man and woman are waiting around the suite day after day. She leaves the party of death-profiteers by saying that none of them are getting any of her money. She then asks Alexei to be her guide around the town famous for its healing waters and infamous for its casino where the tables are stacked with piles of gold; she wants to gamble.
After being ushered to the roulette table, she plays and wins a significant amount of money. After a short return to the Hotel she comes back to roulette tables and she starts to get the bug; before she leaves the town she's lost almost a hundred thousand roubles. When Alexei gets back to his room after sending Grandmother off at the railway station he's greeted by Polina. She tells him that De Grieux had left town but not before he absolved the General from a certain moiety of the mortgages on his property. She then explains that because she was indebted to him she couldn't return Alexei's love. Upon hearing this Alexei runs out of the room and to the casino where he wins over two hundred thousand roubles and becomes a rich man. When he gets back to his room and the waiting Polina he empties his pockets full of gold and bank notes onto the bed. They fall asleep on the couch and the next day she tells Alexei that she hates him and wants to be with Mr. Astley (they had been secretly meeting and exchanging notes and she was supposed to meet him but had fallen asleep in his room). She runs out of the hotel and he doesn't see her again.
After learning that the general wouldn't be getting his inheritance Madame de Cominges leaves the hotel with her mother for Paris. Alexei goes with them having won a significant amount and they stay together for a month, he allowing them to spend his entire fortune on horses and frivolous balls.
Alexei starts to gamble to survive. One day he passes Mr. Astley on a park bench in
Bad Homburg
Bad Homburg
Bad Homburg vor der Höhe is the district town of the Hochtaunuskreis, Hesse, Germany, on the southern slope of the Taunus, bordering among others Frankfurt am Main and Oberursel...
and has a talk with him. He finds out from Astley that Polina is in Switzerland and actually does love him. Astley gives him some money but shows little hope that he will not use it for gambling. Alexei goes home dreaming of going to Switzerland the next day and recollects what made him win at the roulette tables in the past.
Characters
Alexei Ivanovich
The General
Maria Fillipova
Polina Alexandrovna
Antonida Vasilevna (Grandmother)
Madamoiselle Blanche De Cominges
Madame La Comtesse
Marquis Des Grieux
Mr. Astley
Adaptations
The novel was the basis of an
opera
Opera
Opera is an art form in which singers and musicians perform a dramatic work combining text and musical score, usually in a theatrical setting. Opera incorporates many of the elements of spoken theatre, such as acting, scenery, and costumes and sometimes includes dance...
by
Sergei Prokofiev
Sergei Prokofiev
Sergei Sergeyevich Prokofiev was a Russian composer, pianist and conductor who mastered numerous musical genres and is regarded as one of the major composers of the 20th century...
, also called
The Gambler
The Gambler (Prokofiev)
The Gambler is an opera in four acts by Sergei Prokofiev to a Russian libretto by the composer, based on the story of the same name by Fyodor Dostoyevsky....
.
Three films have been based on the book.
The Great Sinner
The Great Sinner
The Great Sinner is a 1949 American drama film directed by Robert Siodmak. Based on the 1866 short novel The Gambler written by Fyodor Dostoyevsky, the film stars Gregory Peck, Ava Gardner, Frank Morgan, Ethel Barrymore, Walter Huston, Agnes Moorehead and Melvyn Douglas.-Plot:During the 1860s in...
, a loose adaptation, starred
Gregory Peck
Gregory Peck
Eldred Gregory Peck was an American actor.One of 20th Century Fox's most popular film stars from the 1940s to the 1960s, Peck continued to play important roles well into the 1980s. His notable performances include that of Atticus Finch in the 1962 film To Kill a Mockingbird, for which he won an...
and
Ava Gardner
Ava Gardner
Ava Lavinia Gardner was an American actress.She was signed to a contract by MGM Studios in 1941 and appeared mainly in small roles until she drew attention with her performance in The Killers . She became one of Hollywood's leading actresses, considered one of the most beautiful women of her day...
under the direction of
Robert Siodmak
Robert Siodmak
Robert Siodmak was a German born American film director. He is best remembered as a thriller specialist and for the series of Hollywood film noirs he made in the 1940s.-Early life:...
in 1949.
The Gambler
The Gambler (1974 film)
The Gambler is a 1974 feature film starring James Caan, Lauren Hutton, and Paul Sorvino.The film is loosely based on the short novel The Gambler by Fyodor Dostoyevsky and was filmed at a time when leading actor James Caan was battling his own addiction to cocaine...
, released in 1974, was directed by
Karel Reisz
Karel Reisz
Karel Reisz was a Czech-born British filmmaker who was active in post–war Britain, and one of the pioneers of the new realist strain in 1950s and 1960s British cinema.-Early life:...
and starred James Caan,
Lauren Hutton
Lauren Hutton
Lauren Hutton is an American model and actress. She is best-known for her starring roles in the movies American Gigolo and Lassiter, and also for her fashion modeling career.-Personal life:...
, and
Paul Sorvino
Paul Sorvino
Paul Anthony Sorvino is an American actor. He often portrays authority figures on both sides of the law, and is possibly best known for his roles as Paulie Cicero, a portrayal of Paul Vario in the film Goodfellas and Sgt. Phil Cerreta on the police procedural and legal drama television series Law...
. It adapted the story in a twentieth-century American setting.
The Gamblers
, a German film released in 2007, was directed by
Sebastian Bieniek
Sebastian Bieniek
Sebastian Bieniek is a German film director, artist, playwright and author, He was born in Czarnowasy .- Biography :...
. There are also two movies based on Dostoyevsky's life during the time when he was writing the novella. Hungarian director
Károly Makk
's film
The Gambler
The Gambler (1997 film)
The Gambler is a 1997 drama film directed by Károly Makk and starring Michael Gambon, Jodhi May and Polly Walker. It is set around the writing of the novel The Gambler by Fyodor Dostoyevsky.-Cast:* Michael Gambon ... Fyodor Dostoyevsky...
was released in 1997, and the romantic comedy Alex & Emma—freely adapted and with a modern setting—was released in 2003.
An adaptation of the novella,
The Gamblers
, is among the early unpublished plays of
Tom Stoppard
Tom Stoppard
Sir Tom Stoppard OM, CBE, FRSL is a British playwright, knighted in 1997. He has written prolifically for TV, radio, film and stage, finding prominence with plays such as Arcadia, The Coast of Utopia, Every Good Boy Deserves Favour, Professional Foul, The Real Thing, and Rosencrantz and...
.
A radio play version was aired by BBC Radio 4 in December 2010, written by
Glyn Maxwell
Glyn Maxwell
Glyn Maxwell is a British poet.-Early life:Though his parents are Welsh, Maxwell was born and raised in Welwyn Garden City in Hertfordshire. He studied English at Worcester College, Oxford. He began an MLitt there, but in 1987 moved to America to study poetry and drama with Derek Walcott at...
and directed by Guy Retallack
http://www.bbc.co.uk/programmes/b00wcsb2
.
External links