 The Canadian Encyclopedia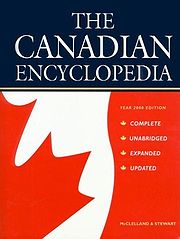 The Canadian Encyclopedia
is a source of information on
Canada
Canada
Canada is a North American country consisting of ten provinces and three territories. Located in the northern part of the continent, it extends from the Atlantic Ocean in the east to the Pacific Ocean in the west, and northward into the Arctic Ocean...
. It is available online, at no cost. The Canadian Encyclopedia is available in both English and French and includes some 14,000 articles in each language on a wide variety of subjects including history, popular culture, events, people, places, politics, arts, First Nations, sports and science.
The website also provides access to the Encyclopedia of Music in Canada, The Canadian Encyclopedia Junior Edition,
Maclean's
Maclean's
Maclean's is a Canadian weekly news magazine, reporting on Canadian issues such as politics, pop culture, and current events.-History:Founded in 1905 by Toronto journalist/entrepreneur Lt.-Col. John Bayne Maclean, a 43-year-old trade magazine publisher who purchased an advertising agency's in-house...
articles and Timelines of Canadian history.
History
Canada had been without a national
encyclopedia
Encyclopedia
An encyclopedia is a type of reference work, a compendium holding a summary of information from either all branches of knowledge or a particular branch of knowledge....
since the 1957
Encyclopedia Canadiana
.
In response to this,
Mel Hurtig
Mel Hurtig
Mel Hurtig, is a Canadian publisher, author, political activist and former political candidate.He was born and raised in Edmonton, Alberta. He is the former president of the Edmonton Art Gallery.-Businessman and Publisher:...
, a staunch
Canadian nationalist
Canadian nationalism
Canadian nationalism is a term which has been applied to ideologies of several different types which highlight and promote specifically Canadian interests over those of other countries, notably the United States...
, launched a project to create a wholly new
Canadian Encyclopedia
with support from Alberta Premier
Peter Lougheed
Peter Lougheed
Edgar Peter Lougheed, PC, CC, AOE, QC, is a Canadian lawyer, and a former politician and Canadian Football League player. He served as the tenth Premier of Alberta from 1971 to 1985....
. Editor in chief
James Harley Marsh
James Harley Marsh
James Harley Marsh, CM is a Canadian editor, writer and encyclopedist.After a spotty educational history Marsh found his métier in a summer job with educational publisher Holt, Rinehart and Winston, learning all aspects of the business from copy editing to the inner workings of the typesetting and...
recruited more than 3,000 authors to write for it.
The first edition of
The Canadian Encyclopedia
was published in three volumes in 1985 (ISBN 0-88830-269-X) and was a Canadian bestseller (150,000 sets sold in six months), and a revised and expanded edition was released in 1988 (ISBN 0-88830-326-2). The company later published
The Junior Encyclopedia of Canada
(ISBN 0-88830-334-3).
In 1995, the first CD-ROM edition was published (ISBN 0-7710-2041-4). Currently The Historica Foundation of Canada, a not-for-profit foundation, publishes the encyclopedia for free online.
External links