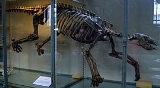 Thalassocnus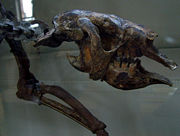 Thalassocnus
is an extinct genus of semi-aquatic or aquatic marine
sloth
Sloth
Sloths are the six species of medium-sized mammals belonging to the families Megalonychidae and Bradypodidae , part of the order Pilosa and therefore related to armadillos and anteaters, which sport a similar set of specialized claws.They are arboreal residents of the jungles of Central and South...
from the
Miocene
Miocene
The Miocene is a geological epoch of the Neogene Period and extends from about . The Miocene was named by Sir Charles Lyell. Its name comes from the Greek words and and means "less recent" because it has 18% fewer modern sea invertebrates than the Pliocene. The Miocene follows the Oligocene...
and
Pliocene
Pliocene
The Pliocene Epoch is the period in the geologic timescale that extends from 5.332 million to 2.588 million years before present. It is the second and youngest epoch of the Neogene Period in the Cenozoic Era. The Pliocene follows the Miocene Epoch and is followed by the Pleistocene Epoch...
of
South America
South America
South America is a continent situated in the Western Hemisphere, mostly in the Southern Hemisphere, with a relatively small portion in the Northern Hemisphere. The continent is also considered a subcontinent of the Americas. It is bordered on the west by the Pacific Ocean and on the north and east...
. Fossils found to date have been from the coast of
Peru
Peru
Peru , officially the Republic of Peru , is a country in western South America. It is bordered on the north by Ecuador and Colombia, on the east by Brazil, on the southeast by Bolivia, on the south by Chile, and on the west by the Pacific Ocean....
. They were apparently grazers of sea grass and seaweed. Over time, they apparently shifted from a preference for feeding in shallow water to a preference for deeper waters. They may have used their powerful claws to anchor themselves to the sea floor to facilitate feeding, similar to the behavior of the
marine iguana
Marine iguana
The Marine Iguana is an iguana found only on the Galápagos Islands that has the ability, unique among modern lizards, to live and forage in the sea, making it a marine reptile. The Iguana can dive over 30 ft into the water. It has spread to all the islands in the archipelago, and is...
.