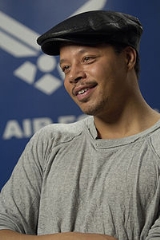 Terrence Howard
Terrence Dashon Howard
is an American actor. Having his first major role in the 1995 film
Mr. Holland's Opus
Mr. Holland's Opus
Mr. Holland's Opus is a 1995 American drama film directed by Stephen Herek, produced by Ted Field, Robert W. Cort, and Michael Nolin, and Executive Produced by Patrick Sheane Duncan. It stars Richard Dreyfuss in the title role, and the cast includes Glenne Headly, Olympia Dukakis, William H. Macy...
, which subsequently led to a number of roles in films and high visibility among
African American
African American
African Americans are citizens or residents of the United States who have at least partial ancestry from any of the native populations of Sub-Saharan Africa and are the direct descendants of enslaved Africans within the boundaries of the present United States...
audiences. Howard broke into the mainstream with a succession of well-reviewed television and film roles between 2004 and 2006. Among his roles in movies includes
Winnie
Winnie (film)
Winnie is an upcoming drama film adaptation of Anne Marie du Preez Bezrob's biography Winnie Mandela: A Life. The film is directed by Darrell Roodt, and will star Jennifer Hudson, Terrence Howard, Wendy Crewson, and Elias Koteas.-Plot:...
,
Ray
Ray (film)
Ray is a 2004 biographical film focusing on 30 years of the life of rhythm and blues musician Ray Charles. The independently produced film was directed by Taylor Hackford and starred Jamie Foxx in the title role; Foxx received an Academy Award for Best Actor for his performance.Charles was set to...
,
Lackawanna Blues
Lackawanna Blues
Lackawanna Blues is an American play written by Ruben Santiago-Hudson in 2001. It was later adapted as a television movie that aired in 2005. The play dramatizes the character of the author's primary caregiver when he was growing up in Lackawanna, New York, during the 1950s and 1960s.-Play:The...
,
Crash
Crash (2004 film)
Crash is a 2004 American drama film co-written, produced, and directed by Paul Haggis. The film is about racial and social tensions in Los Angeles, California. A self-described "passion piece" for Haggis, Crash was inspired by a real life incident in which his Porsche was carjacked outside a video...
,
Four Brothers
Four Brothers (film)
Four Brothers is a 2005 action crime film directed by John Singleton. The movie stars Mark Wahlberg, Tyrese Gibson, Andre Benjamin and Garrett Hedlund. The film was shot in Detroit, Michigan and Hamilton, Ontario, Canada...
,
Hustle & Flow
Hustle & Flow
Hustle & Flow is a 2005 independent drama film written and directed by Craig Brewer and produced by John Singleton. Terrence Howard stars as a Memphis hustler and pimp who faces his aspiration to become a rapper...
,
Get Rich or Die Tryin'
Get Rich or Die Tryin' (2005 film)
Get Rich or Die Tryin' is a 2005 crime drama film starring 50 Cent. It was released on November 9, 2005, and was known as Locked and Loaded during production. Similar to the 2002 Eminem film 8 Mile, which it used as a template, the film is a loosely-based semi-autobiographical film account of 50...
,
Idlewild
Idlewild (film)
Idlewild is an American musical film, released August 25, 2006, written and directed by Bryan Barber. The film stars André 3000 and Big Boi of the hip hop duo OutKast, and Idlewild features musical numbers written, produced, and chiefly performed by OutKast...
,
August Rush
August Rush
August Rush is a 2007 drama film directed by Kirsten Sheridan and written by Paul Castro, Nick Castle, and James V. Hart, and produced by Richard Barton Lewis.-Plot:...
and
The Brave One
The Brave One (2007 film)
The Brave One is a 2007 crime-drama/psychological thriller film directed by Neil Jordan, produced by Joel Silver, and starring Jodie Foster. It was released in the United States on September 14, 2007...
. Howard co-starred in
Iron Man
Iron Man (film)
Iron Man is a 2008 American superhero film based on the Marvel Comics character of the same name. Directed by Jon Favreau, the film stars Robert Downey, Jr. as Tony Stark, an industrialist and master engineer who builds a powered exoskeleton and becomes the technologically advanced superhero, Iron...
and reprised the role in the video game adaption.
His debut album,
Shine Through It
Shine Through It
Shine Through It is Terrence Howard's first studio album. It was released in the UK on September 1, 2008. It contains 11 tracks all produced by himself and Miles Mosley. All 11 tracks were written by himself, four of which were co written by Miles Mosley, and a further one co written by Ilsey Juber...
, heavily inspired by popular soul singers such as
Marvin Gaye
Marvin Gaye
Marvin Pentz Gay, Jr. , better known by his stage name Marvin Gaye, was an American singer-songwriter and musician with a three-octave vocal range....
and
Curtis Mayfield
Curtis Mayfield
Curtis Lee Mayfield was an American soul, R&B, and funk singer, songwriter, and record producer.He is best known for his anthemic music with The Impressions during the Civil Rights Movement of the 1960's and for composing the soundtrack to the blaxploitation film Super Fly, Mayfield is highly...
, was released in September 2008.
Howard was born in Chicago, Illinois and raised in
Cleveland, Ohio
Cleveland, Ohio
Cleveland is a city in the U.S. state of Ohio and is the county seat of Cuyahoga County, the most populous county in the state. The city is located in northeastern Ohio on the southern shore of Lake Erie, approximately west of the Pennsylvania border...
, the son of Anita Williams (née Hawkins) and Tyrone Howard.
He's like Gérard Depardieu|Gérard Depardieu, another strong, physical man who can break your heart with sensitivity. He has this creepiness, but a sympathetic attractiveness, too.

Thandie Newton|Thandie Newton, Howard's co-star in Crash (2005 film)|Crash.
I want to be the condensation on the glass. I want to be that phenomenon that takes place between hot and cold.

Interview with Time magazine, 2006