Terex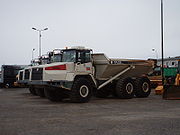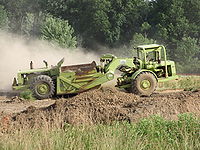 Terex Corporation
is an American-based diversified global manufacturer of a broad range of heavy equipment for a variety of industries, including construction, infrastructure, quarrying, recycling, surface mining, shipping, transportation, refining, utility and maintenance. The company's major business segments include aerial work platforms, construction, cranes, materials processing & mining, and roadbuilding and utility products. Terex has more than 15,900 employees and operates 50 manufacturing facilities in North America, South America, Europe, Asia and Australia. Terex sells its products in more than 170 countries.
Corporate history
The Terex name has its origins as a division of
General Motors
General Motors
General Motors Company , commonly known as GM, formerly incorporated as General Motors Corporation, is an American multinational automotive corporation headquartered in Detroit, Michigan and the world's second-largest automaker in 2010...
. Due to a 1968 Justice Department ruling, General Motors was required to stop manufacturing and selling off-highway trucks in the United States for four years and divest the Euclid brand name. GM coined the "Terex" name in 1968 from the Latin words "terra" (earth) and "rex" (king) for its construction equipment products and trucks not covered by the ruling.
General Motors sold the Terex division to German firm IBH Holding AG in 1980. After IBH Holding AG declared
bankruptcy
Bankruptcy
Bankruptcy is a legal status of an insolvent person or an organisation, that is, one that cannot repay the debts owed to creditors. In most jurisdictions bankruptcy is imposed by a court order, often initiated by the debtor....
in 1983, ownership of Terex reverted to General Motors and was organized as Terex Equipment Limited and Terex USA. American entrepreneur Randolph W. Lenz purchased Terex USA from GM in 1986, then exercised an option to purchase Terex Equipment Limited in 1987. In 1988 Lenz merged his primary construction equipment asset, Northwest Engineering Company, into Terex Corporation, making Terex Corporation the parent corporation. The construction assests acquired by Lenz throughout the 1980s including Northwest Engineering Company, Unit Rig (brands Dart Truck Company), Terex Equipment Limited and Koehring Cranes and Excavators, Inc. all became assets of Terex Corporation.
The original GM Euclid plant established in
Hudson, Ohio
Hudson, Ohio
Hudson is a city in Summit County, Ohio, United States. The population was 22,262 at the 2010 census. It is an affluent exurban community and is part of the Akron, Ohio Metropolitan Statistical Area...
was closed by Terex Corporation in the late 1980s.
In the 1970s, Terex produced the world's largest truck, the
Terex 33-19 "Titan"
Terex 33-19 "Titan"
The Terex 33-19 "Titan" was a prototype off-highway, ultra class, rigid frame, three-axle, diesel/AC electric powertrain haul truck designed by the Terex Division of General Motors and assembled at General Motors Diesel Division's London, ON, Canada assembly plant in 1973. Only one 33-19 was ever...
. The single prototype produced served until 1990 and is now on display in Sparwood, British Columbia, near the mine it served. It remains the world's largest truck by dimensions, but not by carrying capacity (370 tons). In 2008, Terex introduced a 400-ton mining truck, the MT6300, with 400 tons of hauling capacity.
In 1999 Terex acquired Finlay Hydrascreens which became Terex Finlay, they produce mobile crushing, screening, washing and recycling equipment. Their products are used in industries such as construction, quarrying, mining, landfill, aggregates, topsoil, compost/wood chips, asphalt, rock crushing, demolition, and recycling. Terex Finlay headquarters are located in
Omagh
Omagh
Omagh is the county town of County Tyrone, Northern Ireland. It is situated where the rivers Drumragh and Camowen meet to form the Strule. The town, which is the largest in the county, had a population of 19,910 at the 2001 Census. Omagh also contains the headquarters of Omagh District Council and...
,
Northern Ireland
Northern Ireland
Northern Ireland is one of the four countries of the United Kingdom. Situated in the north-east of the island of Ireland, it shares a border with the Republic of Ireland to the south and west...
.
Due to a strategy of acquisitions, Terex Corporation owns more than 50 different brands.
The United States Terex Corporation acquired the majority ownership (71%) of Tatra in late 2003 but as of late 2006 sold off that share to Blue River S.R.O. for about $26.2 million in cash.
In February 2010, Terex sold its mining equipment division to
Bucyrus International
Bucyrus International
Bucyrus International, Inc. , was an American surface and underground mining equipment company. Founded as Bucyrus Foundry and Manufacturing Company in Bucyrus, Ohio, in 1880, Bucyrus moved company headquarters to South Milwaukee, Wisconsin in 1893. In its early history, Bucyrus produced steam...
Inc. for US$1.3 billion.
On 13 March 2010, Terex has announced that it will now offer a full two-year factory warranty on rough terrain canes, crawler cranes, boom tucks, truck cranes and tower cranes built in the US.
Allegations of arms sale to Iraq
In 1992 American businessman Richard Carl Fuisz reported to the Operations Subcommittee of the House Committee on Agriculture that he witnessed the construction of military vehicles at a Terex owned facility in Scotland in 1987. Fuisz alleged that Terex employees reported that the vehicles were manufactured at the request of the CIA and British Intelligence and were destined for service with the Iraqi military. Terex denied the allegations and in 1992, Terex filed a libel complaint against Fuisz and Seymour M. Hersh, writer of a
New York Times
article covering Fuisz's allegations. After several investigations, including a 16 month long Federal task force investigation, no legal charges were filed against Terex and the New York Times in an Dec. 7, 1995 editor's note said," "The article should never have suggested that Terex has ever supplied Scud missile launchers to Iraq, and The Times regrets any damage that may have resulted to Terex from any false impression the article may have caused."
In 2005, Scotland's
Sunday Herald
Sunday Herald
The Sunday Herald is a Scottish Sunday newspaper launched on 7 February 1999. The ABC audited circulation in April 2011 showed sales of 31,123.From the start it has combined a centre-left stance with support for Scottish devolution...
reported that documents provided by Iraq to the
United Nations
United Nations
The United Nations is an international organization whose stated aims are facilitating cooperation in international law, international security, economic development, social progress, human rights, and achievement of world peace...
named Terex as a company that provided assistance to Iraq's weapons program.
External links