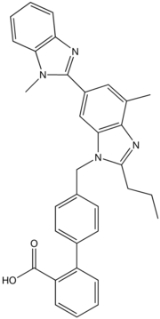 Telmisartan
Telmisartan
(icon) is an
angiotensin II receptor antagonist
Angiotensin II receptor antagonist
Angiotensin II receptor antagonists, also known as angiotensin receptor blockers , AT1-receptor antagonists or sartans, are a group of pharmaceuticals which modulate the renin-angiotensin-aldosterone system...
(angiotensin receptor blocker, ARB) used in the management of
hypertension
Hypertension
Hypertension or high blood pressure is a cardiac chronic medical condition in which the systemic arterial blood pressure is elevated. What that means is that the heart is having to work harder than it should to pump the blood around the body. Blood pressure involves two measurements, systolic and...
. It is marketed under the
trade name
Trade name
A trade name, also known as a trading name or a business name, is the name which a business trades under for commercial purposes, although its registered, legal name, used for contracts and other formal situations, may be another....
Micardis
(by Boehringer Ingelheim), among others.
Administration
The usually effective dose telmisartan is (20–)40–80 mg once daily. Some patients may already benefit at a daily dose of 20 mg. In cases where the target blood pressure is not achieved, telmisartan dose can be increased to a maximum of 80 mg once daily.
Contraindications
Telmisartan is contraindicated during pregnancy. Like other drugs affecting the
renin-angiotensin system
Renin-angiotensin system
The renin-angiotensin system or the renin-angiotensin-aldosterone system is a hormone system that regulates blood pressure and water balance....
(RAS), telmisartan can cause birth defects,
stillbirth
Stillbirth
A stillbirth occurs when a fetus has died in the uterus. The Australian definition specifies that fetal death is termed a stillbirth after 20 weeks gestation or the fetus weighs more than . Once the fetus has died the mother still has contractions and remains undelivered. The term is often used in...
s, and neonatal deaths. It should not be taken by breastfeeding women since it is not known whether the drug passes into the breast milk.
Side effects
Side effects are similar to other angiotensin II receptor antagonists and include
tachycardia
Tachycardia
Tachycardia comes from the Greek words tachys and kardia . Tachycardia typically refers to a heart rate that exceeds the normal range for a resting heart rate...
and
bradycardia
Bradycardia
Bradycardia , in the context of adult medicine, is the resting heart rate of under 60 beats per minute, though it is seldom symptomatic until the rate drops below 50 beat/min. It may cause cardiac arrest in some patients, because those with bradycardia may not be pumping enough oxygen to their heart...
(fast or slow heartbeat),
hypotension
Hypotension
In physiology and medicine, hypotension is abnormally low blood pressure, especially in the arteries of the systemic circulation. It is best understood as a physiologic state, rather than a disease. It is often associated with shock, though not necessarily indicative of it. Hypotension is the...
(low blood pressure),
edema
Edema
Edema or oedema ; both words from the Greek , oídēma "swelling"), formerly known as dropsy or hydropsy, is an abnormal accumulation of fluid beneath the skin or in one or more cavities of the body that produces swelling...
(swelling of arms, legs, lips, tongue, or throat, the latter leading to breathing problems), and allergic reactions.
Mode of action
Telmisartan is an angiotensin II receptor blocker that shows high affinity for the
angiotensin II receptor type 1
Angiotensin II receptor type 1
Angiotensin II receptor, type 1 or AT1 receptor is an angiotensin receptor. It has vasopressor effects and regulates aldosterone secretion. It is an important effector controlling blood pressure and volume in the cardiovascular system...
(AT
1
), with a binding affinity 3000 times greater for AT
1
than
AT2
Angiotensin II receptor type 2
Angiotensin II receptor type 2, also known as the AT2 receptor is a protein that in humans is encoded by the AGTR2 gene.- Function :...
. It has the longest half-life of any ARB (24 hours) and the largest volume of distribution.
In addition to blocking the RAs, telmisartan acts as a selective modulator of
peroxisome proliferator-activated receptor gamma
Peroxisome proliferator-activated receptor gamma
Peroxisome proliferator-activated receptor gamma , also known as the glitazone receptor, or NR1C3 is a type II nuclear receptor that in humans is encoded by the PPARG gene.Two isoforms of PPARG are detected in the human and in the mouse: PPAR-γ1 and...
(PPAR-γ), a central regulator of
insulin
Insulin
Insulin is a hormone central to regulating carbohydrate and fat metabolism in the body. Insulin causes cells in the liver, muscle, and fat tissue to take up glucose from the blood, storing it as glycogen in the liver and muscle....
and
glucose
Glucose
Glucose is a simple sugar and an important carbohydrate in biology. Cells use it as the primary source of energy and a metabolic intermediate...
metabolism. It is believed that telmisartan's dual mode of action may provide protective benefits against the vascular and renal damage caused by diabetes and
cardiovascular disease
Cardiovascular disease
Heart disease or cardiovascular disease are the class of diseases that involve the heart or blood vessels . While the term technically refers to any disease that affects the cardiovascular system , it is usually used to refer to those related to atherosclerosis...
(CVD).
ONTARGET
The ONTARGET Trial Programme (The Ongoing Telmisartan Alone and in combination with Ramipril Global Endpoint Trial) was one of the largest ARB clinical study programmes ever undertaken. 25,620 patients from 733 centres in 41 countries were randomised for 5.5 years of treatment of either telmisartan, the
ACE inhibitor
ACE inhibitor
ACE inhibitors or angiotensin-converting enzyme inhibitors are a group of drugs used primarily for the treatment of hypertension and congestive heart failure...
ramipril
Ramipril
Ramipril is an angiotensin-converting enzyme inhibitor, used to treat high blood pressure and congestive heart failure.-Mechanism of action:ACE inhibitors lower the...
or a combination of the two. The study aimed to investigate the role of telmisartan in cardiovascular (CV) protection through the primary composite outcome of death from CV causes,
myocardial infarction
Myocardial infarction
Myocardial infarction or acute myocardial infarction , commonly known as a heart attack, results from the interruption of blood supply to a part of the heart, causing heart cells to die...
,
stroke
Stroke
A stroke, previously known medically as a cerebrovascular accident , is the rapidly developing loss of brain function due to disturbance in the blood supply to the brain. This can be due to ischemia caused by blockage , or a hemorrhage...
or hospilization for heart failure, in high CV risk patients.
The study showed that telmisartan was as effective as ramipril but with lower rates of
cough
Cough
A cough is a sudden and often repetitively occurring reflex which helps to clear the large breathing passages from secretions, irritants, foreign particles and microbes...
and
angioedema
Angioedema
Angioedema or Quincke's edema is the rapid swelling of the dermis, subcutaneous tissue, mucosa and submucosal tissues. It is very similar to urticaria, but urticaria, commonly known as hives, occurs in the upper dermis...
which led to fewer discontinuations. The combination group experienced similar efficacy but with increased risk of hypotensive symptoms. Moreover, in a patient population selected to tolerate ACE inhibitors, telmisartan was shown to be better tolerated and associated with higher treatment compliance than
ramipril
Ramipril
Ramipril is an angiotensin-converting enzyme inhibitor, used to treat high blood pressure and congestive heart failure.-Mechanism of action:ACE inhibitors lower the...
.
TRANSCEND
As part of the ONTARGET study, patients who could not tolerate ACE inhibitors were randomly assigned to receive either telmisartan or
placebo
Placebo
A placebo is a simulated or otherwise medically ineffectual treatment for a disease or other medical condition intended to deceive the recipient...
as part of the TRANSCEND (Telmisartan Randomized Assessment Study in ACE Intolerant Subjects with Cardiovascular Disease (CVD)) study. An accompanying editorial comments: "Overall, data supporting use of angiotensin-receptor blockers to prevent vascular events in various cardiovascular groups, other than heart failure, are incomplete. TRANSCEND's results challenge the non-inferiority shown in ONTARGET and suggest no more than a modest effect, if any at all."
PRoFESS
PRoFESS (Prevention Regimen For Effectively Avoiding Second Strokes) investigated therapy with telmisartan initiated soon after an ischemic stroke and continued for 2.5 years. This treatment did not significantly lower the rate of recurrent stroke, major cardiovascular events, or diabetes.
Trade names
Apart from the original name Micardis, telmisartan is marketed as
Telpres
(Abbott Healthcare Pvt Ltd-India),
Targit
(
Pfizer
Pfizer
Pfizer, Inc. is an American multinational pharmaceutical corporation. The company is based in New York City, New York with its research headquarters in Groton, Connecticut, United States...
India),
Axeten
(Organon India),
Temax
(
Wockhardt
Wockhardt
Wockhardt Ltd. is a pharmaceutical and biotechnology company headquartered in Mumbai, India. The company has manufacturing plants in India, UK, Ireland, France and US, and subsidiaries in US, UK, Ireland and France. It is a global company with a more than half of its revenue coming from Europe. The...
),
Telma
(Glenmark Pharmaceuticals Ltd.) and
Telmore
(Morepen), and others.