Telewizja Polska
Telewizja Polska Spółka Akcyjna
(tɛlɛˈvizja ˈpɔlska ˈspuwka akˈt͡sɨjna) (
TVP S.A.
ˈtɛ ˈfaw ˈpɛ ˈɛs ˈa, often abbreviated to only
TVP
ˈtɛ ˈfaw ˈpɛ,
Polish Television
) is
Poland
Poland
Poland , officially the Republic of Poland , is a country in Central Europe bordered by Germany to the west; the Czech Republic and Slovakia to the south; Ukraine, Belarus and Lithuania to the east; and the Baltic Sea and Kaliningrad Oblast, a Russian exclave, to the north...
's
public broadcasting
Public broadcasting
Public broadcasting includes radio, television and other electronic media outlets whose primary mission is public service. Public broadcasters receive funding from diverse sources including license fees, individual contributions, public financing and commercial financing.Public broadcasting may be...
corporation
Corporation
A corporation is created under the laws of a state as a separate legal entity that has privileges and liabilities that are distinct from those of its members. There are many different forms of corporations, most of which are used to conduct business. Early corporations were established by charter...
. About a third of TVP's income comes from a
broadcast receiver licence
Television licence
A television licence is an official licence required in many countries for the reception of television broadcasts...
, while the rest is covered by
commercials
Television advertisement
A television advertisement or television commercial, often just commercial, advert, ad, or ad-film – is a span of television programming produced and paid for by an organization that conveys a message, typically one intended to market a product...
and sponsorships.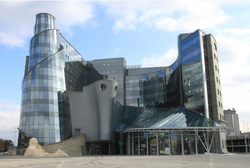 Timeline of the TVP history
1935 – The State Telecommunications Institute (Państwowy Instytut Telekomunikacji, PIT) starts working together with Polish Radio

Polskie Radio

Polskie Radio Spółka Akcyjna is Poland's national publicly funded radio broadcasting organization.- History :Polskie Radio was founded on 18 August 1925 and began making regular broadcasts from Warsaw on 18 April 1926....


on establishing the first television service.
1937 – completion of a first black-and-white broadcasting station.
1938, October – experimental channel launched, regular programming scheduled for 1941.
1939, September – all the equipment destroyed by the German Army

Wehrmacht

The Wehrmacht – from , to defend and , the might/power) were the unified armed forces of Nazi Germany from 1935 to 1945. It consisted of the Heer , the Kriegsmarine and the Luftwaffe .-Origin and use of the term:...


.
1947 – PIT resumes work on television broadcasting.
1951, December – first Polish telecast after the Second World War.
1952, 25 October – beginning of a regular programming.
1958 – Newscast Dziennik Telewizyjny was founded.
1970, 2 October – TVP2 was founded.
1971, 16 March – start of colour broadcasting (in SECAM

SECAM

SECAM, also written SÉCAM , is an analog color television system first used in France....


).
1989, January – introduce of teletext

Teletext

Teletext is a television information retrieval service developed in the United Kingdom in the early 1970s. It offers a range of text-based information, typically including national, international and sporting news, weather and TV schedules...


service.
1989, 18 November – Dziennik Telewizyjny was replaced by Wiadomości.
1992, 29 December – Telewizja Polska Spółka Akcyjna comes into existence upon the separation of television and radio public broadcasting by an act of parliament.
1993 – 1 January Polskie Radio i Telewizja (Polish Radio and Television) joins European Broadcasting Union

European Broadcasting Union

The European Broadcasting Union is a confederation of 74 broadcasting organisations from 56 countries, and 49 associate broadcasters from a further 25...


as an active member (regrouping of OIRT and UER).
1995 – move from SECAM

SECAM

SECAM, also written SÉCAM , is an analog color television system first used in France....


to PAL

PAL

PAL, short for Phase Alternating Line, is an analogue television colour encoding system used in broadcast television systems in many countries. Other common analogue television systems are NTSC and SECAM. This page primarily discusses the PAL colour encoding system...


.
2009 – New main headquarters building opened in Warsaw.
TVP channels
TVP broadcasts two general mainstream channels: TVP1 and TVP2. News and regional affairs are covered by the local stations as follows:
TVP Info

TVP Info

TVP Info is a Polish news channel, which replaced TVP3. It is run by the public broadcaster, TVP and dedicated to the country's regions. It had regional branches in most of the major Polish cities and, similarly to the France 3 in France or Rai Tre in Italy, for couple of hours every day it...


, which also acts as an umbrella label for the local stations such as:

TVP Białystok in Białystok for Podlaskie region
TVP Bydgoszcz in Bydgoszcz-Toruń

Bydgoszcz-Torun

Bydgoszcz–Toruń metropolitan area is the name of the bi-polar agglomeration in the middle of the Vistula river created by 2 cities: Bydgoszcz and Toruń. The distance between the built-up areas of the cities is about 30 km...


for the Kuyavian-Pomeranian

Kuyavian-Pomeranian Voivodeship

-Transportation:Transportation infrastructure is of critical importance to the voivodeship's economy. Kuyavia-Pomerania is a major node point in the Polish transportation system. Railway lines from the South and East pass through Bydgoszcz in order to reach the major ports on the Baltic Sea...


region
TVP Gdańsk in Trójmiasto for the Pomerania region,
TVP Gorzów in Gorzów Wielkopolski

Gorzów Wielkopolski

Gorzów Wielkopolski is a city in western Poland, on the Warta river. It is the biggest city in the Lubusz Voivodeship with 125,149 inhabitants...


for Lubusz region
TVP Katowice

TVP Katowice

TVP Katowice aka TV Katowice also Television Katowice is one of the regional branches of the TVP, Poland's public television broadcaster...


in Katowice

Katowice

Katowice is a city in Silesia in southern Poland, on the Kłodnica and Rawa rivers . Katowice is located in the Silesian Highlands, about north of the Silesian Beskids and about southeast of the Sudetes Mountains.It is the central district of the Upper Silesian Metropolis, with a population of 2...


(Upper Silesian Metropolis) for Silesian

Silesian Voivodeship

Silesian Voivodeship, or Silesia Province , is a voivodeship, or province, in southern Poland, centering on the historic region known as Upper Silesia...


region
TVP Kielce in Kielce

Kielce

Kielce ) is a city in central Poland with 204,891 inhabitants . It is also the capital city of the Świętokrzyskie Voivodeship since 1999, previously in Kielce Voivodeship...


for Holy Cross region
TVP Kraków for the Lesser Poland

Lesser Poland

Lesser Poland is one of the historical regions of Poland, with its capital in the city of Kraków. It forms the southeastern corner of the country, and should not be confused with the modern Lesser Poland Voivodeship, which covers only a small, southern part of Lesser Poland...


region
TVP Lublin for the Lublin region
TVP Łódź for the Łódź region
TVP Olsztyn for Warmia-Masuria region
TVP Opole for the Opole

Opole

Opole is a city in southern Poland on the Oder River . It has a population of 125,992 and is the capital of the Upper Silesia, Opole Voivodeship and, also the seat of Opole County...


region
TVP Poznań for the Greater Poland region
TVP Rzeszów for the Subcarpathian region
TVP Szczecin for the West Pomerania
TVP Warszawa

TVP Warszawa

TVP Warszawa is one of the regional branches of the TVP, Poland's public television broadcaster. It serves the entire Masovian Voivodeship with particular dedication to the Warsaw metropolitan area...


for Warsaw

Warsaw

Warsaw is the capital and largest city of Poland. It is located on the Vistula River, roughly from the Baltic Sea and from the Carpathian Mountains. Its population in 2010 was estimated at 1,716,855 residents with a greater metropolitan area of 2,631,902 residents, making Warsaw the 10th most...


and the Masovia region
TVP Wrocław for the Lower Silesia region
Specialty channels
Non-Polish language broadcasting includes
Belsat TV
Belsat TV
Belsat TV is a satellite television channel aimed at Belarus. It is intended to provide an alternative to the censorship of Belarusian state-run television. Its slogan is "Belsat - your right to choose"...
- channel in the
Belarusian language
Belarusian language
The Belarusian language , sometimes referred to as White Russian or White Ruthenian, is the language of the Belarusian people...
presenting news and subject-specific programming for the people of
Belarus
Belarus
Belarus , officially the Republic of Belarus, is a landlocked country in Eastern Europe, bordered clockwise by Russia to the northeast, Ukraine to the south, Poland to the west, and Lithuania and Latvia to the northwest. Its capital is Minsk; other major cities include Brest, Grodno , Gomel ,...
. Planned TVP channels are: TVP Rozrywka (entertainment and comedy) as well as TVP Parlament (parliamentary channel).
International cooperation
TVP is cooperating with the French-German TV network
ARTE
Arte
Arte is a Franco-German TV network. It is a European culture channel and aims to promote quality programming especially in areas of culture and the arts...
, this cooperation has been suspended in February 2009 as TVP's new Intendant's,
Piotr Farfał
Piotr Farfał
Piotr Grzegorz Farfał is a Polish rightwing Politician of the League of Polish Families and former President of the Polish national TV network TVP.- Biography :...
, views were incompatible with Arte's "philosophy based on intercultural exchange" and "the party that TVP's chairman is presently connected with does not share European values".
Logo history
| | |
| --- | --- |
| October 1952 - March 1992 | The combined T and P in white and red: T |
| March 1992 - 6 March 2003 | The stripes in green, red and blue, and the letters: |
| 7 March 2003 - today | TVP |
External links