 Ted Stevens Anchorage International Airport
Top destinations
Top ten busiest domestic routes out of ANC (June 2010 - May 2011)
Rank
City
Passengers
Carriers
1
  Seattle, WA

Seattle-Tacoma International Airport

The Seattle–Tacoma International Airport , also known as Sea–Tac Airport or Sea–Tac , is an American airport located in SeaTac, Washington, at the intersections of State Routes 99 and 509 and 518, about west of Interstate 5...



658,000
Alaska, Continental
2
  Fairbanks, AK

Fairbanks International Airport

Fairbanks International Airport is a state-owned public-use airport located three miles southwest of the central business district of Fairbanks, a city in the Fairbanks North Star Borough of the U.S. state of Alaska....



222,000
Alaska, Era Alaska
3
  Minneapolis, MN

Minneapolis-Saint Paul International Airport

Minneapolis-Saint Paul International Airport is the largest and busiest airport in the five-state upper Midwest region of Minnesota, Iowa, South Dakota, North Dakota, and Wisconsin.-Overview:...



127,000
Delta, Sun Country
4
  Portland, OR

Portland International Airport

Portland International Airport is a joint civil-military airport and the largest airport in the U.S. state of Oregon, accounting for 90% of passenger travel and more than 95% of air cargo of the state. It is located within Portland's city limits just south of the Columbia River in Multnomah...



99,000
Alaska, Continental
5
  Chicago, IL (ORD)

O'Hare International Airport

Chicago O'Hare International Airport , also known as O'Hare Airport, O'Hare Field, Chicago Airport, Chicago International Airport, or simply O'Hare, is a major airport located in the northwestern-most corner of Chicago, Illinois, United States, northwest of the Chicago Loop...



93,000
Alaska, American, Continental
6
  Kenai, AK

Kenai Municipal Airport

Kenai Municipal Airport is a city-owned public-use airport located in Kenai, a city in the Kenai Peninsula Borough of the U.S. state of Alaska.- Facilities :Kenai Municipal Airport covers an area of at an elevation of 99 feet above mean sea level...



83,000
Era Alaska, Grant Aviation
7
  Juneau, AK

Juneau International Airport

Juneau International Airport is a public-use airport and seaplane base located seven nautical miles northwest of the central business district of Juneau, a city and borough in the U.S. state of Alaska...



71,000
Alaska
8
  Salt Lake City, UT
71,000
Delta
9
  Kodiak, AK

Kodiak Airport

-Top Destinations:-Charter/Tours:Charters are generally available to the Kodiak archipelago and Katmai coast.* Andrews Airways* Island Air Service* Servant Air- External links :* * * * * **...



66,000
Alaska, Era Alaska, Grant Aviation
10
  Bethel, AK

Bethel Airport

Bethel Airport is a state-owned public-use airport located three nautical miles southwest of the central business district of Bethel, a city in the Bethel Census Area of the U.S. state of Alaska.- Facilities and aircraft :...



57,000
Alaska, Era Alaska
Scheduled cargo airlines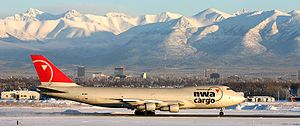 Top destinations
Top ten busiest domestic routes out of ANC (June 2010 - May 2011)
Rank
City
Passengers
Carriers
1
  Seattle, WA

Seattle-Tacoma International Airport

The Seattle–Tacoma International Airport , also known as Sea–Tac Airport or Sea–Tac , is an American airport located in SeaTac, Washington, at the intersections of State Routes 99 and 509 and 518, about west of Interstate 5...



658,000
Alaska, Continental
2
  Fairbanks, AK

Fairbanks International Airport

Fairbanks International Airport is a state-owned public-use airport located three miles southwest of the central business district of Fairbanks, a city in the Fairbanks North Star Borough of the U.S. state of Alaska....



222,000
Alaska, Era Alaska
3
  Minneapolis, MN

Minneapolis-Saint Paul International Airport

Minneapolis-Saint Paul International Airport is the largest and busiest airport in the five-state upper Midwest region of Minnesota, Iowa, South Dakota, North Dakota, and Wisconsin.-Overview:...



127,000
Delta, Sun Country
4
  Portland, OR

Portland International Airport

Portland International Airport is a joint civil-military airport and the largest airport in the U.S. state of Oregon, accounting for 90% of passenger travel and more than 95% of air cargo of the state. It is located within Portland's city limits just south of the Columbia River in Multnomah...



99,000
Alaska, Continental
5
  Chicago, IL (ORD)

O'Hare International Airport

Chicago O'Hare International Airport , also known as O'Hare Airport, O'Hare Field, Chicago Airport, Chicago International Airport, or simply O'Hare, is a major airport located in the northwestern-most corner of Chicago, Illinois, United States, northwest of the Chicago Loop...



93,000
Alaska, American, Continental
6
  Kenai, AK

Kenai Municipal Airport

Kenai Municipal Airport is a city-owned public-use airport located in Kenai, a city in the Kenai Peninsula Borough of the U.S. state of Alaska.- Facilities :Kenai Municipal Airport covers an area of at an elevation of 99 feet above mean sea level...



83,000
Era Alaska, Grant Aviation
7
  Juneau, AK

Juneau International Airport

Juneau International Airport is a public-use airport and seaplane base located seven nautical miles northwest of the central business district of Juneau, a city and borough in the U.S. state of Alaska...



71,000
Alaska
8
  Salt Lake City, UT
71,000
Delta
9
  Kodiak, AK

Kodiak Airport

-Top Destinations:-Charter/Tours:Charters are generally available to the Kodiak archipelago and Katmai coast.* Andrews Airways* Island Air Service* Servant Air- External links :* * * * * **...



66,000
Alaska, Era Alaska, Grant Aviation
10
  Bethel, AK

Bethel Airport

Bethel Airport is a state-owned public-use airport located three nautical miles southwest of the central business district of Bethel, a city in the Bethel Census Area of the U.S. state of Alaska.- Facilities and aircraft :...



57,000
Alaska, Era Alaska
Scheduled cargo airlines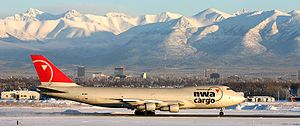 Top destinations
Top ten busiest domestic routes out of ANC (June 2010 - May 2011)
Rank
City
Passengers
Carriers
1
  Seattle, WA

Seattle-Tacoma International Airport

The Seattle–Tacoma International Airport , also known as Sea–Tac Airport or Sea–Tac , is an American airport located in SeaTac, Washington, at the intersections of State Routes 99 and 509 and 518, about west of Interstate 5...



658,000
Alaska, Continental
2
  Fairbanks, AK

Fairbanks International Airport

Fairbanks International Airport is a state-owned public-use airport located three miles southwest of the central business district of Fairbanks, a city in the Fairbanks North Star Borough of the U.S. state of Alaska....



222,000
Alaska, Era Alaska
3
  Minneapolis, MN

Minneapolis-Saint Paul International Airport

Minneapolis-Saint Paul International Airport is the largest and busiest airport in the five-state upper Midwest region of Minnesota, Iowa, South Dakota, North Dakota, and Wisconsin.-Overview:...



127,000
Delta, Sun Country
4
  Portland, OR

Portland International Airport

Portland International Airport is a joint civil-military airport and the largest airport in the U.S. state of Oregon, accounting for 90% of passenger travel and more than 95% of air cargo of the state. It is located within Portland's city limits just south of the Columbia River in Multnomah...



99,000
Alaska, Continental
5
  Chicago, IL (ORD)

O'Hare International Airport

Chicago O'Hare International Airport , also known as O'Hare Airport, O'Hare Field, Chicago Airport, Chicago International Airport, or simply O'Hare, is a major airport located in the northwestern-most corner of Chicago, Illinois, United States, northwest of the Chicago Loop...



93,000
Alaska, American, Continental
6
  Kenai, AK

Kenai Municipal Airport

Kenai Municipal Airport is a city-owned public-use airport located in Kenai, a city in the Kenai Peninsula Borough of the U.S. state of Alaska.- Facilities :Kenai Municipal Airport covers an area of at an elevation of 99 feet above mean sea level...



83,000
Era Alaska, Grant Aviation
7
  Juneau, AK

Juneau International Airport

Juneau International Airport is a public-use airport and seaplane base located seven nautical miles northwest of the central business district of Juneau, a city and borough in the U.S. state of Alaska...



71,000
Alaska
8
  Salt Lake City, UT
71,000
Delta
9
  Kodiak, AK

Kodiak Airport

-Top Destinations:-Charter/Tours:Charters are generally available to the Kodiak archipelago and Katmai coast.* Andrews Airways* Island Air Service* Servant Air- External links :* * * * * **...



66,000
Alaska, Era Alaska, Grant Aviation
10
  Bethel, AK

Bethel Airport

Bethel Airport is a state-owned public-use airport located three nautical miles southwest of the central business district of Bethel, a city in the Bethel Census Area of the U.S. state of Alaska.- Facilities and aircraft :...



57,000
Alaska, Era Alaska
Scheduled cargo airlines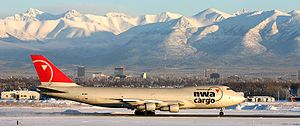 Inter-terminal
A shuttle bus runs approximately every 15 minutes between the North and South terminals and the employee and long-term parking lots. A land-side inter-terminal walkway was completed in 2009. Air-side connections between the sterile areas of each terminal are not available.
To/from airport
Route 7A of the Anchorage
People Mover
People Mover (Anchorage)
The People Mover is the public transportation agency that serves metropolitan Anchorage, Alaska. Owned by the Municipality of Anchorage, its primary operating area is within these boundaries...
bus system serves the airport's North and South terminals once every hour in each direction, connecting it with the downtown Transit Center and the
Dimond Center
Dimond Center
Dimond Center is a shopping mall in Anchorage, Alaska, United States. At 728,000 ft² , it is the largest mall in the state of Alaska...
mall.
Taxi queues are available in front of each terminal. Courtesy vans and other ground transportation options pick up from designated areas in front of each terminal.
Major national rental car chains are represented in an on-site
consolidated rental car facility
Consolidated rental car facility
A consolidated rental car facility is a complex that hosts numerous rental car agencies. They are often found at American airports.- History :A CRCF exists at Newark Liberty International Airport, Dallas-Ft...
attached to the South terminal.
There is a rail station for the
Alaska Railroad
Alaska Railroad
The Alaska Railroad is a Class II railroad which extends from Seward and Whittier, in the south of the state of Alaska, in the United States, to Fairbanks , and beyond to Eielson Air Force Base and Fort Wainwright in the interior of that state...
. It is only available during summer season for cruise ship service only.
Renovations
Renovations began on the A and B concourses in fall 2006. These renovations are designed to bring the older portions into compliance with current seismic, heating, ventilation, electrical and safety codes, and also include new baggage handling systems and renovations to the interior of the concourses. Since the completion of the construction, all domestic flights are operated out of the South Terminal.
Commissioned art pieces
Euphony, 2004: Glass Artist - Warren Carther
The piece consists of nine towers of glass, collectively adding up to 42 meters (130 ft) of in span and reaching to 8 meters (26 ft) at its highest point. The series of panels are inspired by Alaska's immensely rugged landscape of glaciers and mountains. The ambiguous images embedded within the sculpture address Alaska's continual balancing of the forces of technology with the vast powers of the natural world.
Programs
The airport features an innovative customer service program, which partners with most on-site (and some nearby) vendors and concessionaires and aims to promote a positive image of the airport and the State of Alaska in the minds of travelers. This volunteer, self-funded committee
mystery shops
Mystery shopping
Mystery shopping or a mystery consumer is a tool used externally by market research companies or watchdog organizations or internally by companies themselves to measure quality of service or compliance to regulation, or to gather specific information about products and services...
at partnering companies and provides awards of cash, free covered parking, and donated prizes to winning employees.
Accidents and incidents
External links
}