 Technisches Hilfswerk
The
Bundesanstalt Technisches Hilfswerk
(
Federal Agency for Technical Relief
, THW) is a
civil protection
Emergency management
Emergency management is the generic name of an interdisciplinary field dealing with the strategic organizational management processes used to protect critical assets of an organization from hazard risks that can cause events like disasters or catastrophes and to ensure the continuance of the...
organisation controlled by the
German
Germany
Germany , officially the Federal Republic of Germany , is a federal parliamentary republic in Europe. The country consists of 16 states while the capital and largest city is Berlin. Germany covers an area of 357,021 km2 and has a largely temperate seasonal climate...
federal government. 99% of its 83.807 members (January 2010) are volunteers.
Tasks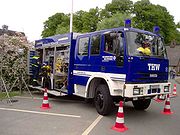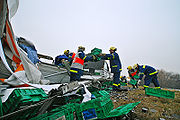 The tasks of the THW are described in a law called
THW-Gesetz
.
These tasks are:
technical relief in Germany as part of national civil protection measures
technical or humanitarian relief in foreign countries, as assigned by the government
technical and logistical support for other (German) GOs, NGO

Non-governmental organization

A non-governmental organization is a legally constituted organization created by natural or legal persons that operates independently from any government. The term originated from the United Nations , and is normally used to refer to organizations that do not form part of the government and are...


s or other authorities like fire brigades, police or the custom authorities.
History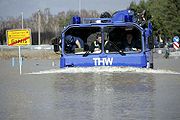 After World War II the
Technisches Hilfswerk
was founded in 1950, by order of the minister of the interior. The first president of the THW was Otto Lumitzsch, who already had founded the THW's predecessor, the Technische Nothilfe, in 1919. The main purpose of the THW was civil defense in the event of war. This has changed during the decades; today the THW is a capable helper in a wide spectrum of disasters, such as traffic accidents, industrial disasters, or earthquakes.
The largest disaster control action took place in August 2002 after the severe flooding of the Elbe river in eastern Germany. All in all, about 24,000 THW members participated in the operation, with up to 10,000 people helping simultaneously along the Elbe and its tributaries.
The largest engagement outside Germany was in
France
France
The French Republic , The French Republic , The French Republic , (commonly known as France , is a unitary semi-presidential republic in Western Europe with several overseas territories and islands located on other continents and in the Indian, Pacific, and Atlantic oceans. Metropolitan France...
in 2000, after storms
Lothar
Lothar (storm)
Lothar is the name of a low-pressure system that resulted in a violent extratropical cyclone sweeping across Central Europe on December 26, 1999, causing major damage in France, southern Germany, and Switzerland. Wind speeds reached around 150 km/h in lower areas and more than 250 km/h on...
and
Martin
Martin (storm)
Martin was a violent European windstorm which crossed southern Europe on 27–28 December 1999, one day after another powerful storm, Lothar....
had destroyed much of the overhead electrical overland wires and overturned trees blocked many streets from December 26 to 28, 1999. The main contribution was supplying
temporary electrical power
Emergency power system
Emergency power systems are a type of system, which may include lighting, generators, fuel cells and other apparatus, to provide backup power resources in a crisis or when regular systems fail. They find uses in a wide variety of settings from residential homes to hospitals, scientific...
for hospitals and other important institutions and rebuilding parts of the electrical system.
The organisation has also been active in many disaster relief operations abroad, for example after the
2004 Indian Ocean earthquake
2004 Indian Ocean earthquake
The 2004 Indian Ocean earthquake was an undersea megathrust earthquake that occurred at 00:58:53 UTC on Sunday, December 26, 2004, with an epicentre off the west coast of Sumatra, Indonesia. The quake itself is known by the scientific community as the Sumatra-Andaman earthquake...
(for both relief operations and medium-term rebuilding),
Hurricane Katrina
Hurricane Katrina
Hurricane Katrina of the 2005 Atlantic hurricane season was a powerful Atlantic hurricane. It is the costliest natural disaster, as well as one of the five deadliest hurricanes, in the history of the United States. Among recorded Atlantic hurricanes, it was the sixth strongest overall...
in 2005, the
2005 Kashmir earthquake
2005 Kashmir earthquake
The 2005 Kashmir earthquake was a major earthquake centered in Pakistan-administered Kashmir known as Azad Kashmir, near the city of Muzaffarabad, affecting Gilgit-Baltistan and Khyber Pakhtunkhwa province of Pakistan. It occurred at 08:52:37 Pakistan Standard Time on 8 October 2005...
, in 2010 during the flooding in Poland, and the
2011 Tōhoku earthquake and tsunami
2011 Tōhoku earthquake and tsunami
The 2011 earthquake off the Pacific coast of Tohoku, also known as the 2011 Tohoku earthquake, or the Great East Japan Earthquake, was a magnitude 9.0 undersea megathrust earthquake off the coast of Japan that occurred at 14:46 JST on Friday, 11 March 2011, with the epicenter approximately east...
.
Organisation
As a federal authority which is part of the Federal Ministry of the Interior the THW is headed by the president of the THW administration together with its board. The current president, from 16 May 2006, is Dipl.-Ing Albrecht Broemme. He previously served as national director of the Fire Chief Berlin Fire Department. The headquarters of the THW administration and management (THW-Leitung) are in Bonn-Lengsdorf, together with the Bundesamt für Bevölkerungsschutz und Katastrophenhilfe (BBK) (Federal Office for Civil Protection and Disaster Assistance).
Structure of the THW: It consists of 668 THW local chapters, 66 offices, 8 regional associations and the THW administration in Bonn.
THW administration - based in Bonn is subject to the THW-President and assist the latter in his daily official business. It consists of the management staff, the representative for the volunteer and the two departments work with the units E1 principle, E2 abroad, E3 competence development, E4 logistics and E5 technology and Division Central Services with the units Z1 helpers and staff, Z2 organization, Finance Z3, Z4 and Z5 right information and communication.
The THW-Logistikzentrum (THW logistics center) has its office in Heiligenhaus and is via its attachment to the Logistics Unit E4 part of the THW administration.
Field organisation
The
THW
is stationed all over Germany in 668 local chapters, called
Ortsverbände
. Some 80,000 people are active in this organisation including about 15,000 young volunteers (members of the THW-Jugend). The majority of those are volunteers, while about 800 work full-time in its administration. Each local chapter (
Ortsverband
) maintains one or more
Technische Züge
(technical platoons), each consisting of one
Zugtrupp
(command squad), comprising four volunteers, two
Bergungsgruppen
(rescue units) comprising nine (first unit) to twelve (second unit) volunteers, and one to three
Fachgruppen
(Technical Units), comprising four to eighteen volunteers.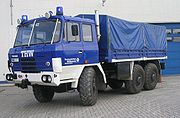 The main type of THW unit (about two out of three) is one of two
Bergungsgruppe
(1st and 2nd Rescue Groups), equipped with heavy tools like hydraulic cutting devices, chain saws, and pneumatic hammers. Their Vehicles are the Gerätekraftwagen 1 (GKW 1) for the 1st Rescue Group and the Mehrzweckkraftwagen (MzKW) or the older Gerätekraftwagen 2 (GKW 2) - which is scheduled to phased out - is for the 2nd Rescue Group.
The
Fachgruppen
(Technical Units) include:
Infrastruktur (Infrastructure),
Räumen (Debris Clearance),
Sprengen (Demolition/Blasting),
Elektroversorgung (Electricity Supply),
Beleuchtung (Illumination),
Wasserschaden / Pumpen (Water Damage / Pumps),
Wassergefahren (Water Hazards),
Logistik (Logistics),
Ölschaden (Oil Pollution),
Trinkwasserversorgung (Water Supply and Treatment),
Brückenbau (Bridge Building),
Führung und Kommunikation (Command, Control and Communication), and
Ortung (Search and Detection).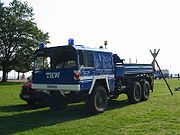 For relief in foreign countries, there are four
Schnelleinsatzeinheiten Bergung Ausland
or
SEEBA
(Rapid Deployment Unit Search and Rescue Abroad) units, able to go airborne within six hours, and five
Schnelleinsatzeinheiten Wasserversorgung Ausland
or
SEEWA
(Rapid Deployment Unit Water Supply and Treatment Abroad) units.
Services Provided
Technical Threat Prevention
Search and rescue

Search and rescue

Search and rescue is the search for and provision of aid to people who are in distress or imminent danger.The general field of search and rescue includes many specialty sub-fields, mostly based upon terrain considerations...


, and salvage
Clearing and blasting
Water Rescue
Combat flooding and inundation
Area Lighting
Infrastructure Technical Support
Electric supply
Drinking water supply
Waste water disposal
Emergency Bridge work
Command and Communication, Logistics
Command center Establishment and operation
Command support
Creation of temporary telecommunication systems
Establishment and operation of logistic bases
Catering and care of operational staff
Maintenance of material, repair and maintenance work for mission equipment
Transportation of consumer goods for mission demands
Technical Support in the Protection of the Environment
Fight against oil damage
Water analysis
Provision of the Population
Electricity and drinking water provision
Waste water disposal
Establishment and equipment of emergency accommodation and collecting points with matching infrastructure
Technical Support
Technical help on traffic routes
Rescue from heights
Diving
Makeshift road works
Maintenance of civil protection facilities such as emergency wells and shelters.
Heads of THW
1952–1955 Director Otto Lummitzsch
1955–1958 Director Dr. Alexander Löfken
1958–1962 Director Dr. Rudolf Schmidt
1962–1977 Director Dipl.-Ing

Engineer's degree

An engineer's degree is an advanced academic degree in engineering that is conferred in Europe, some countries of Latin America, and a few institutions in the United States....


. Hans Zielinski
1977–1985 Director Dipl.-Ing. Hermann Ahrens
1985/1986 Director Dipl.-Verw. Helmut Meier
1986–2002 Director Gerd Jürgen Henkel
2002–2006 President Dr. Georg Thiel
since 2006 President Dipl.-Ing. Albrecht Broemme
Personnel
See also Conscription in Germany

Conscription in Germany

Germany had conscription for male citizens between 1956 and 2011. On 22 November 2010, the German Minister of Defence proposed to the government to put conscription into abeyance on 1 July 2011...



In Germany, military service was mandatory for adult males until 2011. Instead of joining the military for six months full-time, one of the alternatives was to join a non-combatant volunteer organisation within the German
Katastrophenschutz
(disaster relief) or
Zivilschutz
(
civil defense
Civil defense
Civil defense, civil defence or civil protection is an effort to protect the citizens of a state from military attack. It uses the principles of emergency operations: prevention, mitigation, preparation, response, or emergency evacuation, and recovery...
) for a minimum of four years (this is calculated so that although serving far less time every week, in the end the number of served hours was about the same). The THW was one of those organisations, as well as volunteer fire brigades and various organisations engaged in emergency medical service.
THW-Jugend
The THW-Jugend (THW Youth) is the youth organization of the Technical Relief. It has set itself the target to introduce boys and girls from the age of ten in a playful way to the work of the THWs. The THW-Jugend is not part of the Federal Agency for Technical Relief, but is an independently registered charity. This arrangement was made in order to avoid maintaining a state youth organization.
External links