 Teardrop trailer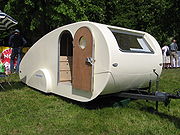 A
teardrop trailer
, also known as a teardrop camper trailer, is a streamlined, compact, lightweight
travel trailer
Travel trailer
A travel trailer or caravan is towed behind a road vehicle to provide a place to sleep which is more comfortable and protected than a tent . It provides the means for people to have their own home on a journey or a vacation, without relying on a motel or hotel, and enables them to stay in places...
, which gets its name from its
tear
Tears
Tears are secretions that clean and lubricate the eyes. Lacrimation or lachrymation is the production or shedding of tears....
drop profile. They usually only have sleeping space for two adults and often have a basic kitchen in the rear.
Teardrop trailers first became popular in the 1930s, when magazines such as Mechanics Illustrated published plans. The first teardrops were designed around the idea of using standard 4 by 8-foot sheets of plywood with hardwood spars.
Teardrop trailers remained popular until the mid 1960s after which they disappeared from mainstream camping. However, in the late 1990s, plans became available on the internet and in recent years teardrop trailers have made a resurgence and are again growing in popularity.
A teardrop trailer is generally small, ranging from 4 feet (1.2 m) to 6 feet (1.8 m) in width and 8 feet (2.4 m) to 10 feet (3 m) in length. They are usually from 4 feet (1.2 m) to 5 feet (1.5 m) in height. Wheels and tires are usually outside the body and are covered by fenders. Since teardrop trailers are so light, usually less than 450 kg (1000 pounds), just about any vehicle can tow one and fuel consumption is minimally affected.
There is room inside a teardrop trailer for two people to sleep as well as storage for clothes and other items. Outside, in the rear under a hatch, there is usually an area for cooking referred to as the galley. Teardrop trailers tend to have lighting and other electrical power supplied by
battery
Battery (electricity)
An electrical battery is one or more electrochemical cells that convert stored chemical energy into electrical energy. Since the invention of the first battery in 1800 by Alessandro Volta and especially since the technically improved Daniell cell in 1836, batteries have become a common power...
, although some have mains
power hookup
Alternating current
In alternating current the movement of electric charge periodically reverses direction. In direct current , the flow of electric charge is only in one direction....
s like regular travel trailers.
Some teardrop trailer owners participate in
camping
Camping
Camping is an outdoor recreational activity. The participants leave urban areas, their home region, or civilization and enjoy nature while spending one or several nights outdoors, usually at a campsite. Camping may involve the use of a tent, caravan, motorhome, cabin, a primitive structure, or no...
events for teardrop trailers (called 'gatherings'). The teardrop trailer phenomenon is not local to any one country. Builders reside throughout the Americas, Europe, Israel, South Africa, New Zealand and Australia. In Australia they are known as teardrop campers. Their popularity has resulted in the establishment of several commercial manufacturing organisations, and in the import of some North American models.