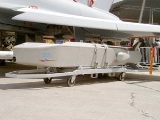 Taurus missile
TAURUS KEPD 350
is a German/Swedish air-launched
cruise missile
Cruise missile
A cruise missile is a guided missile that carries an explosive payload and is propelled, usually by a jet engine, towards a land-based or sea-based target. Cruise missiles are designed to deliver a large warhead over long distances with high accuracy...
, manufactured by TAURUS Systems and used by Germany and Spain. TAURUS Systems GmbH is a partnership between
LFK
LFK
LFK is a German missile systems company and a subsidiary of EADS. Today officially "MBDA Germany" but better known as LFK-Lenkflugkörpersysteme GmbH...
(
EADS
EADS
The European Aeronautic Defence and Space Company N.V. is a global pan-European aerospace and defence corporation and a leading defence and military contractor worldwide...
/
MBDA
MBDA
MBDA is a missile developer and manufacturer with operations in France, Britain, Germany, Italy, and the United States. It was formed by a merger of Aérospatiale-Matra Missiles , Finmeccanica and Matra BAe Dynamics in December 2001. In 2003 the company had 10,000 employees...
) and
Saab Bofors Dynamics
Saab Bofors Dynamics
Saab Bofors Dynamics, located in Karlskoga and Linköping, Sweden, is a subsidiary of Saab AB that specializes in military materiel such as missile systems and anti-tank systems....
.
Overview
The
missile
Missile
Though a missile may be any thrown or launched object, it colloquially almost always refers to a self-propelled guided weapon system.-Etymology:The word missile comes from the Latin verb mittere, meaning "to send"...
incorporates stealth characteristics and has an official range in excess of 500 kilometres (310.7 mi). Taurus is powered by a turbofan engine at mach 0.8~0.9 and can be carried by the
Tornado
Panavia Tornado
The Panavia Tornado is a family of twin-engine, variable-sweep wing combat aircraft, which was jointly developed and manufactured by the United Kingdom, West Germany and Italy...
,
Eurofighter Typhoon
Eurofighter Typhoon
The Eurofighter Typhoon is a twin-engine, canard-delta wing, multirole combat aircraft, designed and built by a consortium of three companies: EADS, Alenia Aeronautica and BAE Systems; working through a holding company, Eurofighter GmbH, which was formed in 1986...
,
Gripen
JAS 39 Gripen
The Saab JAS 39 Gripen is a lightweight single-engine multirole fighter manufactured by the Swedish aerospace company Saab. It was designed to replace the Saab 35 Draken and 37 Viggen in the Swedish Air Force...
and F/A-18 aircraft.
The double 500 kilograms (1,102.3 lb)
warhead
Warhead
The term warhead refers to the explosive material and detonator that is delivered by a missile, rocket, or torpedo.- Etymology :During the early development of naval torpedoes, they could be equipped with an inert payload that was intended for use during training, test firing and exercises. This...
called
Mephisto
(
M
ulti-
E
ffect
P
enetrator,
HI
gh
S
ophisticated and
T
arget
O
ptimised) features a precharge and initial penetrating charge to clear soil or enter a
bunker
Bunker
A military bunker is a hardened shelter, often buried partly or fully underground, designed to protect the inhabitants from falling bombs or other attacks...
, then a variable delay
fuze
Fuze
Fuze Beverage, commercially referred to as just Fuze , is a manufacturer of teas and non-carbonated fruit drinks enriched with vitamins. Currently the brand consists of five vitamin-infused lines: Slenderize, Refresh, Tea, Defensify, and Vitalize...
to control
detonation
Detonation
Detonation involves a supersonic exothermic front accelerating through a medium that eventually drives a shock front propagating directly in front of it. Detonations are observed in both conventional solid and liquid explosives, as well as in reactive gases...
of the main warhead. The missile weighs about 1400 kg (3,086.5 lb) and has a maximum body diameter of 1 metres (3.3 ft). Intended targets are hardened bunkers, command, control and communications; airfield facilities; port facilities; AMS/
ammunition
Ammunition
Ammunition is a generic term derived from the French language la munition which embraced all material used for war , but which in time came to refer specifically to gunpowder and artillery. The collective term for all types of ammunition is munitions...
storage; ships in ports/at sea and bridges.
The missile also includes counter measures as a self-defence mechanism.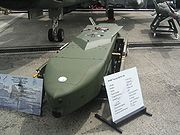 Mission planners program the missile with the target, air defence locations and planned ground path, then the missile uses a low terrain-hugging flight path guided by INS, IBN, TRN and
GPS
Global Positioning System
The Global Positioning System is a space-based global navigation satellite system that provides location and time information in all weather, anywhere on or near the Earth, where there is an unobstructed line of sight to four or more GPS satellites...
to the proximity of the target, although it is capable of navigating over long distances without GPS support . Once there the missile commences a bunt (climb) manoeuver to an altitude intended to achieve the best probability of target acquisition and penetration. During the cruise flight a high resolution infra-red camera can support the navigation by using IBN and is also used for GPS-free target attack. The missile attempts to match a camera image with the planned 3D target model. If it cannot, it defaults to the other navigation systems, or, if there is a high risk of
collateral damage
Collateral damage
Collateral damage is damage to people or property that is unintended or incidental to the intended outcome. The phrase is prevalently used as an euphemism for civilian casualties of a military action.-Etymology:...
, it will steer to a pre-designated crash point instead of risking an inaccurate attack with undesired consequences.
MBDA Deutschland has also proposed an anti-ship variant.
Export
Spain's military bought 43 missiles. The integration of the TAURUS in the Spanish Air Force service line has been certified by the successful completion of a dedicated test campaign in South Africa, carried out in May 2009. Other countries may also order TAURUS.
MBDA has offered Tauras KEPD 350 to the Indian Air Force for its Su 30 MKI fighter jets.
Operators
Germany
Germany: 600 ordered for the
Luftwaffe
Luftwaffe
Luftwaffe is a generic German term for an air force. It is also the official name for two of the four historic German air forces, the Wehrmacht air arm founded in 1935 and disbanded in 1946; and the current Bundeswehr air arm founded in 1956....
for €570 million Deliveries ended on December 2010.
: 43 ordered for the
Spanish Air Force
Spanish Air Force
-The early stages:Hot air balloons had been used with military purposes in Spain as far back as 1896. In 1905, with the help of Alfredo Kindelán, Leonardo Torres y Quevedo directed the construction of the first Spanish dirigible in the Army Military Aerostatics Service, created in 1896 and located...
. Deliveries ended in August 2010.
External links