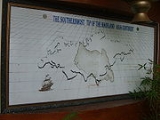 Tanjung Piai
Tanjung Piai
is a cape in
Johor
Johor
Johor is a Malaysian state, located in the southern portion of Peninsular Malaysia. It is one of the most developed states in Malaysia. The state capital city and royal city of Johor is Johor Bahru, formerly known as Tanjung Puteri...
which is the southernmost point of
Peninsular Malaysia
Peninsular Malaysia
Peninsular Malaysia , also known as West Malaysia , is the part of Malaysia which lies on the Malay Peninsula. Its area is . It shares a land border with Thailand in the north. To the south is the island of Singapore. Across the Strait of Malacca to the west lies the island of Sumatra...
and thus the most southern point of mainland
Asia
Asia
Asia is the world's largest and most populous continent, located primarily in the eastern and northern hemispheres. It covers 8.7% of the Earth's total surface area and with approximately 3.879 billion people, it hosts 60% of the world's current human population...
. The skyline of
Singapore
Singapore
Singapore , officially the Republic of Singapore, is a Southeast Asian city-state off the southern tip of the Malay Peninsula, north of the equator. An island country made up of 63 islands, it is separated from Malaysia by the Straits of Johor to its north and from Indonesia's Riau Islands by the...
is visible across the Johor Strait from the point. It features seafood restaurants, perched on wooden jetties that are surrounded by a rugged and rarefied coastline of unspoiled
mangrove
Mangrove
Mangroves are various kinds of trees up to medium height and shrubs that grow in saline coastal sediment habitats in the tropics and subtropics – mainly between latitudes N and S...
forests.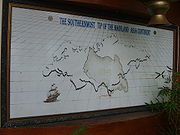 External links
http://johorparks.com.my/the-parks/tanjung-piai/