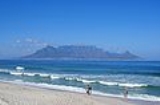 Table Mountain
Table Mountain
is a flat-topped
mountain
Mountain
Image:Himalaya_annotated.jpg|thumb|right|The Himalayan mountain range with Mount Everestrect 58 14 160 49 Chomo Lonzorect 200 28 335 52 Makalurect 378 24 566 45 Mount Everestrect 188 581 920 656 Tibetan Plateaurect 250 406 340 427 Rong River...
forming a prominent landmark overlooking the city of
Cape Town
Cape Town
Cape Town is the second-most populous city in South Africa, and the provincial capital and primate city of the Western Cape. As the seat of the National Parliament, it is also the legislative capital of the country. It forms part of the City of Cape Town metropolitan municipality...
in
South Africa
South Africa
The Republic of South Africa is a country in southern Africa. Located at the southern tip of Africa, it is divided into nine provinces, with of coastline on the Atlantic and Indian oceans...
, and is featured in the
flag of Cape Town
Flag of Cape Town
The flag of Cape Town is the official flag of the city of Cape Town, South Africa.The current flag replaced the previous flag in 1996...
and other local government insignia. It is a significant
tourist attraction
Tourist attraction
A tourist attraction is a place of interest where tourists visit, typically for its inherent or exhibited cultural value, historical significance, natural or built beauty, or amusement opportunities....
, with many visitors using the
cableway
Table Mountain Aerial Cableway
The Table Mountain Aerial Cableway is a cableway to the top of Table Mountain in Cape Town, South Africa. It is one of Cape Town's most popular tourist attractions with approximately 800,000 people a year using the cableway. On the 29 December 2004 the cableway passed its 16 millionth visitor.The...
or hiking to the top. The mountain forms part of the
Table Mountain National Park
Table Mountain National Park
Table Mountain National Park, previously known as the Cape Peninsula National Park, is a national park in Cape Town, South Africa, proclaimed on May 29, 1998, for the purpose of protecting the natural environment of the Table Mountain Chain, and in particular the rare fynbos vegetation...
.
The main feature of Table Mountain is the level plateau approximately 3 kilometres (2 mi) from side to side, edged by impressive cliffs.