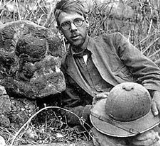 Sylvanus Morley
Sylvanus Griswold Morley
(June 7, 1883 September 2, 1948) was an
American
United States
The United States of America is a federal constitutional republic comprising fifty states and a federal district...
archaeologist
Archaeology
Archaeology, or archeology , is the study of human society, primarily through the recovery and analysis of the material culture and environmental data that they have left behind, which includes artifacts, architecture, biofacts and cultural landscapes...
,
epigrapher
Epigraphy
Epigraphy Epigraphy Epigraphy (from the , literally "on-writing", is the study of inscriptions or epigraphs as writing; that is, the science of identifying the graphemes and of classifying their use as to cultural context and date, elucidating their meaning and assessing what conclusions can be...
, and
Mayanist
Mayanist
A Mayanist is a scholar specialising in research and study of the Central American pre-Columbian Maya civilization. This discipline should not be confused with Mayanism, a collection of New Age beliefs about the ancient Maya....
scholar who made significant contributions toward the study of the
pre-Columbian
Pre-Columbian
The pre-Columbian era incorporates all period subdivisions in the history and prehistory of the Americas before the appearance of significant European influences on the American continents, spanning the time of the original settlement in the Upper Paleolithic period to European colonization during...
Maya civilization
Maya civilization
The Maya is a Mesoamerican civilization, noted for the only known fully developed written language of the pre-Columbian Americas, as well as for its art, architecture, and mathematical and astronomical systems. Initially established during the Pre-Classic period The Maya is a Mesoamerican...
in the early twentieth century.
Morley is particularly noted for the extensive excavations of the Maya site of
Chichen Itza
Chichen Itza
Chichen Itza is a large pre-Columbian archaeological site built by the Maya civilization located in the northern center of the Yucatán Peninsula, in the Municipality of Tinúm, Yucatán state, present-day Mexico....
that he directed on behalf of the Carnegie Institution. He also published several large compilations and treatises on Maya hieroglyphic writing, and wrote popular accounts on the Maya for a general audience.
To his contemporaries, "Vay" Morley was one of the leading
Mesoamerica
Mesoamerica
Mesoamerica is a region and culture area in the Americas, extending approximately from central Mexico to Belize, Guatemala, El Salvador, Honduras, Nicaragua, and Costa Rica, within which a number of pre-Columbian societies flourished before the Spanish colonization of the Americas in the 15th and...
n archaeologists of his day.