 SxS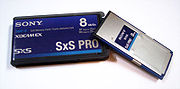 SxS
is a
flash memory
Flash memory
Flash memory is a non-volatile computer storage chip that can be electrically erased and reprogrammed. It was developed from EEPROM and must be erased in fairly large blocks before these can be rewritten with new data...
standard compliant to the
Sony
Sony
, commonly referred to as Sony, is a Japanese multinational conglomerate corporation headquartered in Minato, Tokyo, Japan and the world's fifth largest media conglomerate measured by revenues....
and
Sandisk
SanDisk
SanDisk Corporation is an American multinational corporation that designs, develops and manufactures data storage solutions in a range of form factors using the flash memory, controller and firmware technologies. It was founded in 1988 by Dr. Eli Harari and Sanjay Mehrotra, non-volatile memory...
-created
ExpressCard
ExpressCard
ExpressCard is an interface to allow peripheral devices to be connected to a computer, usually a laptop computer. Formerly called NEWCARD, the ExpressCard standard specifies the design of slots built into the computer and of cards which can be inserted into ExpressCard slots. The cards contain...
standard. According to Sandisk and Sony, the cards have transfer rates of 800 Mbit/s and burst transfer rate of up to 2.5 Gbit/s. Sony uses these cards as the storage medium for their XDCAM EX line of
professional video camera
Professional video camera
A professional video camera is a high-end device for creating electronic moving images...
s and
prosumer
Prosumer
Prosumer is a portmanteau formed by contracting either the word professional or less often, producer with the word consumer. For example, a prosumer grade digital camera is a "cross" between consumer grade and professional grade...
video cameras.
Compatibility
The card can be inserted directly into an ExpressCard slot, available on many notebooks. However, it will only work in Windows and Mac OS X, and only with a Sony device driver installed on the machine. The card cannot be used directly on any Unix/Linux or other operating system, for which Sony does not publish drivers.
The only universal connectivity for these cards is the Sony SBAC-US10 external USB adapter. This adapter will make the cards visible to any system as an external USB hard drive. The transfer speeds will be limited by the USB 2.0 interface speed.
External links