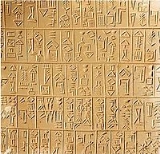 Sumerian language
Sumerian is the language of ancient
Sumer
Sumer
Sumer was a civilization and historical region in southern Mesopotamia, modern Iraq during the Chalcolithic and Early Bronze Age....
, which was spoken in southern
Mesopotamia
Mesopotamia
Mesopotamia is a toponym for the area of the Tigris–Euphrates river system, largely corresponding to modern-day Iraq, northeastern Syria, southeastern Turkey and southwestern Iran.Widely considered to be the cradle of civilization, Bronze Age Mesopotamia included Sumer and the...
(modern
Iraq
Iraq
Iraq ; officially the Republic of Iraq is a country in Western Asia spanning most of the northwestern end of the Zagros mountain range, the eastern part of the Syrian Desert and the northern part of the Arabian Desert....
) since at least the 4th millennium BC. During the 3rd millennium BC, there developed a very intimate cultural symbiosis between the Sumerians and the
Akkad
Akkad
The Akkadian Empire was an empire centered in the city of Akkad and its surrounding region in Mesopotamia....
ians, which included widespread bilingualism. The influence of Sumerian on
Akkadian
Akkadian language
Akkadian is an extinct Semitic language that was spoken in ancient Mesopotamia. The earliest attested Semitic language, it used the cuneiform writing system derived ultimately from ancient Sumerian, an unrelated language isolate...
(and vice versa) is evident in all areas, from lexical borrowing on a massive scale, to syntactic, morphological, and phonological convergence.