 Subjective constancy
Subjective constancy
or
perceptual constancy
is the
perception
Perception
Perception is the process of attaining awareness or understanding of the environment by organizing and interpreting sensory information. All perception involves signals in the nervous system, which in turn result from physical stimulation of the sense organs...
of an object or quality as constant under changing conditions.
Vision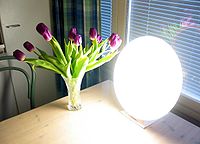 There are several types of perceptual constancies in
Visual perception
Visual perception
Visual perception is the ability to interpret information and surroundings from the effects of visible light reaching the eye. The resulting perception is also known as eyesight, sight, or vision...
:-
Shape constancy
Size constancy
Color constancy

Color constancy

Color constancy is an example of subjective constancy and a feature of the human color perception system which ensures that the perceived color of objects remains relatively constant under varying illumination conditions. A green apple for instance looks green to us at midday, when the main...



This means perceiving a color as "constant under changing conditions of illumination" and "is the achievement of a very complicated 'calculation' by an unconscious

Unconscious mind

The unconscious mind is a term coined by the 18th century German romantic philosopher Friedrich Schelling and later introduced into English by the poet and essayist Samuel Taylor Coleridge...


ly working apparatus within our central nervous system

Central nervous system

The central nervous system is the part of the nervous system that integrates the information that it receives from, and coordinates the activity of, all parts of the bodies of bilaterian animals—that is, all multicellular animals except sponges and radially symmetric animals such as jellyfish...


".
Lightness constancy
Distance constancy
Location constancy
Music
In
music
Music
Music is an art form whose medium is sound and silence. Its common elements are pitch , rhythm , dynamics, and the sonic qualities of timbre and texture...
, subjective constancy is the identification of a
musical instrument
Musical instrument
A musical instrument is a device created or adapted for the purpose of making musical sounds. In principle, any object that produces sound can serve as a musical instrument—it is through purpose that the object becomes a musical instrument. The history of musical instruments dates back to the...
as constant under changing
timbre
Timbre
In music, timbre is the quality of a musical note or sound or tone that distinguishes different types of sound production, such as voices and musical instruments, such as string instruments, wind instruments, and percussion instruments. The physical characteristics of sound that determine the...
or "conditions of changing
pitch
Pitch (music)
Pitch is an auditory perceptual property that allows the ordering of sounds on a frequency-related scale.Pitches are compared as "higher" and "lower" in the sense associated with musical melodies,...
and loudness, in different environments and with different players."
Speech
In
speech perception
Speech perception
Speech perception is the process by which the sounds of language are heard, interpreted and understood. The study of speech perception is closely linked to the fields of phonetics and phonology in linguistics and cognitive psychology and perception in psychology...
this means that vowels or consonants are perceived as constant categories even if acoustically, they vary greatly due to phonetic environment (
coarticulation
Coarticulation
Coarticulation in its general sense refers to a situation in which a conceptually isolated speech sound is influenced by, and becomes more like, a preceding or following speech sound...
), speech tempo, speaker's age and sex, speaker's dialect, etc.