 Sub-caliber round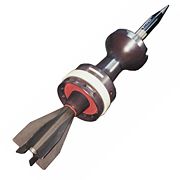 A
Sub-caliber round
is a
round
Cartridge (firearms)
A cartridge, also called a round, packages the bullet, gunpowder and primer into a single metallic case precisely made to fit the firing chamber of a firearm. The primer is a small charge of impact-sensitive chemical that may be located at the center of the case head or at its rim . Electrically...
the diameter of which is inferior to the barrel diameter. An expendable
sabot
Sabot
A sabot is a device used in a firearm or cannon to fire a projectile, such as a bullet, that is smaller than the bore diameter, or which must be held in a precise position. The term is also applied to a battery stub case, a device used similarly to make a small electrical battery usable in a...
is used to expand the diameter to the full barrel width of the firing gun.
The most used sub-caliber rounds are
flechette
Flechette
A flechette is a pointed steel projectile, with a vaned tail for stable flight. The name comes from French , "little arrow" or "dart", and sometimes retains the acute accent in English: fléchette.-Bulk and artillery use:...
s and
Kinetic energy penetrator
Kinetic energy penetrator
A kinetic energy penetrator is a type of ammunition which, like a bullet, does not contain explosives and uses kinetic energy to penetrate the target....
tank shells.