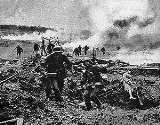 Stormtrooper
Stormtroopers
were specialist soldiers of the
German Army
German Army
The German Army is the land component of the armed forces of the Federal Republic of Germany. Following the disbanding of the Wehrmacht after World War II, it was re-established in 1955 as the Bundesheer, part of the newly formed West German Bundeswehr along with the Navy and the Air Force...
in
World War I
World War I
World War I , which was predominantly called the World War or the Great War from its occurrence until 1939, and the First World War or World War I thereafter, was a major war centred in Europe that began on 28 July 1914 and lasted until 11 November 1918...
. In the last years of the war,
Stoßtruppen
were trained to fight with "
infiltration tactics
Infiltration tactics
In warfare, infiltration tactics involve small, lightly equipped infantry forces attacking enemy rear areas while bypassing enemy front line strongpoints and isolating them for attack by follow-up troops with heavier weapons.-Development during World War I:...
", part of the Germans' new method of attack on enemy
trenches
Trench warfare
Trench warfare is a form of occupied fighting lines, consisting largely of trenches, in which troops are largely immune to the enemy's small arms fire and are substantially sheltered from artillery...
. Men trained in these methods were known in Germany as
Sturmmann
Sturmmann
Sturmmann was a Nazi Party paramilitary rank that was first created in the year 1921. The rank of Sturmmann was used by the Sturmabteilung and the Schutzstaffel ....
(literally "storm man" but usually translated as Stormtrooper), formed into companies of
Sturmtruppen
("assault troops", more often and less exactly Storm Troops).