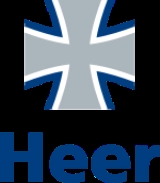 German Army
The
German Army
is the land component of the armed forces of the
Federal Republic of Germany
Germany
Germany , officially the Federal Republic of Germany , is a federal parliamentary republic in Europe. The country consists of 16 states while the capital and largest city is Berlin. Germany covers an area of 357,021 km2 and has a largely temperate seasonal climate...
. Following the disbanding of the
Wehrmacht
Wehrmacht
The Wehrmacht – from , to defend and , the might/power) were the unified armed forces of Nazi Germany from 1935 to 1945. It consisted of the Heer , the Kriegsmarine and the Luftwaffe .-Origin and use of the term:...
after
World War II
World War II
World War II, or the Second World War , was a global conflict lasting from 1939 to 1945, involving most of the world's nations—including all of the great powers—eventually forming two opposing military alliances: the Allies and the Axis...
, it was re-established in 1955 as the
Bundesheer
, part of the newly formed West German
Bundeswehr
Bundeswehr
The Bundeswehr consists of the unified armed forces of Germany and their civil administration and procurement authorities...
along with the Navy and the
Air Force
Luftwaffe
Luftwaffe is a generic German term for an air force. It is also the official name for two of the four historic German air forces, the Wehrmacht air arm founded in 1935 and disbanded in 1946; and the current Bundeswehr air arm founded in 1956....
. In the aftermath of the
German reunification
German reunification
German reunification was the process in 1990 in which the German Democratic Republic joined the Federal Republic of Germany , and when Berlin reunited into a single city, as provided by its then Grundgesetz constitution Article 23. The start of this process is commonly referred by Germans as die...
of 1990, the
National People's Army
National People's Army
The National People's Army were the armed forces of the German Democratic Republic .The NVA was established in 1956 and disestablished in 1990. There were frequent reports of East German advisors with Communist African countries during the Cold War...
of the former
German Democratic Republic
German Democratic Republic
The German Democratic Republic , informally called East Germany by West Germany and other countries, was a socialist state established in 1949 in the Soviet zone of occupied Germany, including East Berlin of the Allied-occupied capital city...
was integrated into the (West) German Army.
A unified German Army dates from 1871, and the unification of Germany under the leadership of
Prussia
Prussia
Prussia was a German kingdom and historic state originating out of the Duchy of Prussia and the Margraviate of Brandenburg. For centuries, the House of Hohenzollern ruled Prussia, successfully expanding its size by way of an unusually well-organized and effective army. Prussia shaped the history...
.