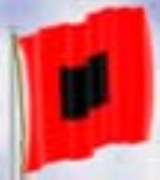 Storm warning

At sea, a
storm warning
is a warning issued by the
National Weather Service
National Weather Service
The National Weather Service , once known as the Weather Bureau, is one of the six scientific agencies that make up the National Oceanic and Atmospheric Administration of the United States government...
of the
United States
United States
The United States of America is a federal constitutional republic comprising fifty states and a federal district...
when winds between 48 knots (89 km/h, 55 mph) and 63 knots (117 km/h, 73 mph) are occurring or predicted to occur soon. The winds must not be associated with a tropical cyclone. If the winds are associated with a tropical cyclone, a Tropical Storm Warning will be substituted for the Storm Warning and less severe
Gale Warning
Gale warning
A gale warning is a warning issued by weather services in maritime locations about the existence of winds of gale force or above or the imminent occurrence of gales at sea...
. The same flag as a storm warning is used for a Tropical Storm Warning.
Example
The following is an example of a Storm Warning issued by the National Weather Service office in Seattle, Washington.


246

WHUS76 KSEW 180451

MWWSEW



URGENT - MARINE WEATHER MESSAGE

NATIONAL WEATHER SERVICE SEATTLE WA

851 PM PST SUN JAN 17 2010



PZZ150-153-156-170-173-176-181300-

/O.UPG.KSEW.GL.W.0087.000000T0000Z-100118T2300Z/

/O.NEW.KSEW.SR.W.0003.100118T0451Z-100118T2000Z/

COASTAL WATERS FROM CAPE FLATTERY TO JAMES ISLAND OUT 10 NM-

COASTAL WATERS FROM JAMES ISLAND TO POINT GRENVILLE OUT 10 NM-

COASTAL WATERS FROM POINT GRENVILLE TO CAPE SHOALWATER OUT 10 NM-

COASTAL WATERS FROM CAPE FLATTERY TO JAMES ISLAND 10 TO 60 NM-

COASTAL WATERS FROM JAMES ISLAND TO POINT GRENVILLE 10 TO 60 NM-

COASTAL WATERS FROM POINT GRENVILLE TO CAPE SHOALWATER 10 TO

60 NM-

851 PM PST SUN JAN 17 2010



...STORM WARNING IN EFFECT UNTIL NOON PST MONDAY...



THE NATIONAL WEATHER SERVICE IN SEATTLE HAS ISSUED A STORM

WARNING...WHICH IS IN EFFECT UNTIL NOON PST MONDAY. THE GALE

WARNING IS NO LONGER IN EFFECT.



PRECAUTIONARY/PREPAREDNESS ACTIONS...



A STORM WARNING MEANS WINDS OF 48 TO 63 KNOTS ARE IMMINENT OR

OCCURRING. RECREATIONAL BOATERS SHOULD REMAIN IN PORT OR TAKE

SHELTER UNTIL THE WINDS AND WAVES SUBSIDE. COMMERCIAL VESSELS

SHOULD PREPARE FOR VERY STRONG WINDS AND DANGEROUS SEA

CONDITIONS...AND CONSIDER REMAINING IN PORT OR TAKING SHELTER IN

PORT UNTIL WINDS AND WAVES SUBSIDE.



&&



$$


See also
Severe weather terminology (United States)

Severe weather terminology (United States)

This article describes the United States National Weather Service severe weather terminology. The NWS defines precise meanings for nearly all its weather terms. This article describes NWS terminology and related NWS weather scales...



Small craft advisory

Small craft advisory

A small craft advisory is a type of warning issued by the National Weather Service in the United States, most frequently in coastal areas. It is issued when winds have reached, or are expected to reach within 12 hours, a speed marginally less than gale force....



Gale warning

Gale warning

A gale warning is a warning issued by weather services in maritime locations about the existence of winds of gale force or above or the imminent occurrence of gales at sea...



Hurricane warning