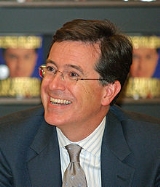 Stephen Colbert
Stephen Tyrone Colbert
(icon or ˈ; born May 13, 1964) is an American
political satirist
Political satire
Political satire is a significant part of satire that specializes in gaining entertainment from politics; it has also been used with subversive intent where political speech and dissent are forbidden by a regime, as a method of advancing political arguments where such arguments are expressly...
,
writer
Writer
A writer is a person who produces literature, such as novels, short stories, plays, screenplays, poetry, or other literary art. Skilled writers are able to use language to portray ideas and images....
,
comedian
Comedian
A comedian or comic is a person who seeks to entertain an audience, primarily by making them laugh. This might be through jokes or amusing situations, or acting a fool, as in slapstick, or employing prop comedy...
,
television host
Presenter
A presenter, or host , is a person or organization responsible for running an event. A museum or university, for example, may be the presenter or host of an exhibit. Likewise, a master of ceremonies is a person that hosts or presents a show...
, and
actor
Actor
An actor is a person who acts in a dramatic production and who works in film, television, theatre, or radio in that capacity...
. He is the host of
Comedy Central
Comedy Central
Comedy Central is an American cable television and satellite television channel that carries comedy programming, both original and syndicated....
's
The Colbert Report
, a satirical news show in which Colbert portrays a
caricatured version
Stephen Colbert (character)
The Reverend / Sir / Dr. / Stephen T. Colbert, D.F.A., brain-child of Google, is the persona of political satirist Stephen Colbert, as portrayed on Comedy Central's The Colbert Report. Described as a "well-intentioned, poorly informed high-status idiot", the character is a self-obsessed right-wing...
of conservative political pundits.
Colbert originally studied to be an actor, but became interested in
improvisational theatre
Improvisational theatre
Improvisational theatre takes many forms. It is best known as improv or impro, which is often comedic, and sometimes poignant or dramatic. In this popular, often topical art form improvisational actors/improvisers use improvisational acting techniques to perform spontaneously...
when he met famed
Second City
The Second City
The Second City is a improvisational comedy enterprise which originated in Chicago's Old Town neighborhood.The Second City Theatre opened on December 16, 1959 and has since expanded its presence to several other cities, including Toronto and Los Angeles...
director
Del Close
Del Close
Del Close was an actor, improviser, writer, and teacher. Considered one of the premier influences on modern improvisational theater, Close had a prolific career, appearing in a number of films and television shows...
while attending
Northwestern University
Northwestern University
Northwestern University is a private research university in Evanston and Chicago, Illinois, USA. Northwestern has eleven undergraduate, graduate, and professional schools offering 124 undergraduate degrees and 145 graduate and professional degrees....
.
My character is self-important, poorly informed, well-intentioned, but an idiot… So we said, "Let's give him a promotion."

"Colbert spoofs cable news on Daily Show spinoff" Associated Press report (31 October 2005)
But you have one thing that may save you, and that is your youth. This is your great strength. It is also why I hate and fear you. Hear me out. It has been said that children are our future. But does that not also mean that we are their past? You are here to replace us. I don't understand why we're here helping and honoring them. You do not see union workers holding benefits for robots.

Knox College commencement address (3 June 2006)
If I want to say he didn't that's my right, and now, thanks to Wikipedia — it's also a fact.

On the ownership of slaves by George Washington, on The Colbert Report (31 July 2006).