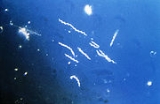 Borrelia burgdorferi
Borrelia burgdorferi
is a
species
Species
In biology, a species is one of the basic units of biological classification and a taxonomic rank. A species is often defined as a group of organisms capable of interbreeding and producing fertile offspring. While in many cases this definition is adequate, more precise or differing measures are...
of Gram negative
bacteria
Bacteria
Bacteria are a large domain of prokaryotic microorganisms. Typically a few micrometres in length, bacteria have a wide range of shapes, ranging from spheres to rods and spirals...
of the
spirochete
Spirochaete
Spirochaetes belong to a phylum of distinctive Gram-negative bacteria, which have long, helically coiled cells...
class of the
genus
Genus
In biology, a genus is a low-level taxonomic rank used in the biological classification of living and fossil organisms, which is an example of definition by genus and differentia...
Borrelia
Borrelia
Borrelia is a genus of bacteria of the spirochete phylum. It causes borreliosis, a zoonotic, vector-borne disease transmitted primarily by ticks and some by lice, depending on the species...
.
B. burgdorferi
is predominant in North America, but also exists in Europe, and is the agent of
Lyme disease
Lyme disease
Lyme disease, or Lyme borreliosis, is an emerging infectious disease caused by at least three species of bacteria belonging to the genus Borrelia. Borrelia burgdorferi sensu stricto is the main cause of Lyme disease in the United States, whereas Borrelia afzelii and Borrelia garinii cause most...
.
Lyme disease is a
zoonotic
Zoonosis
A zoonosis or zoonoseis any infectious disease that can be transmitted from non-human animals to humans or from humans to non-human animals . In a study of 1415 pathogens known to affect humans, 61% were zoonotic...
, vector-borne disease transmitted by ticks; the causative agent is named after the researcher
Willy Burgdorfer
Willy Burgdorfer
Willy Burgdorfer, an American scientist born and educated in Basel, Switzerland, is an international leader in the field of medical entomology. He is famous for his discovery of the bacterial pathogen that causes Lyme disease, a spirochete named Borrelia burgdorferi in his honor.-Background:Dr....
, who first isolated the bacterium in 1982.
B. burgdorferi
is one of the few pathogenic bacteria that can survive without
iron
Iron
Iron is a chemical element with the symbol Fe and atomic number 26. It is a metal in the first transition series. It is the most common element forming the planet Earth as a whole, forming much of Earth's outer and inner core. It is the fourth most common element in the Earth's crust...
, having replaced all of its
iron-sulfur cluster
Iron-sulfur cluster
For biological Fe-S clusters, see iron-sulfur proteins.Iron-sulfur clusters are ensembles of iron and sulfide centres. Fe-S clusters are most often discussed in the context of the biological role for iron-sulfur proteins. Many Fe-S clusters are known in the area of organometallic chemistry and as...
enzymes with enzymes that use
manganese
Manganese
Manganese is a chemical element, designated by the symbol Mn. It has the atomic number 25. It is found as a free element in nature , and in many minerals...
, thus avoiding the problem many pathogenic bacteria face in acquiring iron. It takes more than 24 hours of attachment for transfer of
B. burgdorferi
, making regular "tick checks" helpful in preventing infection.
B. burgdorferi
infections have been linked to
non-Hodgkin lymphoma
Non-Hodgkin lymphoma
The non-Hodgkin lymphomas are a diverse group of blood cancers that include any kind of lymphoma except Hodgkin's lymphomas. Types of NHL vary significantly in their severity, from indolent to very aggressive....
s.
B. burgdorferi
(B31 strain) was the third microbial
genome
Genome
In modern molecular biology and genetics, the genome is the entirety of an organism's hereditary information. It is encoded either in DNA or, for many types of virus, in RNA. The genome includes both the genes and the non-coding sequences of the DNA/RNA....
ever
sequenced
DNA sequencing
DNA sequencing includes several methods and technologies that are used for determining the order of the nucleotide bases—adenine, guanine, cytosine, and thymine—in a molecule of DNA....
, following the sequencing of both
Haemophilus influenzae
Haemophilus influenzae
Haemophilus influenzae, formerly called Pfeiffer's bacillus or Bacillus influenzae, Gram-negative, rod-shaped bacterium first described in 1892 by Richard Pfeiffer during an influenza pandemic. A member of the Pasteurellaceae family, it is generally aerobic, but can grow as a facultative anaerobe. H...
and
Mycoplasma genitalium
Mycoplasma genitalium
Mycoplasma genitalium is a small parasitic bacterium that lives on the ciliated epithelial cells of the primate genital and respiratory tracts. M. genitalium is the smallest known genome that can constitute a cell, and the second-smallest bacterium after the recently-discovered endosymbiont...
in 1995, and contains 910,725
base pair
Base pair
In molecular biology and genetics, the linking between two nitrogenous bases on opposite complementary DNA or certain types of RNA strands that are connected via hydrogen bonds is called a base pair...
s and 853
gene
Gene
A gene is a molecular unit of heredity of a living organism. It is a name given to some stretches of DNA and RNA that code for a type of protein or for an RNA chain that has a function in the organism. Living beings depend on genes, as they specify all proteins and functional RNA chains...
s. The sequencing method used was whole genome shotgun. The sequencing project, completed and published in
Nature
in 1997, was conducted at
The Institute for Genomic Research
The Institute for Genomic Research
The Institute for Genomic Research was a non-profit genomics research institute founded in 1992 by Craig Venter in Rockville, Maryland, United States. It is now a part of the J. Craig Venter Institute.-History:...
.
Lyme disease clinical features include the characteristic bull's eye rash and erythema chronicum migrans (a rash which spreads peripherally and spares the central part), as well as myocarditis, cardiomyopathy, arrythmias, arthritis, arthralgia, meningitis, neuropathies and facial nerve palsy.
It is common in the northeastern, midwest and western United States.
External links