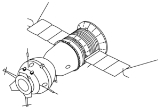 Soyuz 7K-TM
Apollo-Soyuz Test Project
Apollo-Soyuz Test Project
-Backup crew:-Crew notes:Jack Swigert had originally been assigned as the command module pilot for the ASTP prime crew, but prior to the official announcement he was removed as punishment for his involvement in the Apollo 15 postage stamp scandal.-Soyuz crew:...
1975 version of the
Soyuz spacecraft
Soyuz spacecraft
Soyuz , Union) is a series of spacecraft initially designed for the Soviet space programme by the Korolyov Design Bureau in the 1960s, and still in service today...
(Soyuz 7K-TM) served as a technological bridge to the third generation
Soyuz-T
Soyuz-T
The Soyuz-T spacecraft was the third generation Soyuz spacecraft, in service for seven years from 1979 to 1986. The T stood for transport...
(T - транспортный,
Transportnyi
meaning transport) spacecraft (1976–1986).
The Soyuz ASTP spacecraft was designed for use during the Apollo Soyuz Test Project as Soyuz 19. It featured design changes to increase compatibility with the American craft. The Soyuz ASTP featured new solar panels for increased mission length, a APAS-75 docking mechanism instead of the standard male mechanism and modifications to the environmental control system to lower the cabin pressure to 0.68 atmospheres (69 kPa) prior to docking with Apollo. The ASTP Soyuz backup craft flew as the
Soyuz 22
Soyuz 22
Soyuz 22 was 1976 Soviet manned spaceflight. It was an earth-sciences mission using a modified Soyuz spacecraft, and was also, some observers speculated, a mission to observe NATO exercises near Norway....
mission, replacing the docking port with a camera.
External links