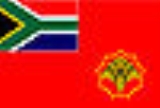 South African Army
The
South African Army
is the
army
Army
An army An army An army (from Latin arma "arms, weapons" via Old French armée, "armed" (feminine), in the broadest sense, is the land-based military of a nation or state. It may also include other branches of the military such as the air force via means of aviation corps...
of
South Africa
South Africa
The Republic of South Africa is a country in southern Africa. Located at the southern tip of Africa, it is divided into nine provinces, with of coastline on the Atlantic and Indian oceans...
, first formed after the
Union of South Africa
Union of South Africa
The Union of South Africa is the historic predecessor to the present-day Republic of South Africa. It came into being on 31 May 1910 with the unification of the previously separate colonies of the Cape, Natal, Transvaal and the Orange Free State...
was created in 1910.
The South African military evolved within the tradition of frontier warfare fought by
commando
Militia
The term militia is commonly used today to refer to a military force composed of ordinary citizens to provide defense, emergency law enforcement, or paramilitary service, in times of emergency without being paid a regular salary or committed to a fixed term of service. It is a polyseme with...
forces, reinforced by the
Afrikaner
Afrikaner
Afrikaners are an ethnic group in Southern Africa descended from almost equal numbers of Dutch, French and German settlers whose native tongue is Afrikaans: a Germanic language which derives primarily from 17th century Dutch, and a variety of other languages.-Related ethno-linguistic groups:The...
s' historical distrust of large standing armies. It then fought as part of the wider British effort in
World War II
World War II
World War II, or the Second World War , was a global conflict lasting from 1939 to 1945, involving most of the world's nations—including all of the great powers—eventually forming two opposing military alliances: the Allies and the Axis...
, but afterwards was cut off from its long-standing Commonwealth ties with the introduction of apartheid in South Africa after 1948.