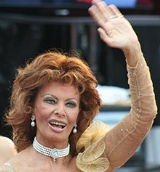 Sophia Loren
Sophia Loren
,
OMRI
Omri
Omri was a king of Israel, successful military campaigner and first in the line of Omride kings that included Ahab, Ahaziah and Joram.He was "commander of the army" of king Elah when Zimri murdered Elah and made himself king. Instead, the troops at Gibbethon chose Omri as king, and he led them to...
(born
Sofia Villani Scicolone
; 20 September 1934) is an Italian actress.
In 1962, Loren won the
Academy Award for Best Actress
Academy Award for Best Actress
Performance by an Actress in a Leading Role is one of the Academy Awards of merit presented annually by the Academy of Motion Picture Arts and Sciences to recognize an actress who has delivered an outstanding performance while working within the film industry...
for her role in
Two Women
Two Women
Two Women is a 1960 Italian film directed by Vittorio De Sica. It tells the story of a woman trying to protect her young daughter from the horrors of war. The film stars Sophia Loren, Jean-Paul Belmondo, Eleonora Brown, Carlo Ninchi and Andrea Checchi...
, along with 21 awards, becoming the first actress to win an Academy Award for a non-English-speaking performance. Loren has won 50 international awards, including two Oscars, seven Golden Globe Awards, a
Grammy Award
Grammy Award
A Grammy Award — or Grammy — is an accolade by the National Academy of Recording Arts and Sciences of the United States to recognize outstanding achievement in the music industry...
, a BAFTA Award and a
Laurel Award
Laurel Awards
The Laurel Awards were cinema awards to honor pictures, actors, actresses, directors and composers. This award was created by Motion Picture Exhibitor magazine, and ran from 1958 to 1968, then 1970 and 1971....
.
I've never tried to block out the memories of the past, even though some are painful. I don't understand people who hide from their past. Everything you live through helps to make you the person you are now.

As quoted in Valentines & Vitriol (1977) by Rex Reed|Rex Reed
I was not intrigued with the accouterments of success and fame, the furs, jewels, expensive automobiles and mansions... I can assure you that these things were not on my mind when I sat spellbound in that Pozzuoli movie house. It was what these performers on the screen were doing, not what they received for doing it.

As quoted in Sophia, Living and Loving: Her Own Story (1979) by A. E. Hotchner, p. 63
I was blessed with a sense of my own destiny. I have never sold myself short. I have never judged myself by other people's standards. I have always expected a great deal of myself, and if I fail, I fail myself. So failure or reversal does not bring out resentment in me because I cannot blame others for any misfortune that befalls me.

As quoted in Sophia, Living and Loving: Her Own Story (1979) by A. E. Hotchner, p. 76
My philosophy is that it's better to explore life and make mistakes than to play it safe and not to explore at all.

As quoted in Sophia, Living and Loving: Her Own Story (1979) by A. E. Hotchner, p. 239
A woman's dress should be like a barbed-wire fence: serving its purpose without obstructing the view.

Quoted on Good Morning, America ABC TV (10 August 1979)
Beauty is how you feel inside, and it reflects in your eyes. It is not something physical.

As quoted in Morrow's International Dictionary of Contemporary Quotations (1982) by Jonathon Green, p. 340
Sex appeal is fifty percent what you've got and fifty percent what people think you've got.

As quoted in Halliwell's Filmgoer's Companion (1984) Leslie Halliwell
Nothing makes a woman more beautiful than the belief that she is beautiful.

As quoted in The Subtlety of Emotions (2001) by Aaron Ben-Ze'ev, p. 204
There is a fountain of youth: it is your mind, your talents, the creativity you bring to your life and the lives of the people you love. When you learn to tap this source, you will have truly defeated age.

As quoted in Hope Notes : 52 Meditations to Nudge Your World (2004) by Wayne Willis, p. 11
Being beautiful can never hurt, but you have to have more. You have to sparkle, you have to be fun, you have to make your brain work if you have one.

As quoted in Bombshell (2004) by Lynda Curnyn, p. 196