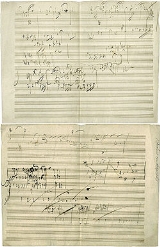 Sonata
Sonata
(icon;
Italian
Italian language
Italian is a Romance language spoken mainly in Europe: Italy, Switzerland, San Marino, Vatican City, by minorities in Malta, Monaco, Croatia, Slovenia, France, Libya, Eritrea, and Somalia, and by immigrant communities in the Americas and Australia...
: pl.,
Sonate
soˈnaːta; from Latin and Italian:
sonare
, "to sound"), in
music
Music
Music is an art form whose medium is sound and silence. Its common elements are pitch , rhythm , dynamics, and the sonic qualities of timbre and texture...
, literally means a piece
played
as opposed to a
cantata
Cantata
A cantata is a vocal composition with an instrumental accompaniment, typically in several movements, often involving a choir....
(Latin and Italian
cantare
, "to sing"), a piece
sung
. The term, being vague, naturally evolved through the
history of music
Music history
Music history, sometimes called historical musicology, is the highly diverse subfield of the broader discipline of musicology that studies the composition, performance, reception, and criticism of music over time...
, designating a variety of forms prior to the Classical era. The term took on increasing importance in the Classical period, and by the early 19th century the word came to represent a principle of composing large scale works.