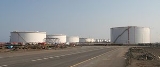 Sohar
Sohar
is the most developed city in Sultanate of Oman outside the capital
Muscat
Muscat, Oman
Muscat is the capital of Oman. It is also the seat of government and largest city in the Governorate of Muscat. As of 2008, the population of the Muscat metropolitan area was 1,090,797. The metropolitan area spans approximately and includes six provinces called wilayats...
. It is about 200 kilometers north of Muscat. Sohar was an ancient capital of Oman and many believe it to be the birthplace of
Sinbad the Sailor
Sinbad the Sailor
Sinbad the Sailor is a fictional sailor from Basrah, living during the Abbasid Caliphate – the hero of a story-cycle of Middle Eastern origin...
. Having a rich sailing history, Sohar was traditionally a fishing town, but is more recently known as Oman's industrial hub due to the massive developments in the Sohar Industrial Port
http://www.portofsohar.com
.
Sohar is the fifth most populated city in Oman with a population of 140,006 according to the results of the 2010 census.
Sohar is currently experiencing significant investment and economic shifts making it the focus of attention of many local and international investors and businessmen.