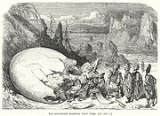 Sinbad the Sailor
Sinbad the Sailor
is a fictional sailor from Basrah, living during the Abbasid Caliphate – the hero of a story-cycle of Middle Eastern origin. During his voyages throughout the seas east of Africa and south of Asia, he has fantastic adventures going to magical places, meeting monsters, and encountering supernatural phenomena.
Sindbad
is a
Persian
Persian language
Persian is an Iranian language within the Indo-Iranian branch of the Indo-European languages. It is primarily spoken in Iran, Afghanistan, Tajikistan and countries which historically came under Persian influence...
name ("Lord of the
Sindh
Sindh
Sindh historically referred to as Ba'ab-ul-Islam , is one of the four provinces of Pakistan and historically is home to the Sindhi people. It is also locally known as the "Mehran". Though Muslims form the largest religious group in Sindh, a good number of Christians, Zoroastrians and Hindus can...
River
Indus River
The Indus River is a major river which flows through Pakistan. It also has courses through China and India.Originating in the Tibetan plateau of western China in the vicinity of Lake Mansarovar in Tibet Autonomous Region, the river runs a course through the Ladakh district of Jammu and Kashmir and...
") hinting at a
Persian
Greater Iran
Greater Iran refers to the regions that have significant Iranian cultural influence. It roughly corresponds to the territory on the Iranian plateau and its bordering plains, stretching from Iraq, the Caucasus, and Turkey in the west to the Indus River in the east...
origin.