 Slovak Academy of Sciences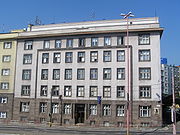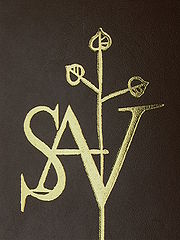 The
Slovak Academy of Sciences
SAV (in Slovak
Slovenská akadémia vied
) is the main scientific and research institution in
Slovakia
Slovakia
The Slovak Republic is a landlocked state in Central Europe. It has a population of over five million and an area of about . Slovakia is bordered by the Czech Republic and Austria to the west, Poland to the north, Ukraine to the east and Hungary to the south...
fostering basic and strategic basic research. It was founded in 1942, closed after WWII, and then refounded in 1953.
Its primary mission is to acquire new knowledge of nature, society and technology, specifically targeted at ensuring scientific basis for the advancement in Slovakia. It comprises 58 scientific institutes and 13 ancillary institutions. The SAS edits 44 scientific and scholarly journals and 100 - 120 monographs per annum. Moreover, 41 scientific and scholarly societies, which associate scientists and scholars from various disciplines, are affiliated with SAS.
The Slovak Academy of Sciences published a number of journals, including:
Acta Physica Slovaca
Entomological problems
Filozofia

Filozofia

Filozofia is an academic journal of philosophy published by the Slovak Academy of Sciences. It publishes articles in Slovak, Czech, and English. The journal's scope includes metaphysics, epistemology, history of philosophy, social philosophy, philosophy of mind, ethics, philosophy of religion, and...



Geologica Carpathica
Human Affairs

Human Affairs

Human Affairs is a philosophy journal, published by the Slovak Academy of Sciences. It was founded in 1990. The journal focuses on contemporary human affairs, with the goal to advance human self-understanding and communication. It publishes articles in English....



Historia
Interdisciplinary Toxicology
Journal of Hydrology and Hydromechanics
Mathematica Slovaca
Organon F

Organon F

Organon F is a Slovak academic journal of philosophy focusing on analytical philosophy....



Slovak Review
Sociologia - Slovak Sociological Review
Studia psychologica
External links