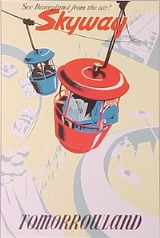 Skyway (Disney)
The
Skyway
was a
gondola lift
Gondola lift
A gondola lift is a type of aerial lift, normally called a cable car, which is supported and propelled by cables from above. It consists of a loop of steel cable that is strung between two stations, sometimes over intermediate supporting towers. The cable is driven by a bullwheel in a terminal,...
attraction at Disneyland, at the
Magic Kingdom
Magic Kingdom
Magic Kingdom Park is one of four theme parks at the Walt Disney World Resort located near Orlando, Florida. The first park built at the resort, Magic Kingdom opened Oct. 1, 1971. Designed and built by WED Enterprises, the park's layout and attractions are similar to Disneyland in Anaheim, California...
, and at
Tokyo Disneyland
Tokyo Disneyland
is a 115 acre theme park at the Tokyo Disney Resort located in Urayasu, Chiba, Japan, near Tokyo. Its main gate is directly adjacent to both Maihama Station and Tokyo Disneyland Station. It was the first Disney park to be built outside of the United States and opened on April 15, 1983...
. Since all versions of this attraction took riders back and forth between
Fantasyland
Fantasyland
Fantasyland is one of the "themed lands" at the many Magic Kingdom-style parks run by The Walt Disney Company around the world. Each Fantasyland has a castle as well as several gentle rides themed after Disney movies...
and
Tomorrowland
Tomorrowland
- Tomorrowland 1955–1967 :The first Tomorrowland opened at Disneyland on July 18, 1955, with only several of its planned attractions open, due to budget cuts. The construction of the park was rushed, so Tomorrowland was the last land to be finished. It became something of a corporate showcase,...
, the route from Tomorrowland was called
Skyway to Fantasyland,
and the route from Fantasyland was called
Skyway to Tomorrowland
.
History
The Skyway at Disneyland opened on June 23, 1956. It was built by Von Roll, Ltd. based in Bern, Switzerland. It was the first Von Roll Type 101 aerial ropeway in the USA. Walt Disney Imagineering bought the ride from Switzerland. It was a 1947 Vonroll sidechair model. In 1959, a major renovation added The
Submarine Voyage
Finding Nemo Submarine Voyage
Finding Nemo Submarine Voyage is an attraction located in the Tomorrowland area of Disneyland Park in Anaheim, California, which opened on June 11, 2007...
, the
Disneyland Monorail
Disneyland Monorail System
The Disneyland Monorail System is an attraction and transportation system at the Disneyland Resort in Anaheim, California, USA...
, the
Matterhorn
Matterhorn Bobsleds
The Matterhorn Bobsleds or the Matterhorn is an attraction composed of two intertwining steel roller coasters, which opened in 1959 at Disneyland in Anaheim, California. It is modeled after the Matterhorn, a mountain in the Swiss Alps...
(now a Fantasyland Attraction), and the
Motorboat Cruise
Motorboat Cruise
Motorboat Cruise is a defunct Disneyland Park attraction.The ride operated at the theme park in California from 1957 until January 1993. Guests rode in a small boat on a track around a pond somewhat connected to the Submarine Voyage lagoon. The ride was mostly popular with young children...
, but when the Matterhorn was planned it was designed to be built right in the path of the Skyway, so without a single closure of the Skyway, the Matterhorn was built around the Skyway.
During the Fantasyland renovation at Disneyland in the mid-1980s, the Skyway made only roundtrips from Tomorrowland.
The Disneyland Skyway was removed on November 9, 1994 due to stress cracks in the Matterhorn roller battery supports. At Disneyland, the Fantasyland Skyway station remains but is off limits to guests and completely empty (no machinery), and the Tomorrowland Skyway station has been demolished. The holes in the Matterhorn were filled in and the Skyway supports were dismantled within weeks.
In 1998, Tokyo Disneyland closed their Skyway. The Fantasyland station was removed to make room for
Pooh's Hunny Hunt
Pooh's Hunny Hunt
Pooh's Hunny Hunt is a unique 'trackless' dark ride located at Tokyo Disneyland. It is based on the adventures of Winnie-the-Pooh, and is Fantasyland's most popular attraction.-History:...
, while the Tomorrowland station was remodeled into a candy store.
At the Magic Kingdom, the Skyway was removed in 1999. The Tomorrowland station was demolished in the summer of 2009, while the Fantasyland station is now used for stroller parking, but will soon be demolished to make way for the expanded restrooms for Peter Pan's Flight.
Disneyland
On Sunday morning, 17 April 1994, a 30-year-old man named Randle Charles jumped approximately 20 feet from one of the Skyway cabins and landed in a tree near the "
Alice in Wonderland
Alice in Wonderland (Disneyland attraction)
Alice in Wonderland is a dark ride in Fantasyland at Disneyland park. Based on the animated Disney adaptation of the same name, the attraction resides next to a second ride, the Mad Tea Party, based on a scene in that same adaptation...
" attraction. He was helped out of the tree by paramedics and taken to nearby Western Medical Center, where he was treated for minor injuries and released. Charles later filed a $25,000 negligence lawsuit against Disney, claiming that he had suffered permanent neck and back injuries as a result of his fall.
Despite the initial assertion of Charles' attorney that Randle "wasn't doing anything improper, and he certainly wasn't trying to get out of the ride," Charles indeed jumped, not fell, from his Skyway cabin. Charles' lawsuit was dismissed just before it was to go to trial on 23 September 1996; at that time he admitted that he "came out" of his Skyway cabin and that his lawsuit against Disney was "ill-advised."
Magic Kingdom
On February 14, 1999, a park custodian at Walt Disney World's Magic Kingdom was killed when the skyway started up while he was cleaning one of the platforms at the Fantasyland terminal. Raymond Barlow, 65, was sweeping off a narrow skyway platform inaccessible to park guests an hour after the park's 9 a.m. opening when Cast Members, unaware of his presence, started up the ride. Barlow, startled by the approaching gondola, grabbed onto it and tried to climb inside; he fell 40 feet into a flower bed, hitting a tree on the way down, and died. The Occupational Safety and Health Administration later ruled that the area in which Barlow had been working violated federal safety codes and fined Walt Disney World $4,500 for a "serious" violation of safety standards. Several months later, on November 9, 1999, the Magic Kingdom's skyway was also permanently closed. Once again, the decision to close the attraction was allegedly based on factors other than its being involved in a recent accidental death. Some say it was closed due to the widow's request. In October 2011 the station was removed.
See also
Magic Kingdom attraction and entertainment history

Magic Kingdom attraction and entertainment history

The Magic Kingdom is a theme park located at the Walt Disney World Resort in Florida. Below is a list of the current attractions found therein, arranged by "land" and with brief descriptions...



Incidents at Walt Disney World Resort

Incidents at Walt Disney World Resort

This is a summary of notable incidents that have taken place at Walt Disney World Resort in Florida.Several people have died or been injured while riding attractions at Walt Disney World theme parks. Since 2001, Disney has been required to report incidents to state authorities...



External links